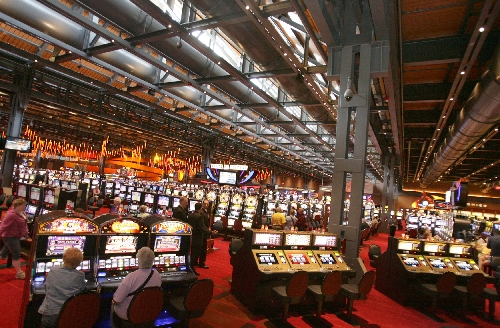 Wall Street gave a thumbs up to the possible sale of Las Vegas Sands Corp.'s casino in Pennsylvania, although a definitive transaction is just speculation.
Bloomberg News Service, citing sources "with knowledge of the situation," reported Thursday that Las Vegas Sands is shopping the Sands Bethlehem Casino for at least $1 billion.
The casino, built on the site of the closed Bethlehem Steel Mill, is the state's second-largest gaming revenue producer with $438 million in 2012, according to gaming regulators.
However, Bloomberg reported a deal is far from being finalized.
Union Gaming Group Managing Director Bill Lerner said in a research note the casino is the fastest growing property in the state, with total gaming revenue up 16.1 percent in 2012.
Sands Bethlehem benefits from its close proximity to New York City – roughly 80 miles and the regional casino generates a significant amount of its table game revenue from Asian customers.
Lerner credited the casino's targeted marketing efforts.
"News of a potential sale doesn't come as a complete surprise, given the property has been rumored to be on the market for some time," Lerner said.
KDP Investment Advisor gaming analyst Barbara Cappaert told the firm's clients a sale made sense for Las Vegas Sands.
The casino provides the least amount of cash flow and revenues for the company. Las Vegas Sands collects almost 80 percent of its cash flow and revenues from its properties in Macau and Singapore.
"We do not dismiss the possibility," Cappaert said of a Sands Bethlehem sale. "The price, if in fact is $1 billion, is aggressive."
Cappaert suggested Las Vegas Sands might be looking for additional funding to pursue a $4 billion to $5 billion casino development in either Toronto, Spain or Japan.
Las Vegas Sands spokesman Ron Reese said Thursday the company doesn't respond to rumors. He said the company was "proud" of the financial results produced by the casino and the facility role as a "community partner."
Sands Bethlehem opened in 2009 and includes a 300-room hotel, a shopping mall and an entertainment venue.
Shares of Las Vegas Sands closed at $52.22 Friday, up 34 cents, or 0.66 percent, on the New York Stock Exchange.
Contact reporter Howard Stutz at hstutz@reviewjournal.com or 702-477-3871. Follow @howardstutz on Twitter.