With 5 projects coming to completion, MGM to see cash flow jump
December 23, 2017 - 10:38 am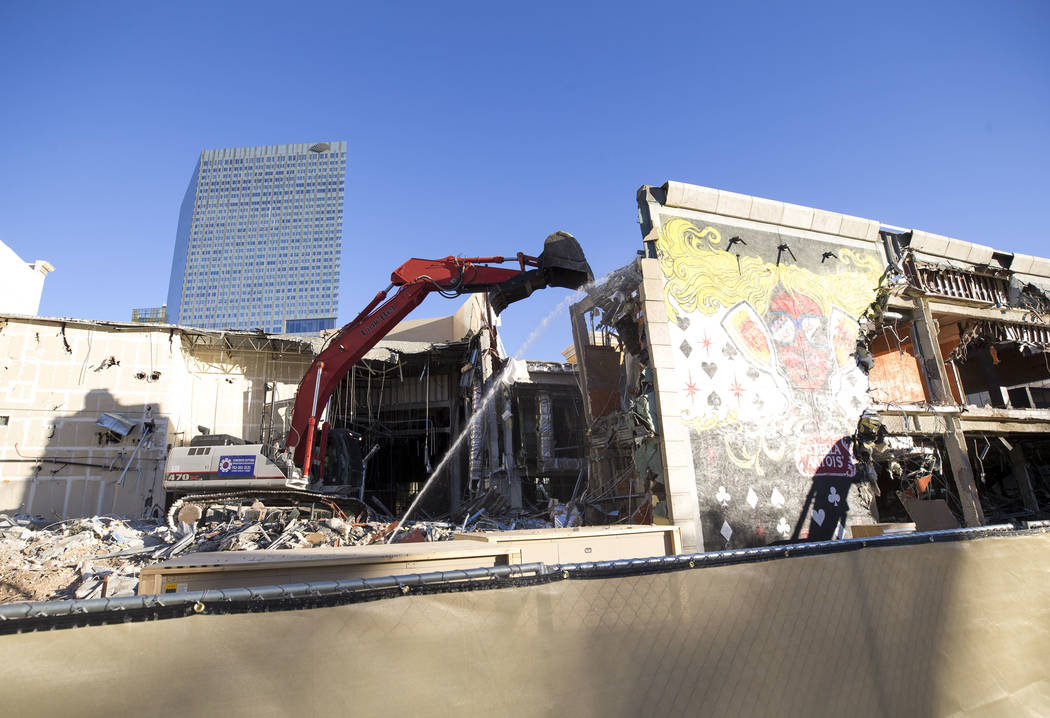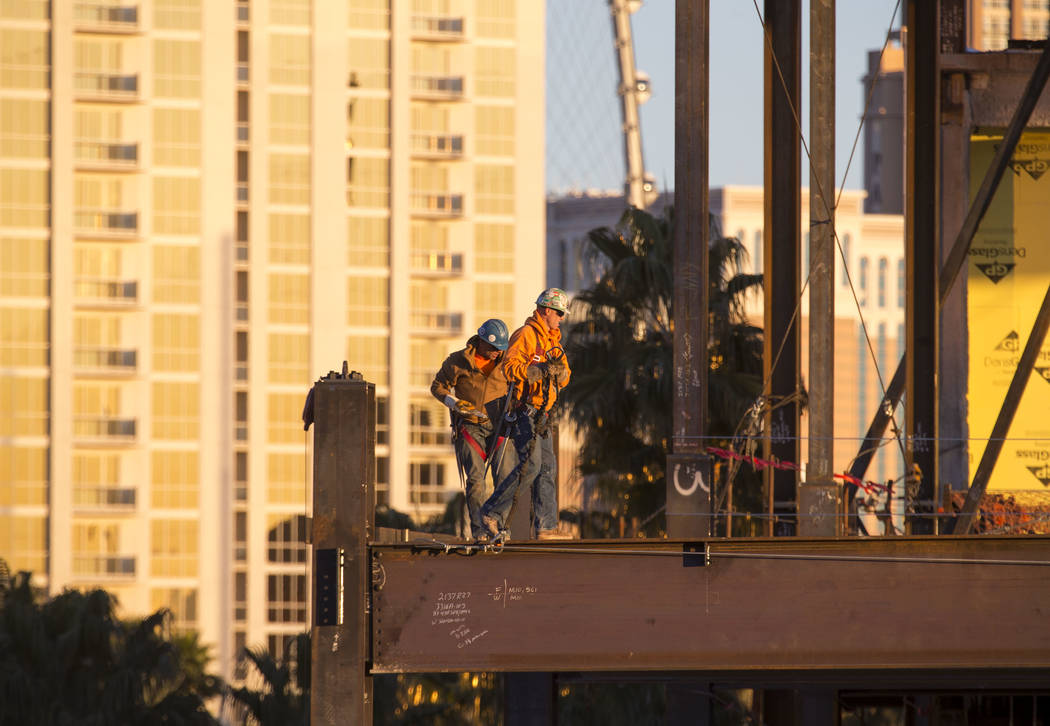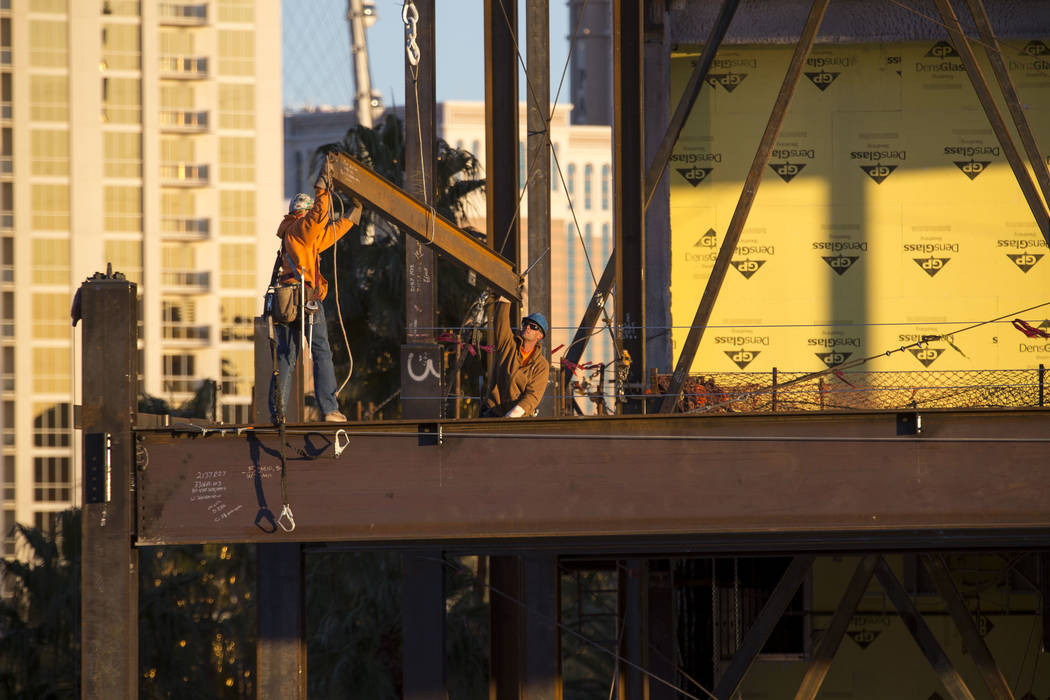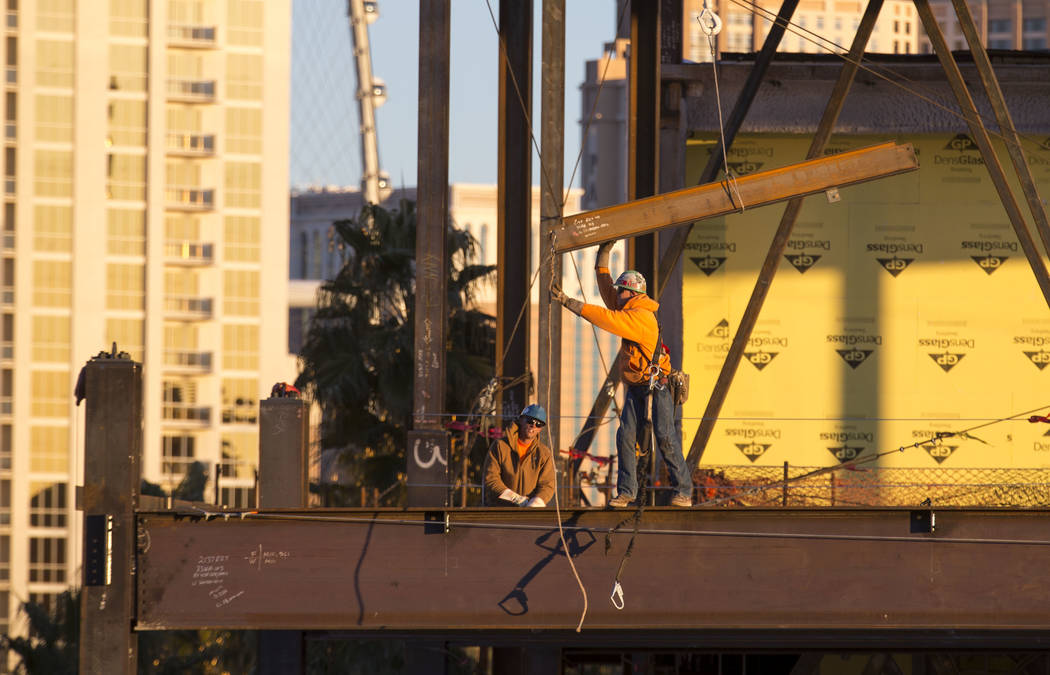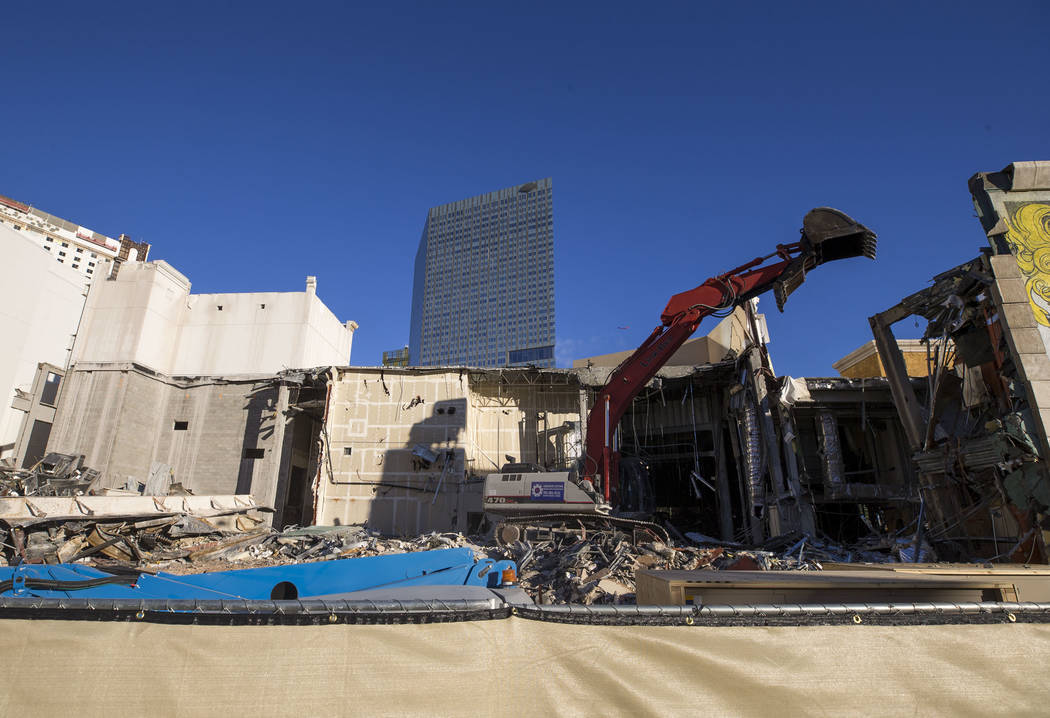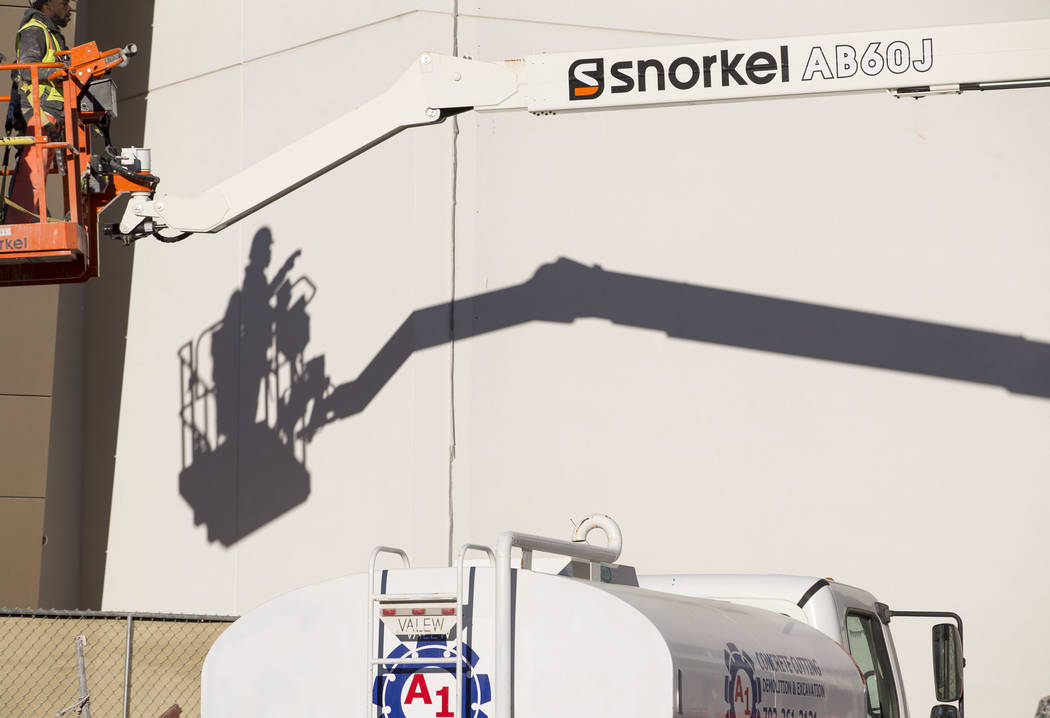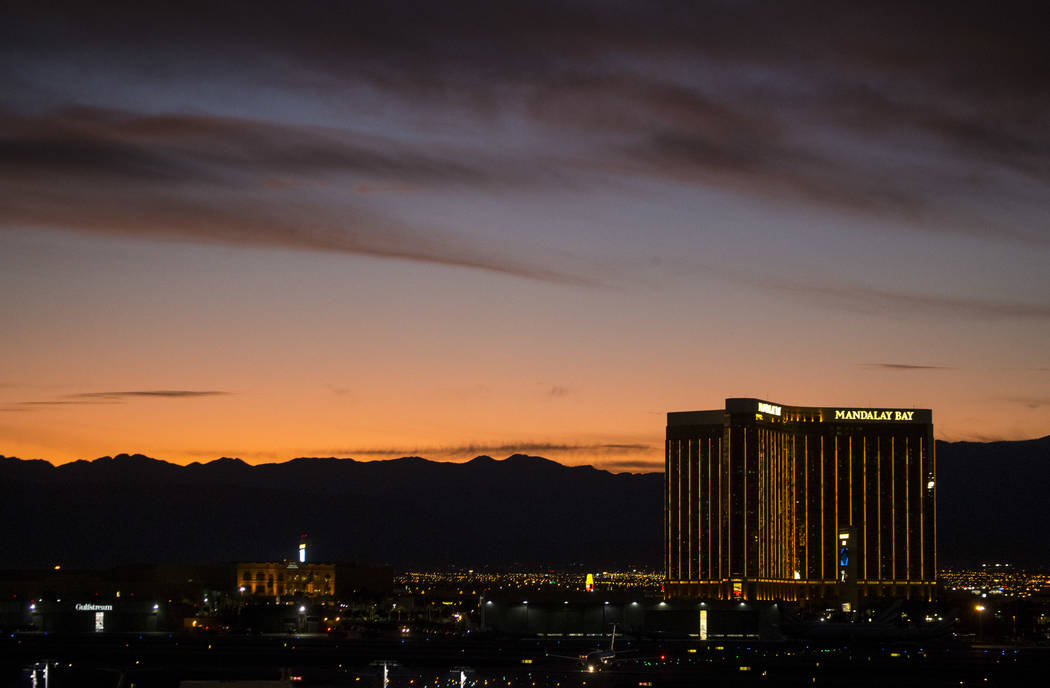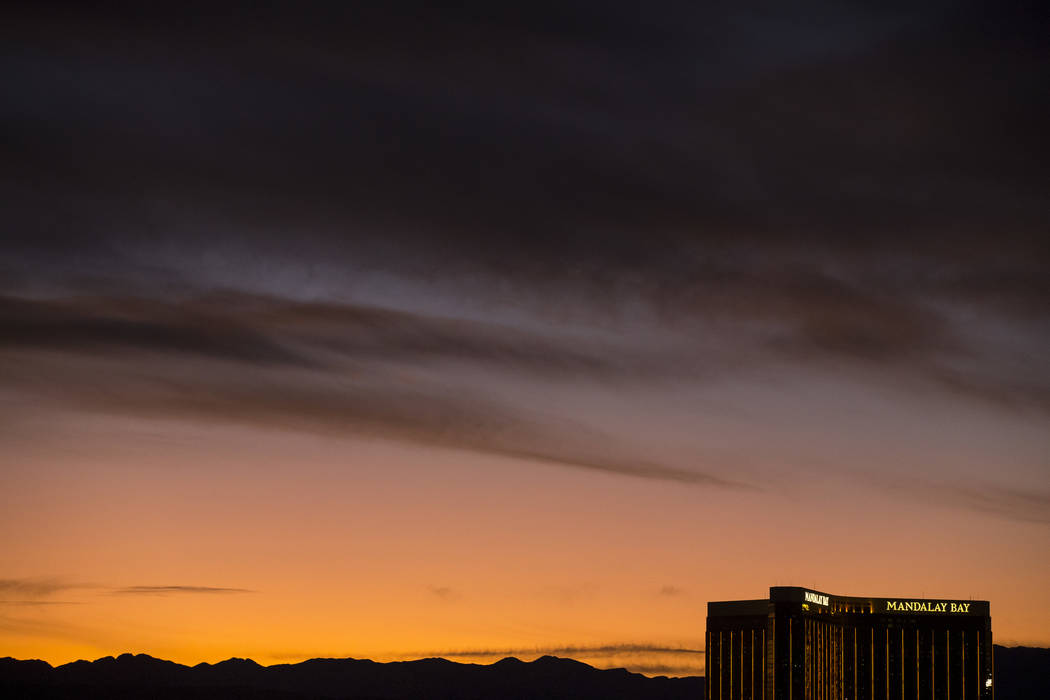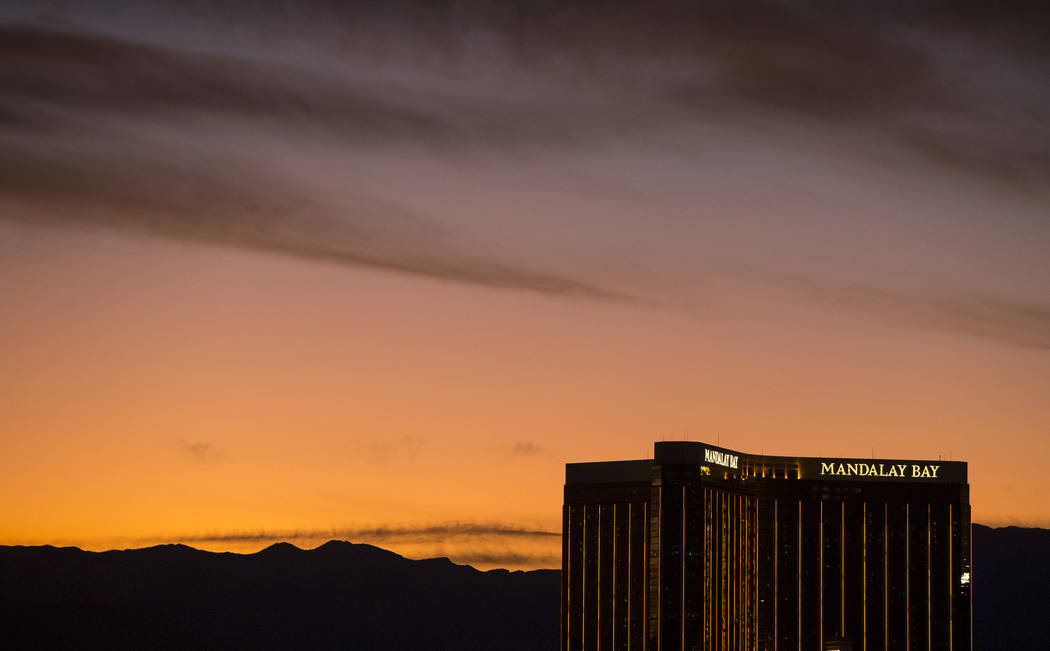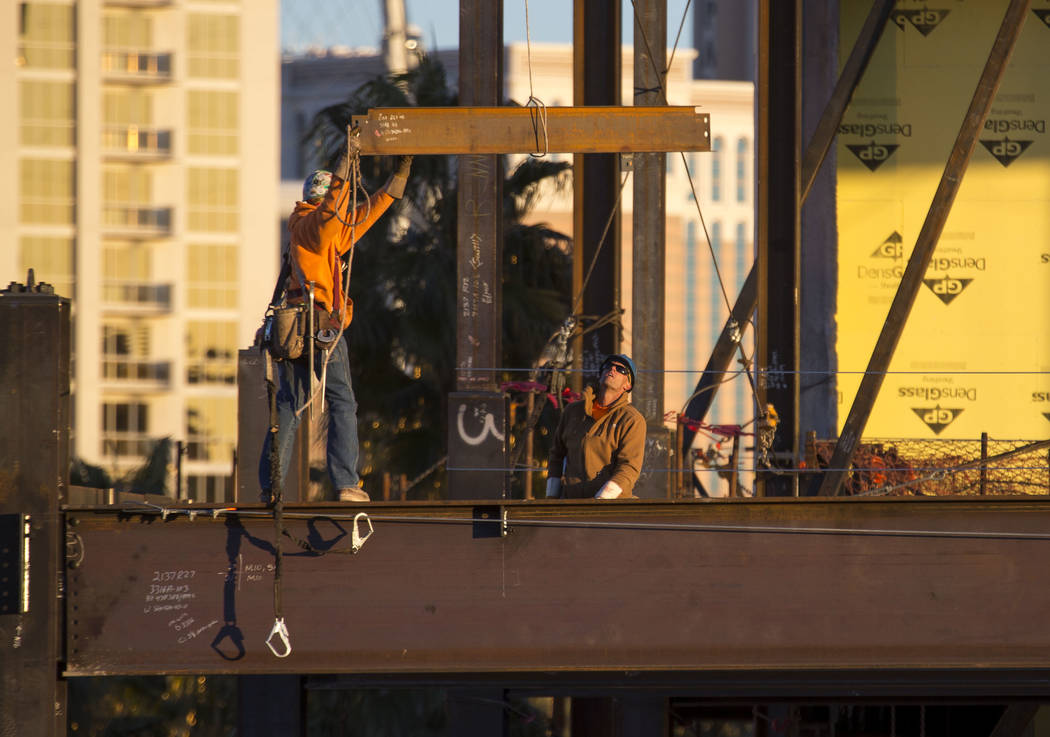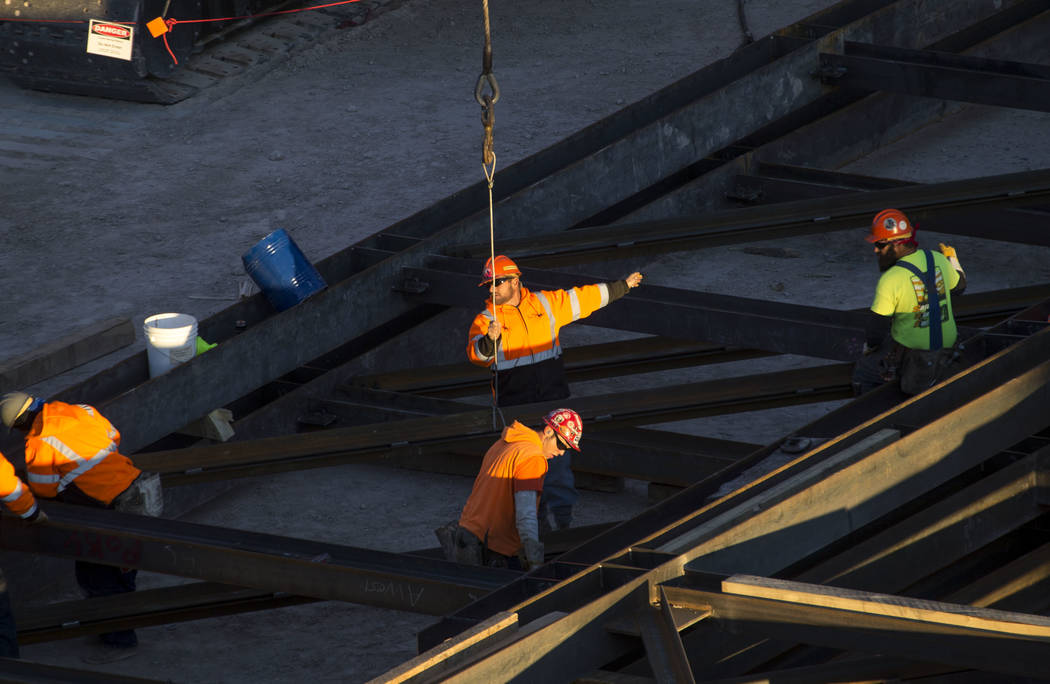 As guests pulled up in a taxi to the Monte Carlo's main entrance on a recent December morning, an orange Bobcat shoveled dirt and rubble into a pile, kicking up a bit of dust.
Two construction workers — part of a team of several dozen working all around the massive, 3,000-room property that morning — were lifted high into the air to clean the facade above the entrance.
Just beyond the brightly renovated lobby, which now sports a dozen of the latest self-check-in tablets and machines to print room keys, construction workers could be heard banging and sanding away near the elevator bank.
"It is literally a full-on construction project right now and it really won't feel like an integrated resort until the second half of the year,'' MGM Resorts International Chief Executive Officer Jim Murren told investors during a Nov. 8 conference call.
Toward the end of 2018, the two-decades old Monte Carlo will complete its $550 million face-lift and rebranding, becoming a hip, higher-end property targeting a younger, well-traveled audience, with an adjacent, $90 million theater hosting stars such as Cher and Lady Gaga.
Murren promised investors the short-term construction disruption would be worth it. The returns on the investment would be "some of the highest'' the company has generated in the past five years.
When the last construction workers finally leave the Monte Carlo, being renamed Park MGM, it will symbolize not only a new era for the property, but possibly a new era for MGM Resorts as well. The company has steadily transformed itself
over the past several years from a debt-burdened enterprise to a cash-rich one.
The killing of 58 people in October by a shooter staying at Mandalay Bay, one of MGM Resort's most profitable properties, has temporarily affected that unit's business but will barely slow the parent company's profit growth, Wall Street analysts forecast.
$8 billion in investments
The opening of Park MGM will not be the only ribbon-cutting Murren will partake in next year.
Over the course of 2018, MGM will complete four other investment projects, including the $3.4 billion casino MGM Cotai on China's gaming enclave, the nearly $1 billion Springfield MGM casino in Massachusetts and the expansion of two Las Vegas convention centers totaling $280 million.
The five projects account for more than half of the nearly $8 billion in expansion investments MGM has made, sometimes with partners, since mid-2014.
Those other investments include the construction of the $375 million T-Mobile Arena across from Park MGM and the $1.4 billion National Harbor casino outside Washington, D.C., both of which opened in 2016, and the $900 million purchase last year of Boyd Gaming Corp.'s 50 percent stake in the Borgata in Atlantic City.
MGM Resorts' yearly investment spending could drop noticeably starting in 2019 if no new large-scale projects or acquisitions come to the forefront, enabling the company to quickly pay down debt and give money back to shareholders, analysts say.
Connecticut, Georgia, Japan
"That really winds down our development cycle, which accelerates our free cash flow profile,'' Murren said during the November call.
MGM later clarified Murren's comment, saying in a statement that the company is "always looking at new opportunities for growth and ways to maximize value."
"That can include new developments like those being pursued in Japan and Connecticut, reinvesting in our business and new partnerships."
The company has been lobbying to win a gaming license in Georgia and Connecticut as well as Japan. But Georgia's Legislature is unlikely to legalize casinos in the coming years, and Indian tribes might seek to block the company's plans for a $675 million casino in Connecticut.
Japan may award two licenses in 2019 to consortiums of casino operators that includes U.S. companies. Construction probably wouldn't start until 2020. MGM probably will win one of the licenses but will own a minority stake in the consortium, according to Morning Star brokerage.
Falling debt burden
MGM's earnings before interest, taxes, depreciation and amortization will jump to about $3.3 billion by 2019 from $2 billion in 2015 driven by the new projects and continued growth in Las Vegas, according to JPMorgan and Union Gaming.
At the same time, the company's yearly capital investments could drop to about half a billion in 2019 from $2 billion this year if no new projects materialize, according to Union Gaming and Morningstar Research. Even if MGM wins a license in Japan, its capital investments for 2020 would still be below $800 million, according to Morningstar.
That will enable the company to easily pay down its obligations. MGM Resort's consolidated net debt will decline to about $10 billion by the end of 2019 from nearly $12 billion, according to Wall Street analysts.
More importantly, the company's ratio of consolidated net debt to earnings before interest, taxes, depreciation and amortization will tumble to just a notch above three times by the end of 2019, from five times in 2015.
The net debt ratio is used to determine whether a company has too much leverage. A ratio exceeding five is considered high for a casino operator.
"They have done a great job at lowering their leverage over the last few years," said Dan Wasiolek, an analyst at Morningstar. "They are now entering a period of a strong upward inflection of cash flow."
Billions in dividends, buybacks
That opens the door to MGM Resorts potentially returning billions of dollars to stockholders in the coming years.
Murren isn't waiting for 2019 to start that process.
He announced in February the company would begin paying regular dividends for the first time in nearly two decades. The $63 million quarterly payout equates to an annual dividend yield of 1.3 percent based on Thursday's closing stock price of $33.73
Wynn Resorts and Las Vegas Sands have been paying dividends for years. Wynn's dividend yield is 1.2 percent, while Las Vegas Sands is 4.2 percent.
MGM then announced in September it would buy back $1 billion of stock, or more than 5 percent of the company's outstanding shares, from current shareholders. A week later, it bought back about $330 million of MGM stock from the estate of Kirk Kevorkian.
Buying back stock lowers the total number of shares outstanding and thus increases the dividend per share.
Murren promised investors the dividends would rise in the coming years. Like most chief executive officers of publicly traded companies, Murren receives part of his yearly compensation in stock. He owns nearly 1 million MGM shares worth nearly $33 million.
"We are committed to our dividend, not only its current, but to increase it over time,'' said Murren in November. "We feel that that is the right path to reward the people that have been with us on the journey over the last four or five years.''
Stock underperformance
If MGM doesn't go on an acquisition spree of regional gaming assets like Caesars, Boyd and Penn National have recently done, then the company will generate about $2 billion of free cash flow a year that can be used to boost the dividend, Union Gaming analyst John DeCree said.
"They have the opportunity to step the dividend up and they could do that as early as next year,'' he said.
Morning Star expects MGM to raise its dividend 50 percent by 2020.
Wall Street investors, though, haven't given MGM any credit this year for its improving balance sheet and dividend growth potential, DeCree said, citing the stock's underperformance compared with competitors.
MGM shares have risen just 17 percent in 2017, lagging all major gaming stocks and the Dow Jones Industrial Average. Wynn Resorts has risen 95 percent this year, Boyd Gaming 78 percent and Las Vegas Sands 32 percent. The Dow Jones Industrial Average has added 25 percent.
The Review-Journal is owned by the family of Las Vegas Sands Corp. Chairman and CEO Sheldon Adelson.
Contact Todd Prince at tprince@reviewjournal.com or 702-383-0386. Follow @toddprincetv on Twitter.