Wynn CEO Matt Maddox, Richard Byrne join company board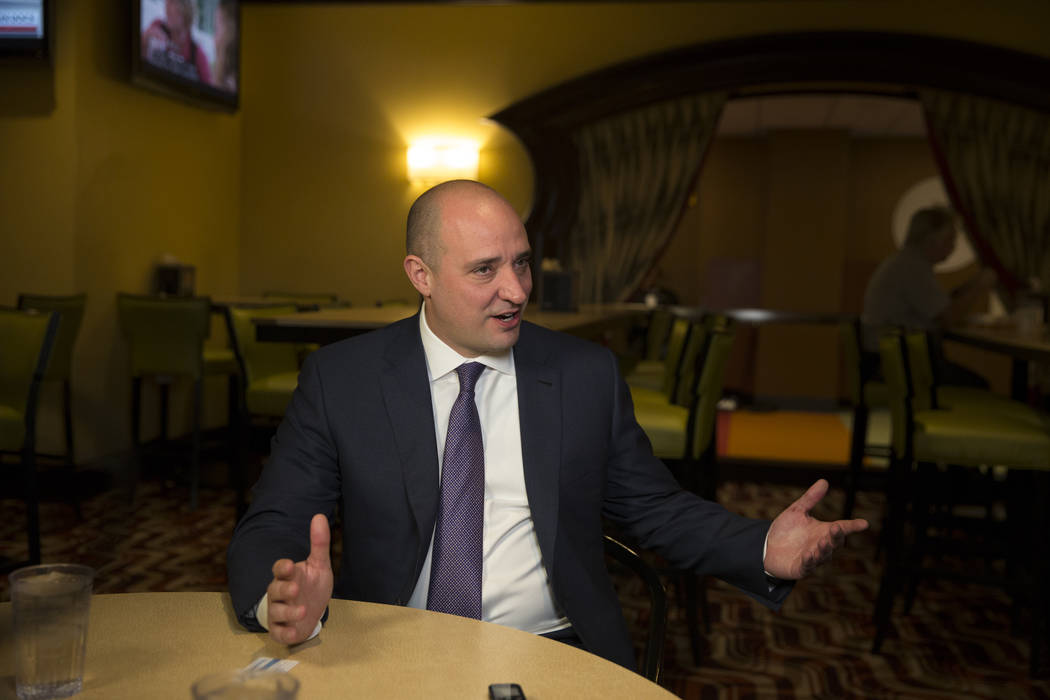 Wynn Resorts Ltd. has named CEO Matt Maddox and former Wall Street banker Richard Byrne to the board a day after the company announced it reached a truce with its largest shareholder, Elaine Wynn.
Maddox, the only Las Vegas casino CEO not on his own company's board, said earlier this year he expected to be nominated. That potentially set him up for a bitter battle with Elaine Wynn.
However, the two ended up striking a temporary deal last week.
Wynn Resorts agreed Aug. 3 to let her board nominee Phil Satre, the former CEO of Harrah's Entertainment, become chairman by the end of the year. Wynn Resorts had previously rejected Satre's nomination as chairman.
In exchange, Elaine Wynn agreed not to engage in any attempts to toss people from the board during Satre's two-year tenure, the company said in a statement Monday.
That opened the door for Maddox and likely ally Byrne to smoothly join the board Tuesday. Byrne was part of the Deutsche Bank team that helped Maddox raise $450 million for Wynn Resorts during the gaming company's initial public offering in 2002.
Management stability
Maddox's appointment to the board should dispel some market views that he could be pushed out of Wynn Resorts much like Steve Wynn and Kim Sinatra.
Wynn Resorts' management team and board have been in flux since reports emerged that co-founder Steve Wynn sexually harassed employees for decades. Steve Wynn denies the allegations and said the reports were initiated by his ex-wife. He stepped down on February 6.
Sinatra, general counsel and corporate secretary, stepped down last month after Elaine Wynn said in court in March that Sinatra was aware of Steve Wynn's possible sexual misconduct.
Before she stepped down, Sinatra was considered the second-most powerful person at the company after Maddox.
Elaine Wynn, who owns more than 8 percent of Wynn Resorts, has also butted heads with Maddox over several issues since he took the company helm on Feb. 7, including his potential nomination to the board.
The 76-year -old showed her power in May when she pushed John Hagenbuch off the board by rallying minority investors. Maddox actively supported Hagenbuch's renomination.
Not all analysts are convinced stability is here to stay.
"While this announcement may limit the prospects for activist pressure from Elaine, our view remains that changes to the company's board, management team and ownership structure remain a possibility as the company defines its direction in the coming quarters," Jefferies analyst David Katz said in a note after the agreement was announced Monday.
Important for Boston
The Wynn board will now consist of eleven members, six of whom have joined since Steve Wynn stepped down as chairman. The six new members include three women.
"We have made it our top priority to implement meaningful change at Wynn Resorts and have made demonstrable progress over the past six months," Maddox said in the filing with the Securities and Exchange Commission Tuesday announcing his and Byrne's board nominations.
Nevada, Massachusetts and Macau gaming authorities are investigating the company over how it handled the sexual harassment allegations. Wynn Resorts could potentially lose its Massachusetts gaming license.
The company is building a $2.5 billion casino in Boston that is expected to open in June, 2019. It has renamed the project Encore Boston Harbor, from Wynn Boston Harbor, to soothe anger in the state.
Elaine Wynn said earlier this year that Wynn Resorts should also change at least half its board members to improve the company's chances of a favorable outcome by regulators.
The Wynn Resorts board immediately came under pressure by investors and corporate governance specialists following the sexual harassment allegations for being too beholden to Steve Wynn and failing to protect the company.
The Massachusetts Gaming Commission will finish its investigation this summer and announce its conclusions at a later date.
Banker Byrne
Byrne, a banker, joins the board as Wynn Resorts seeks to bid for a license in Japan. A Japanese casino could cost as much as $10 billion.
Byrne had helped many gaming companies, including Wynn Resorts, raise equity and debt financing for new projects, according to Tuesday's SEC filing.
Byrne previously worked as CEO of Deutsche Bank Securities and co-head of the leveraged finance group at Bank of America.
Since 2013, he has been president of Benefit Street Partners, a credit-focused asset management firm with approximately $25 billion under management.
Contact Todd Prince at 702-383-0386 or tprince@reviewjournal.com. Follow @toddprincetv on Twitter.