Wynn chairman Phil Satre recommended for gaming license approval
Updated August 7, 2019 - 5:55 pm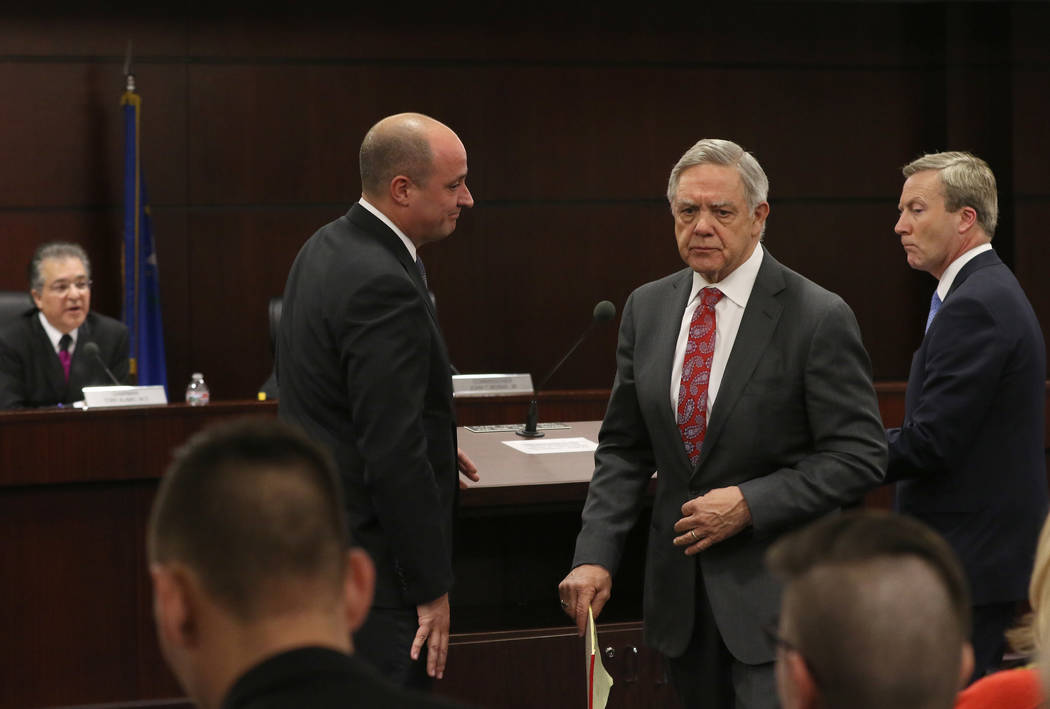 Longtime Nevada gaming industry executive Phil Satre, chairman of Wynn Resorts Ltd.'s board of directors, was recommended for licensing as a corporate director Wednesday by the state Gaming Control Board.
Satre joined the board in August 2018 as vice chairman and was elevated to chairman earlier this year, replacing D. Boone Wayson.
A yearlong investigation of Satre conducted by board agents found no regulatory or suitability issues. A lengthy licensing investigation is routine.
The board spent about 15 minutes interviewing Satre about Wynn's future plans in Las Vegas, Macao and Japan, and received an update on operations at Encore Boston Harbor, which opened in June.
Satre said the 18-hole golf course east of Wynn Las Vegas and Encore would reopen in October and with that will come a new restaurant.
"Customers have indicated to us that they really miss that particular amenity and that will be combined with something that I'm really excited about — Thomas Keller, the internationally known chef is going to build a restaurant in the space located right on the golf course," Satre said. "That's going to be a terrific new addition, I think."
He also noted that the company's under-construction convention facility in Las Vegas would open in early 2020.
Satre also commented on the 38 acres the company has purchased across Las Vegas Boulevard from the company's Strip properties, saying it's a long-term investment.
"That's something we'll begin to look at as we continue to finish off the projects both in Las Vegas and Macao and we have some additional acreage in Boston that we are looking at trying to develop, probably as a joint venture," Satre said. "That acreage across the street is critical to us in the long term. In the short term, I think we're going to look at what we think develops and how we want to take advantage of that particular position."
Wynn Resorts is one of several companies interested in building an integrated resort in Japan and Satre acknowledged that the company hasn't said much about its plans there.
"It's very early for us," he said. "Some of our competitors have been more active there for a longer period of time, but we're very interested in Japan and we've put together a very strong design team and we're spending time with potential partners there and we're working with a variety of different cities because that has not been determined yet, who exactly is going to host a casino or who isn't."
Satre didn't address — and board members didn't ask about — former Chairman and CEO Steve Wynn, who resigned his executive positions early last year but is still under regulatory scrutiny in Nevada.
The unanimously approved recommendation for Satre's licensing is expected to be considered for final approval by the Nevada Gaming Commission on Aug. 22.
Contact Richard N. Velotta at rvelotta@reviewjournal.com or 702-477-3893. Follow @RickVelotta on Twitter.