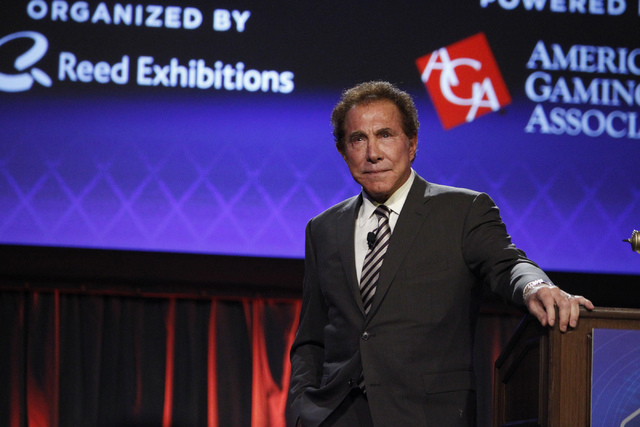 If you've watched casino king Steve Wynn for long, you know he's not easily deterred.
He's turned high risk into higher reward by building gaming resorts in Las Vegas and far-off Macau and has billions to show for it.
Wynn has also gained a reputation as a thin-skinned bully. He's particularly sensitive these days about an ongoing anti-corruption investigation of Macau casinos by the Chinese government, the officials for whom he had such high praise only a few years ago.
After watching his attempt to punish stock analyst James Chanos over critical comments about the scandalous Macau casino market get laughed out of a California courtroom, Wynn is now busy attempting to slash Nevada's fledgling law designed to protect the press and public against the sort of frivolous litigation some billionaires use for sport.
The legal term for it is a strategic lawsuit against public participation. Just two years ago, Nevada passed tough anti-SLAPP legislation that discourages frivolous suits whose ulterior purpose is to punish, prevent public commentary and chill the press.
Nevada's anti-SLAPP standard became a reality with the help of First Amendment lawyer Marc Randazza, who is alarmed by Wynn's backing of Senate Bill 444, which pulls the teeth from the current law.
It wasn't done in secret. Wynn Resorts representative Todd Mason opened his portion of the April 6 Senate Judiciary hearing by noting that the bill was introduced at the request of the gaming giant out of an interest in protecting "core First Amendment speech as well as protecting the right to petition." Noble, don't you think?
Wynn defamation attorney Mitchell Langberg, fresh from the Chanos loss, then took the reins from committee Chairman Greg Brower and led it on a winding trail riddled with hypothetical pitfalls. He attempted to make the case that the current statute puts plaintiffs under undue restrictions, including a hard-to-meet deadline and a lack of easy discovery.
Langberg offered, "I'm here to help you find the middle ground."
What Mr. Middle Ground neglected to say was the statute is on the books to protect against the sort of litigation practiced by the wealthy to silence criticism and dissent. He also declined to acknowledge that the plaintiff must meet the statute's burden rapidly because litigation can quickly exhaust an average person's resources.
"The bill is tailor made to facilitate SLAPP suits," Randazza said. "It doesn't just gut the law, it completely reverses its polarity. It's sneaky and pernicious. As a First Amendment lawyer, when I hear somebody saying they support this kind of free speech, but not that kind of free speech, I'm concerned."
The bill easily passed out of the Senate and now faces a hearing scheduled for Friday morning. Will it be stopped?
It's interesting that the Republican-dominated senate, whose members bellow and bray about the need for tort reform, failed to see SB444 as an invitation for frivolous lawsuits filed by billionaire bullies. But this goes beyond one party. This was a power play that makes senators from both parties appear either tone deaf or keenly attuned to their master's voice.
"SB444 seems to be a solution in search of a problem that doesn't exist," Review-Journal Vice President Mark Hinueber said Monday. "The current statute, as amended in the last legislative session, balances competing interests and should not be altered."
In the senate hearing, Brower rode for the Wynn brand by joining Langberg in parsing the potential problems created by the law's "public interest" language in favor of the company's "public concern" revision. The legislator even added smoke to obscure the issue by offering that public exposure of corporate officials' business conduct wasn't in the "public interest."
Perhaps Brower's forgotten that Nevada gaming licenses are considered a privilege, not a right.
Nevada history is festooned with big bosses and bullies, men who lease the Legislature and occupant of the Governor's Mansion for pet purposes. Wynn isn't the first, but he certainly ranks among the most prolific practitioners of the political art.
If you know anything about Steve Wynn's record of success at the Legislature, you know he usually gets his way.
This is one time he should not win.
John L. Smith's column appears Sunday, Tuesday, Wednesday, Friday and Saturday. Email him at Smith@reviewjournal.com or call 702-383-0295. Follow him on Twitter @jlnevadasmith.