Wynn investigations continue as Encore Boston Harbor appears
Updated September 1, 2018 - 4:37 pm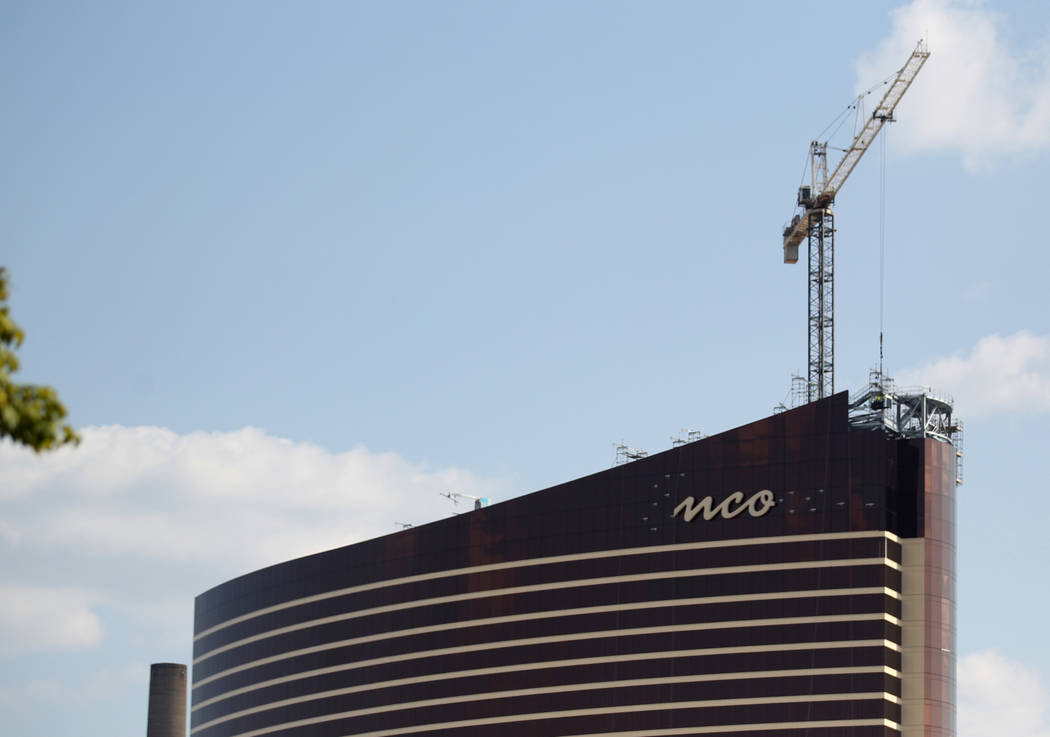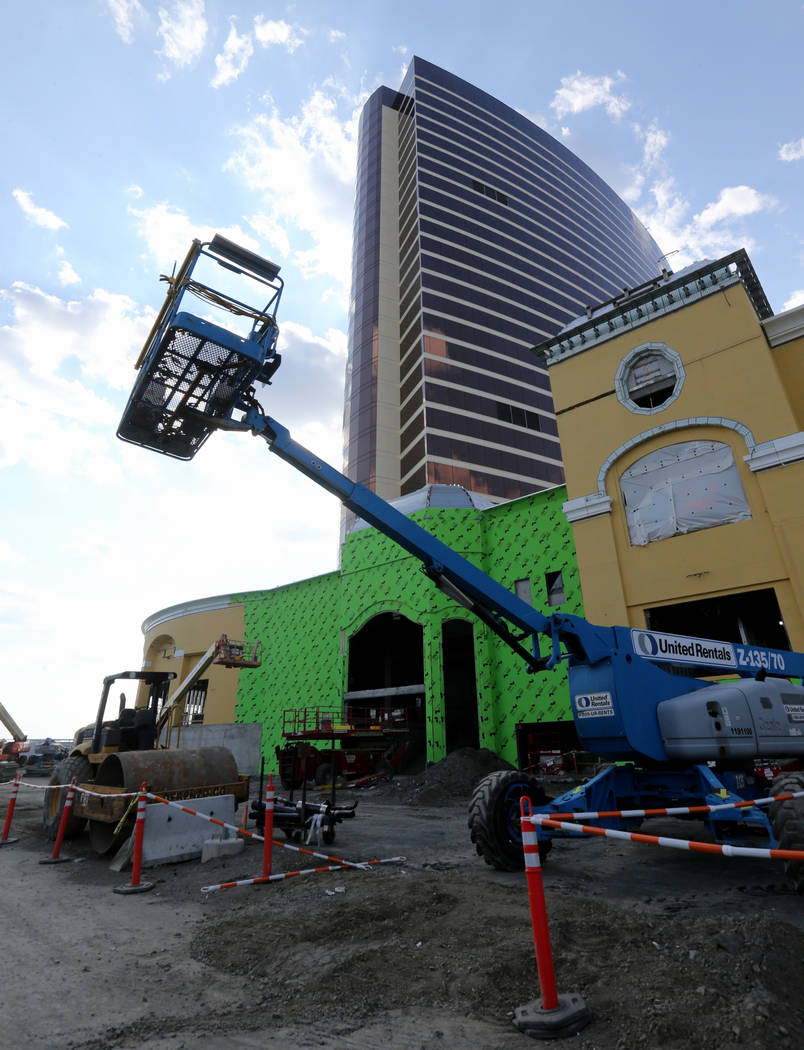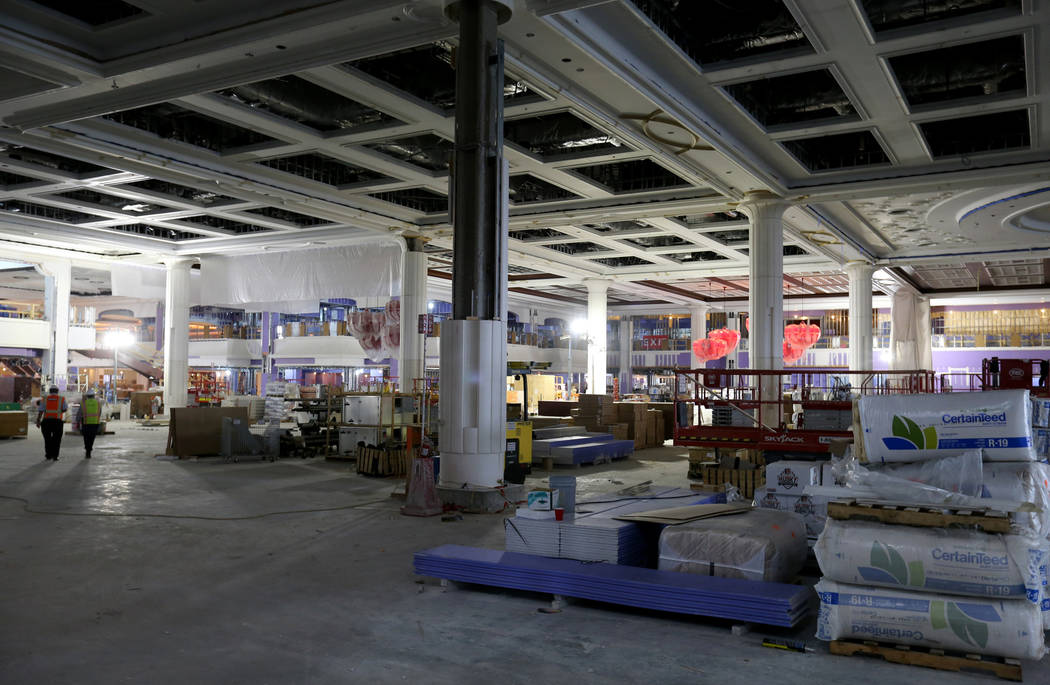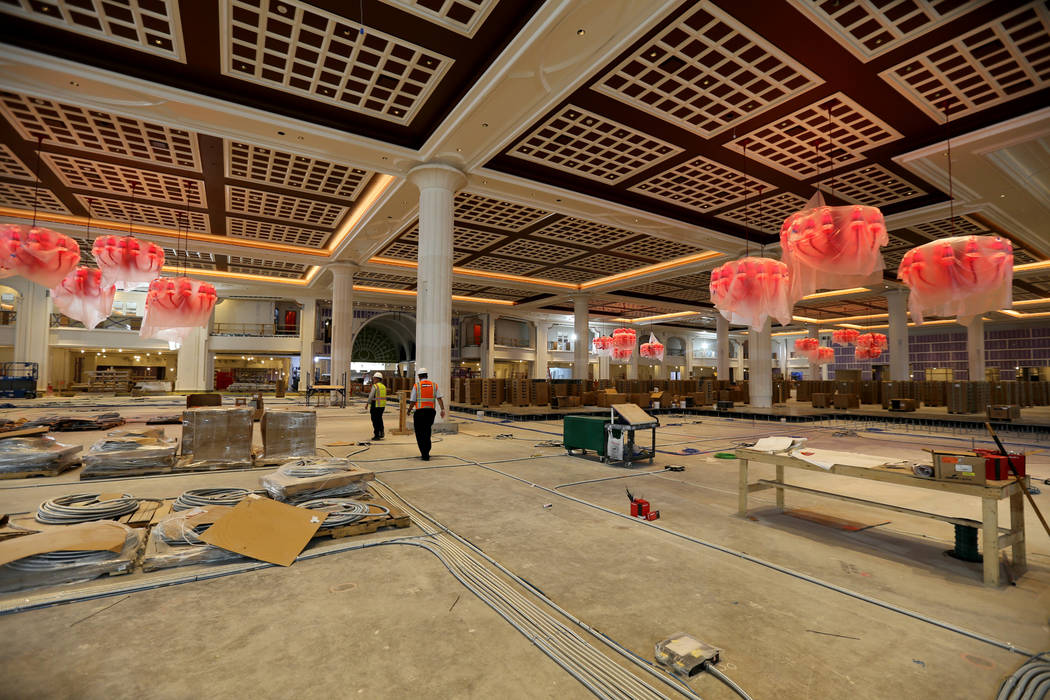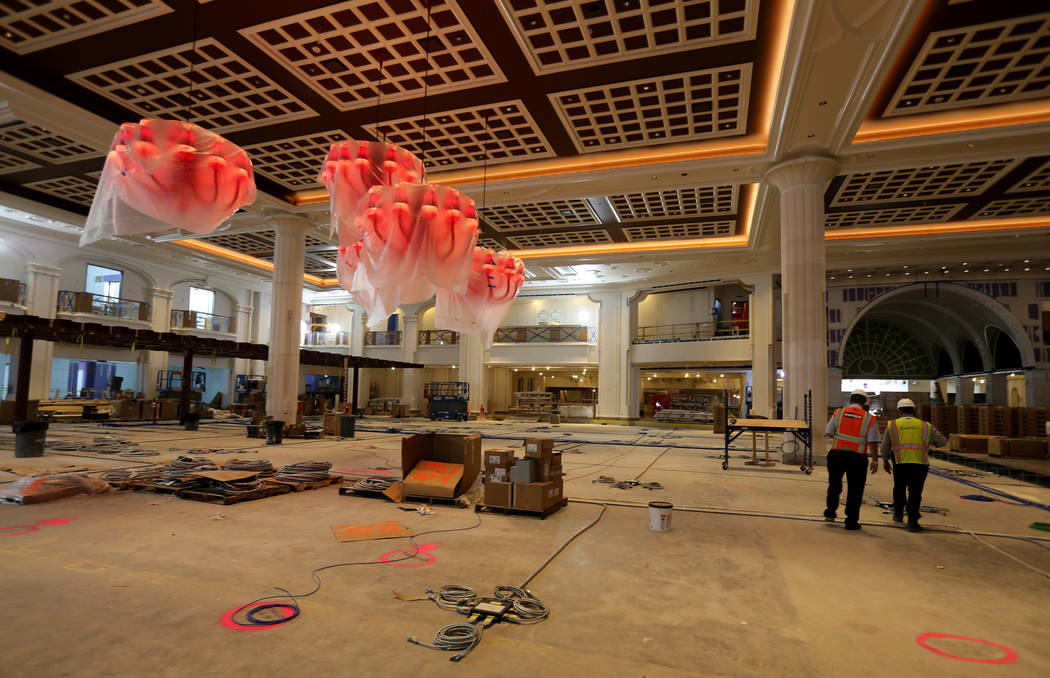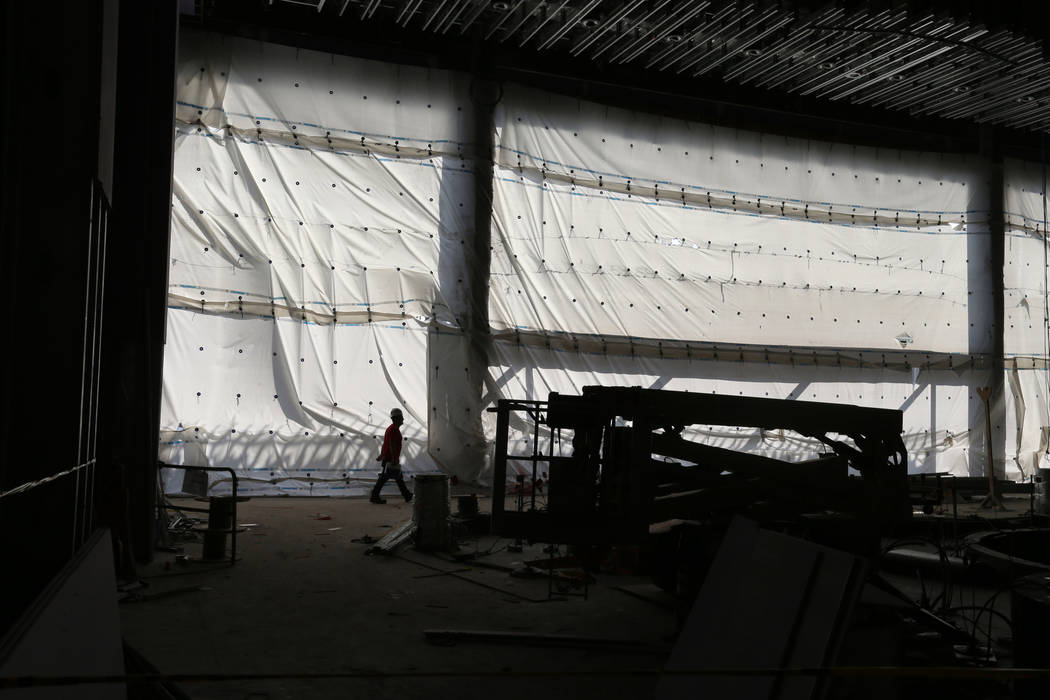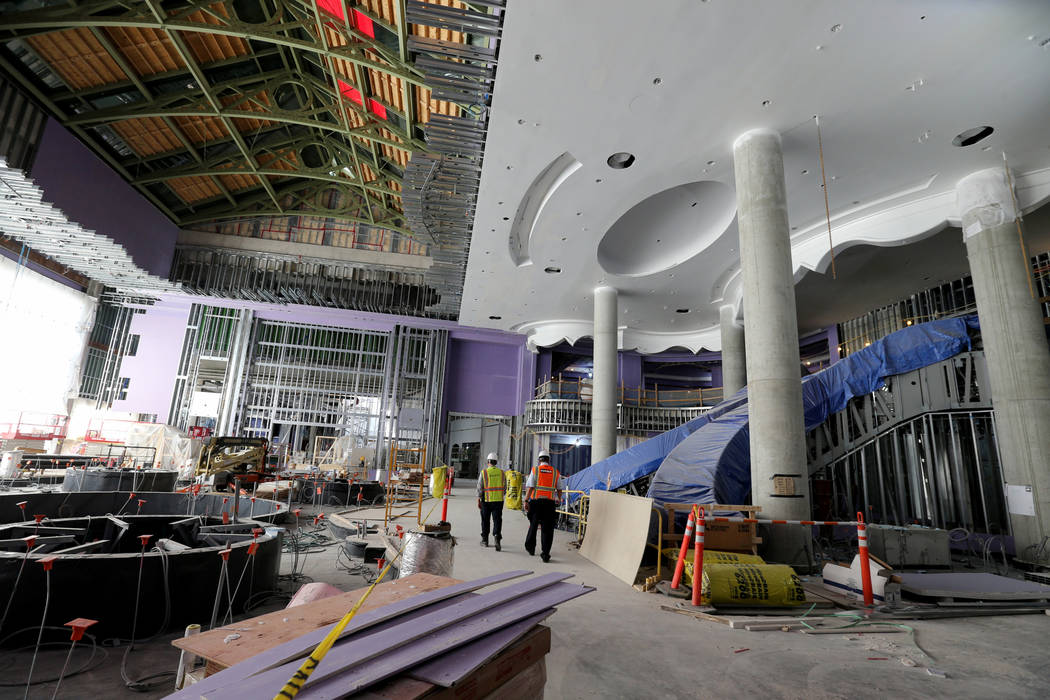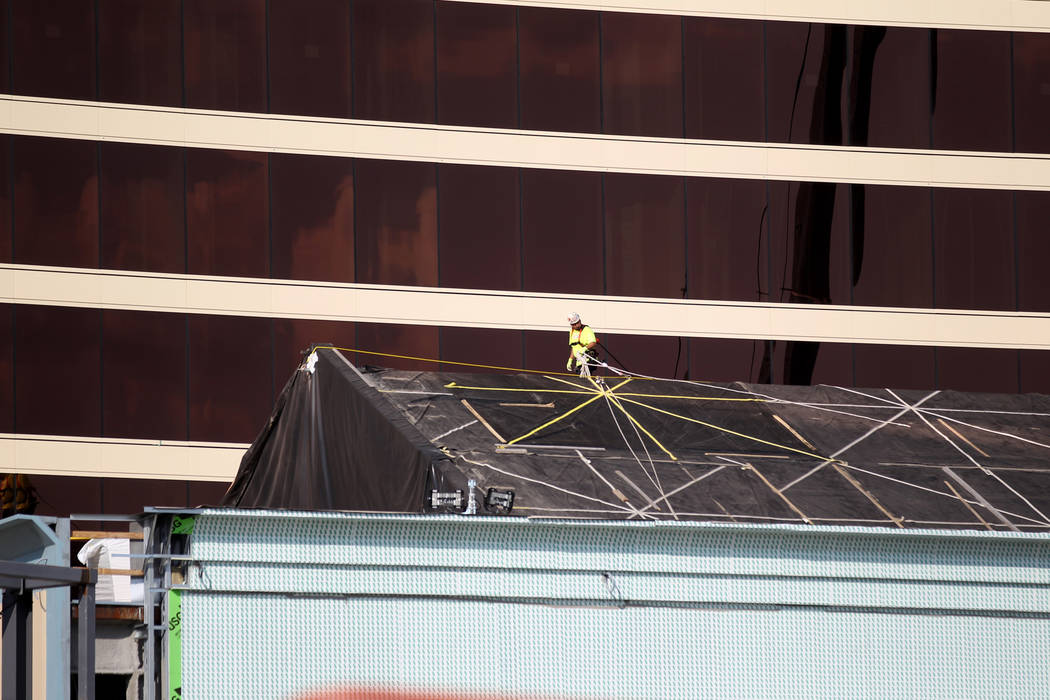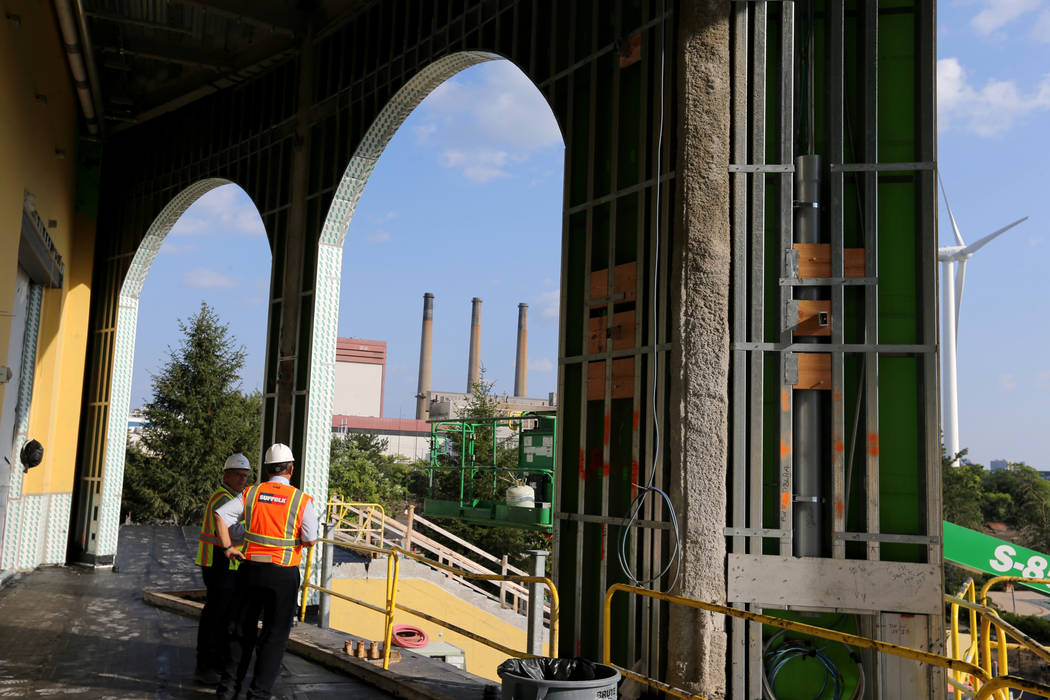 EVERETT, Mass. — A company publicist leading a recent tour of Encore Boston Harbor apologized in advance for the possibility of saying "Wynn" instead of "Encore" when talking about the project.
The $2.5 billion luxury hotel under construction in the Boston suburb of Everett has been at the center of controversy since February when former Wynn Resorts Ltd. Chairman and CEO Steve Wynn resigned after accusations of sexual harassment surfaced. He has denied the allegations, but they have resulted in investigations by the Wynn Resorts' board and by gaming regulators in Nevada and Massachusetts. The fate of the company's operations might be at stake.
Despite those unknowns, construction crews continue their work at Encore Boston Harbor, a stone's throw from the waterfront — and a Costco.
The 27-story, 671-room project on 33 acres will include a casino, 13 restaurants, a sports bar, a spa, event space with a grand ballroom, and a strip of luxury-branded retail stores. Standard hotel rooms will be the largest in the market with views from the upper floors of the Boston skyline, company officials say.
A signature attraction of Encore Boston Harbor will be its entry from the harbor.
Guests will be able to arrive by boat at harbor docks, and a harbor walk for bicyclists and pedestrians will be accessible from Boston's extensive trail system.
The resort on the Mystic River is Steve Wynn through and through, but Wynn's name won't be on the building. That was one of the early capitulations by the company to re-establish confidence with angry state government leaders embarrassed by the scandalous stories published about alleged encounters between Wynn and dozens of his female employees.
Investigations
Wynn Resorts' board of directors, made over in the past six months with new members — including three women — finished its investigation ahead of Nevada and Massachusetts regulators.
Massachusetts Gaming Commission Chairman Stephen Crosby told the Review-Journal now the commission will be able to conclude its investigation.
"The last element in our investigation was their own internal investigation," he said. "I think by the end of this month or shortly thereafter, our investigation will be completed."
Crosby said once a report is completed and formatted, it would be presented in a public meeting "probably in mid- to late September" to the five-member commission.
"We probably will provide Wynn Resorts an opportunity to respond if they want to, and then we will adjourn and adjudicate in private and come to whatever conclusions we come to as to whether or not we think there are consequences to the investigation," Crosby said.
The findings of the investigation would determine how long it would take before any potential action would be taken, he said, adding he hopes it "wouldn't be more than a couple of days."
State Gaming Control Board Chairwoman Becky Harris said that Nevada's investigation into Wynn Resorts is taking about as long as agents anticipated and that work should be wrapped up by the end of the month.
Harris said the public shouldn't read anything into the timing of the completion of the work and its findings coming out after their Boston contemporaries.
"Investigations take as long as they take, and our investigation is just taking longer than Massachusetts'," she said.
In the meantime, cranes are moving girders, and three shifts of construction workers are continuing to build what could be Boston's most luxurious resort nearby what once was a remediated chemical plant. The building looks much like the structure on the Strip, but plenty of work inside the building remains.
Contact Richard N. Velotta at rvelotta@reviewjournal.com or 702-477-3893. Follow @RickVelotta on Twitter.
Related
The Mohegan Sun resort to face new competiton from MGM, Wynn
Foxwoods property has biggest casino in North America
Connecticut tribal casinos gear up for Wynn, MGM competition
Popeye's new home
A 2,000-pound sculpture of Popeye by artist Jeff Koons, temporarily on display near the Encore Theatre in Las Vegas, will find a home at Encore Boston Harbor near the main entrance to the resort.
The art piece, acquired at auction by Steve Wynn for $28 million, will be near the hotel lobby at the base of a pair of curved escalators.
A floral carousel, another favorite at Wynn Las Vegas, is being designed for the Boston property.