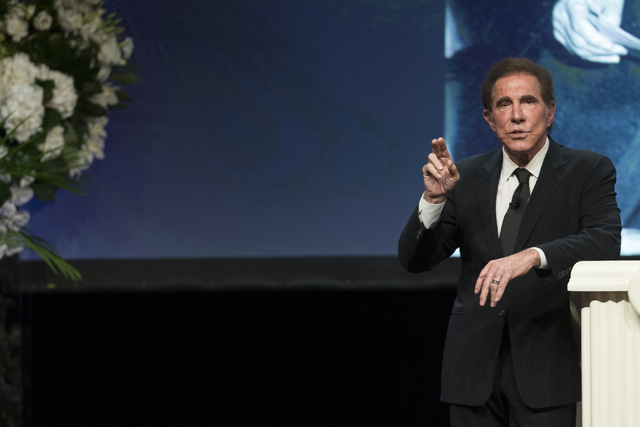 Billionaire casino operator Steve Wynn on Monday heaped praise on President Donald Trump for cutting taxes and regulation after his company announced quarterly profit surged more than four-fold.
"With the Trump administration, with the Republicans in Congress, we are seeing this fabulous renaissance. Any attempt to vilify or criticize this tax bill is a fruitless and pointless experiences. That impact of that tax bill is a tsunami of business activity and growth in America,'' Wynn told analysts from top U.S. banks on an earnings conference call.
Wynn Resorts pocketed an estimated $340 million windfall as a result of the tax break, Wynn said on the call. That boosted fourth quarter net profit to $492 million compared with $113 million in the year-earlier period.
Wynn also said he would share the corporate tax benefits with employees by raising wages or giving bonuses. He did not state an exact amount or if all U.S. employees would be eligible.
Shares of Wynn Resorts surge in part on the news, boosting the value of Wynn's stake by about $200 million. Wynn shares rose $15.59, or 8.68 percent to close at $195.23, the highest in more than three years. They edged up again after hours.
Las Vegas will be on of the biggest beneficiaries of the tax break, Wynn told the investment community. Individuals and companies will now have more money to spend on recreation and meetings in the U.S. gaming capital.
"I am not trying to sound like a Republican commercial, but I am happy to do one,'' said Wynn, who was named finance chairman of the Republican National Committee in early 2017.
The accord between the two is relatively new. About a decade ago, Wynn, then head of Mirage Resorts, clashed with Trump over plans to build a Las Vegas-style casino in the Marina District of Atlantic City.
Wynn's praise for Trump on the call Monday was matched by his tongue-lashing for the policies of former U.S. President Barack Obama.
"We were victimized by the wet blanket, over-regulatory repressiveness of the Obama administration. All of us out here suffered,'' said Wynn.
"Everybody was in our face and it was impacting our ability to pay our employees,'' he said of the Obama administration.
Obama drew the wrath of Las Vegas officials and casino executives in February 2009 when he warned companies during the depths of the Great Financial Crisis from using government bailout money to travel to the nation's entertainment capital.
"You can't get corporate jets, you can't go take a trip to Las Vegas or go down to the Super Bowl on the taxpayer's dime," Obama said at the time during a town hall meeting in Indiana.
Several of the nation's largest companies canceled events in Las Vegas following the remarks.
Contact Todd Prince at tprince@reviewjournal.com or 702-383-0386. Follow @toddprincetv on Twitter.