Wynn Resorts best days are ahead, CEO says
Updated May 16, 2018 - 8:01 pm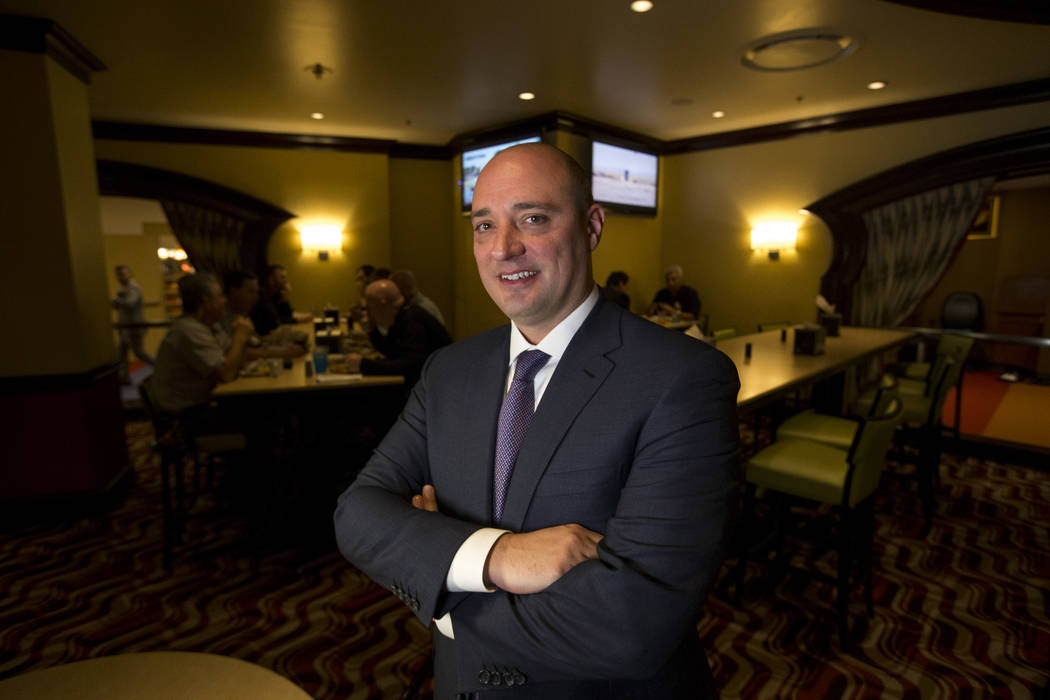 Wynn Resorts Ltd.'s best days are ahead of it with growth in Las Vegas and Macau on the horizon, the company's CEO said Wednesday.
Matt Maddox assured about 100 investors attending the company's annual meeting that Wynn Resorts is more about its 25,000 employees than the founder whose name is on the building.
Maddox is a 16-year Wynn executive who has been groomed for the top role for the past five years. Maddox's elevation to CEO was accelerated after Steve Wynn was accused in January of sexual harassment at his resorts.
Steve Wynn has denied accusations that he assaulted or harassed workers, but stepped down in February, saying that the barrage of complaints was minimizing his leadership efforts.
In his first appearance as the company's top executive at the company's annual meeting, which drew investors from around the country, Maddox detailed some of the company's future plans in Las Vegas, Macau and Japan, which is on the verge of building its first casino resorts.
"On our golf course here in Las Vegas, we are constructing a 400,000-square-foot convention center right now," Maddox said. "That should be finished in mid-2020. We're also working on what we're going to do with our lagoon."
The lagoon is slated to be a 25-30 acre body of crystal-blue water "that looks like the Caribbean," he said, adding that Bellagio's fountain pool is around eight acres.
"We're going to have beaches. We're going to have amphitheaters. We're going to have the ability for people to participate in water sports and it's going to be for our hotel guests. My goal for what we do on the golf course is to bring things to Las Vegas that don't exist."
He also said the company plans to build "the next great Las Vegas resort" on 34 acres it acquired across Las Vegas Boulevard from Wynn Las Vegas as soon as the convention center and lagoon projects are completed.
Maddox also said the company's $2.5 billion under-construction Boston project isn't for sale. He said reports of a potential sale were just media speculation.
The company's newest Macau property, Wynn Palace, will see restaurants and amenities built in the years ahead.
Maddox said the company is hosting 22 high-level executives from Japan to develop a consortium to make a bid to build a resort there when the government is ready for proposals.
Maddox cited progress, culturally and by construction, that he hopes is changing the way the public perceives the company.
The Wynn Resorts board has faced intense criticism ever since the sexual misconduct allegations emerged, followed by allegations that attempts to bring Steve Wynn's behavior to the attention of executives fell on deaf ears.
Wynn Resorts stock was up 96 percent last year compared with an increase of 21 percent for the Standard & Poor's 500 companies. In first-quarter reports late last month, Wynn's earnings in Macau were up 44 percent compared with 20 percent for the rest of that market.
Maddox seems proudest of the cultural change he's leading with the development of a community and culture department to offer solutions to gender pay and equity issues, leadership development and employee satisfaction.
"Are there areas we can improve?" Maddox asked. "Are there areas where maybe a man is outpacing a woman simply because that's the way it's always been? As a 42-year-old man with a 12-year-old daughter, a 10-year-old-daughter and a 10-year-old son, I can tell you I am committed to make sure that Wynn leads the industry in terms of gender equality, diversity and inclusion."
Contact Richard N. Velotta at rvelotta@reviewjournal.com or 702-477-3893. Follow @RickVelotta on Twitter.
If you see Mr. Wynn …
Annual corporate meetings are often an opportunity for shareholders to talk directly to executives.
One shareholder asked CEO Matt Maddox to forward a message to former CEO Steve Wynn, the company's co-founder, who left the company in February after accusations involving sexual harassment that he has denied.
"If you speak to Mr. Wynn, would you please convey to him my gratitude," the shareholder said in a question-and-answer session at Wednesday's meeting.
"I know despite all the alleged transgressions that have been in the news and is dominating everyone's mind, I would like to make my thanks to him as a shareholder for over 10 years and have been coming to his resorts for almost 30 years. The happiness, the joy, the delight, the prosperity as a shareholder that I've enjoyed … I just wanted to convey that to him. I hope he's well and I wish him the best."