Wynn Resorts fined $35M in Massachusetts, Encore Boston Harbor to open in June
Updated April 30, 2019 - 6:49 pm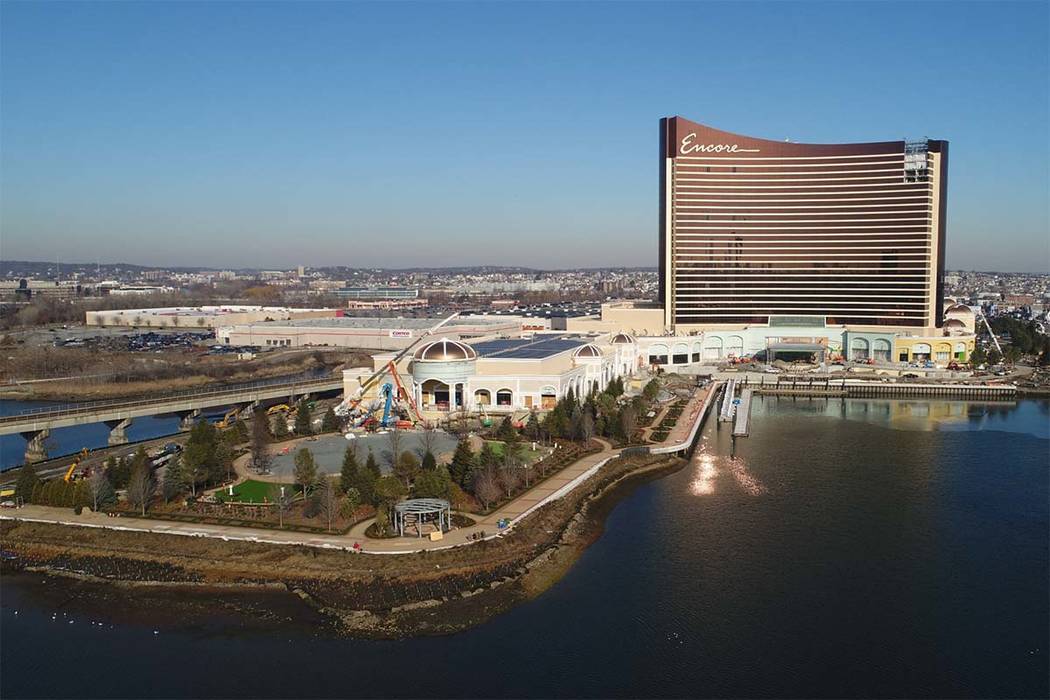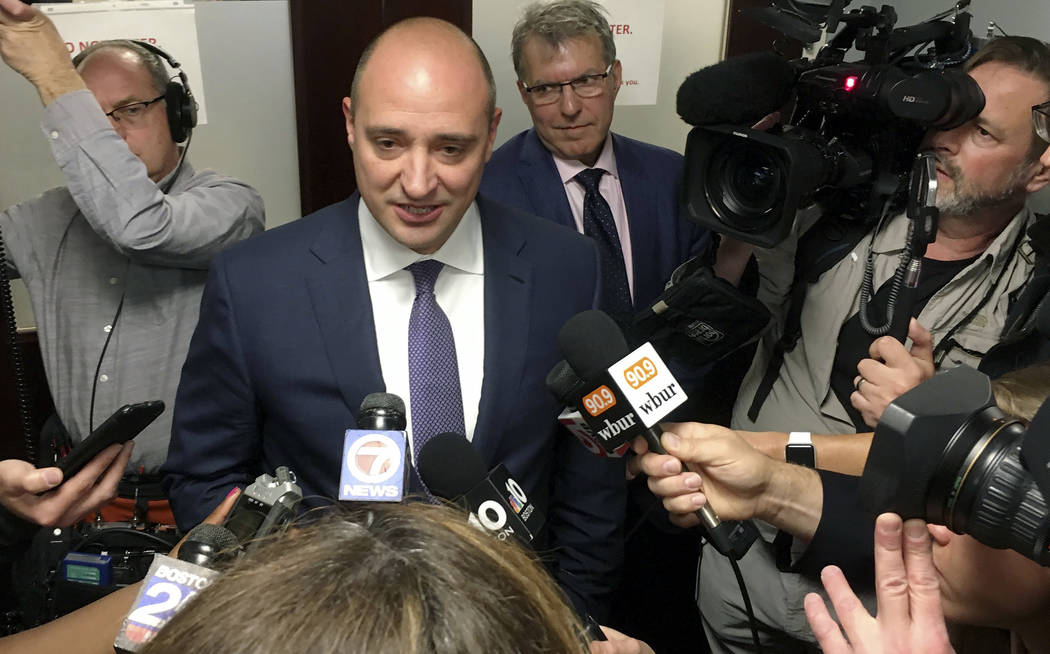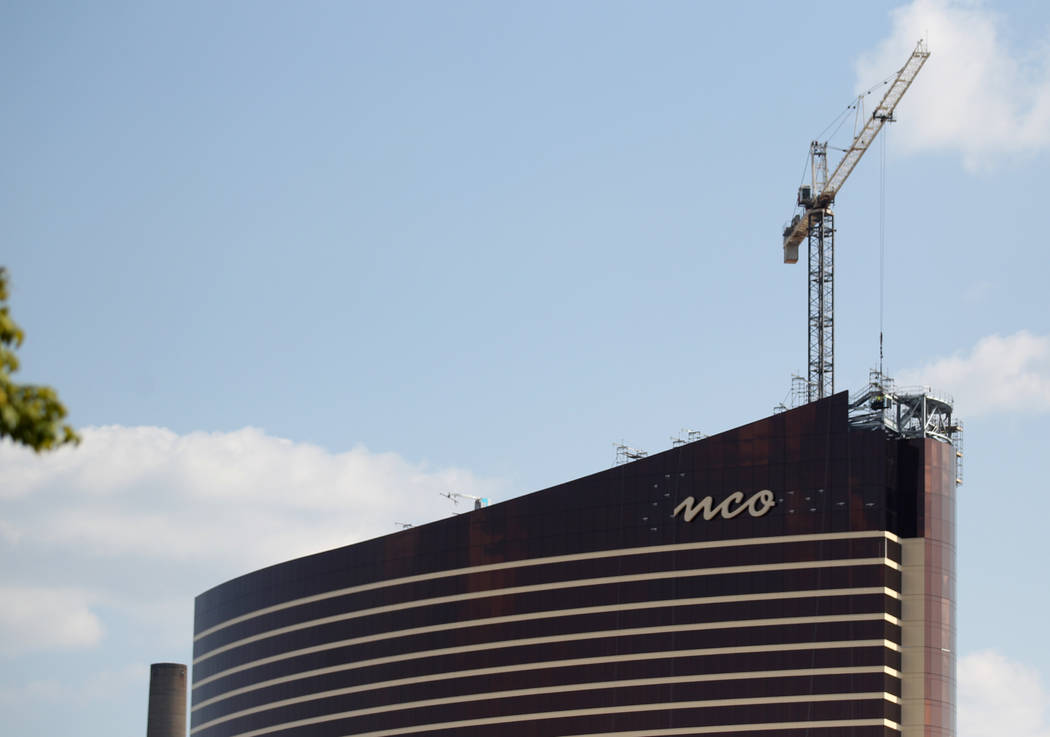 Wynn Resorts Ltd. will keep its Massachusetts gaming license but pay a $35 million fine to the state, the Massachusetts Gaming Commission ruled Tuesday.
The company's suitability was in question after an investigation determined that former Wynn Chairman and CEO Steve Wynn and other executives failed to disclose a $7.5 million settlement payment in 2005 to a woman who said he forced her to have sex with him. Steve Wynn has denied harassing anyone.
The stakes were high for the company because it is planning to open its $2.6 billion resort, Encore Boston Harbor, in June and already has begun hiring employees and taking reservations.
The company issued a brief statement after the decision was announced saying, "We are in the process of reviewing that decision and considering the full range of our next steps."
Punitive measures
In addition to the fine against the company — $15 million more than a fine assessed against Wynn Resorts by the Nevada Gaming Commission in February — Wynn CEO Matt Maddox was individually assessed a $500,000 fine, commissioners decided.
The company's board of directors also was directed to hire an executive coach and any additional necessary resources to provide coaching and training to Maddox in four areas: leadership development; internal and company-wide communication; enhanced sensitivity to and awareness of human resource issues arising in workplace environments; and team building and meaningful collaboration.
The sensitivity training relates to diversity issues — including disability, implicit bias, hostile work environments, inherent coercion, sexual harassment and assault, human trafficking, and domestic violence.
The Massachusetts order also could affect the Wynn boardroom in the future. The commission ordered that the company "maintain the separation of chair and CEO for at least the term of the license (15 years)."
Other requirements in the order:
-At Wynn's expense, the commission will select an independent monitor to conduct a full review and evaluation of all policies and organizational changes adopted by the company as part of the adjudicatory record.
-The board of directors shall provide the commission timely reports of all directors' attendance records of both board and assigned committee meetings.
-The Massachusetts subsidiary will be required to train all new employees on preventing harassment and discrimination within three months of opening.
-Any civil or criminal complaints or other actions filed in any court or administrative tribunal against a qualifier shall be reported to the commission immediately upon notice of the action.
The commission didn't order a suggestion offered by the company last month — that Steve Wynn be banned from entering any Wynn Resorts property worldwide.
Commissioners also affirmed that board member Pat Mulroy and top shareholder Elaine Wynn as well as Maddox are suitable for a gaming license and that several new board members, including Chairman Phil Satre, interviewed in April's hearings in Boston, also are suitable.
The company has been scrutinized for more than a year since media reports surfaced about accusations of sexual harassment involving Steve Wynn.
"Our licensees will be held to the highest standards of compliance, including an obligation to maintain their integrity," Massachusetts Gaming Commission Chair Cathy Judd-Stein said in a statement announcing the board's decision. "The law of Massachusetts affords the commission significant breadth in our decision making. With that comes an equally significant duty of fairness. We are confident that we have struck the correct balance and met our legal and ethical burdens."
Expectations
Analysts had speculated that the company was destined for a big fine after the Nevada Gaming Commission assessed a record $20 million fine over similar allegations in February. Some did not expect that Wynn would retain the license it received in Massachusetts in 2014 or that Maddox would be found suitable for licensure following his testimony April 2-4.
"We expected it to be more," said John DeCree, a gaming industry analyst with Las Vegas-based Union Gaming. "I think we thought it could've been a little more to show how strict and deep the investigation was."
DeCree said the individual fine assessed on Maddox was a first.
"I can't think of a scenario where I've seen that before," he said. "He was certainly under a lot of scrutiny under the hearing, so that doesn't surprise us."
Overall, DeCree viewed the decision as a positive for the company, which can now focus on ramping up for the scheduled June 23 opening.
"It's a significant investment and a significant opportunity in Boston," he said. "In terms of the company, that's going to be a top priority."
In a report to investors, DeCree said he expects the company would "quickly shift all of its efforts to getting the new property open on time by the end of June.
Business attorney Aviva Gordon of Gordon Law Las Vegas said because Wynn Resorts is new to Massachusetts, the commission might have been trying to send a message to the company.
"The Massachusetts Gaming Commission went harder because they had the ability, without the history behind them, to send a stronger message," she said. "You're coming into our state, we're going to charge you more harshly."
Dennis Gutwald, a partner in the Las Vegas office of the McDonald Carano law firm, said the fine against the company was "probably at the lower end of" what he expected.
"The Massachusetts Gaming Commission wanted to show how much stricter they were than Nevada. It was just a matter of how much they would do so," he said. "I think $35 million is in the ballpark of what was expected. It shouldn't hurt Wynn too badly."
The Massachusetts fine of $35 million represents about 4.3 percent of the company's 2018 net income. The total $55 million in fines assessed by Nevada and Massachusetts represents about 6.7 percent of annual net income.
Wynn Resorts shares closed down $4.32, or 2.9 percent, on the Nasdaq exchange Tuesday on average volume. After hours, the stock rebounded by $3.35, 2.3 percent, to end at $147.80 — about halfway between the high and low points of the stock in the past year.
Contact Richard N. Velotta at rvelotta@reviewjournal.com or 702-477-3893. Review Journal reporter Bailey Schulz contributed to this report. Follow @RickVelotta and @bailey_schulz on Twitter.
Mass. Gaming Commission decision on Wynn Resorts by Las Vegas Review-Journal on Scribd
Related
Elaine Wynn rejects blame for hiding sexual misconduct settlement — VIDEO
Wynn CEO, others say they were in denial over Steve Wynn allegations
Steve Wynn tells Mass. gaming officials relationships with employees consensual
Expert says Wynn Resorts changes should satisfy regulators
Nevada regulators confirm Wynn CEO Maddox in good standing
Wynn Resorts proposes Steve Wynn be banned from company property
Wynn Massachusetts Timeline
Nov. 22, 2011 — Gov. Deval Patrick signs the Expanded Gaming Act that initiates a commercial casino industry in Massachusetts. The law provides for three destination resort casinos by geographic region.
Dec. 16, 2013 — Wynn Resorts Ltd. and its Massachusetts subsidiary are found suitable to apply for a state gaming license.
June 2014 — Wynn Resorts Ltd. completes an environmental report on a proposed resort site on the Mystic River in Everett, targeting a 2018 resort opening.
Sept. 16-17, 2014 — The Massachusetts Gaming Commission votes 3-1 for Wynn Resorts' $1.6 billion Wynn Everett proposal. The commission then votes 4-0 to award a license to Wynn.
November 2014 — The state officially grants Wynn the license.
Jan. 2, 2015 — Wynn Resorts acquires the 33-acre Wynn Everett site on the Mystic River.
March 2016 — Wynn Resorts Chairman and CEO Steve Wynn announces new details about the resort, including an increased budget to $2 billion and a new working name — Wynn Boston Harbor — as well as a planned July startup.
August 2016 — Construction begins on the project.
Jan. 26, 2018 — The Wall Street Journal publishes a story alleging sexual misconduct and sexual harassment over several years by Steve Wynn. The story notes a $7.5 million settlement payment made by Wynn to one of the alleged victims. Wynn denies harassing anyone.
Jan. 29, 2018 — The Investigations and Enforcement Bureau of the Massachusetts Gaming Commission begins a regulatory investigation of Steve Wynn and Wynn Resorts. The IEB emphasizes that it's a regulatory, not a criminal, investigation.
February 2018-February 2019 — The IEB conducts interviews with more than 100 people in six states in the Wynn investigation.
Feb. 6, 2018 — Steve Wynn steps down as chairman and CEO of Wynn Resorts. His protege, Matt Maddox, is named CEO by the company's board of directors.
April 18, 2018 — Steve Wynn is completely divested of Wynn Resorts.
May 7, 2018 — The Massachusetts Gaming Commission determines that Steve Wynn is no longer a "qualifier" for a license in the state.
April 2, 2019 — The Massachusetts Gaming Commission begins a three day hearing to determine the standing of Matt Maddox and Wynn Resorts.
April 30, 2019 — The Massachusetts Gaming Commission delivers its decision.