Caterpillar CEO to retire; timing with Las Vegas trade show seen
October 17, 2016 - 5:34 pm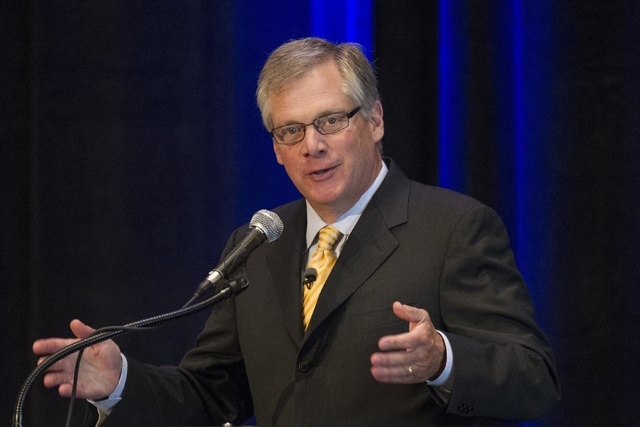 Caterpillar's Doug Oberhelman will retire after a 41-year career with the largest maker of construction and mining equipment, leaving his replacement to finish the job of navigating a commodities slump.
The 63-year-old will be replaced as chief executive officer on Jan. 1 by company veteran Jim Umpleby, now a group president for energy and transportation, the Peoria, Illinois-based company said in a statement Monday.
Stanley Elliott, an analyst at Stifel Nicolaus & Co., said the timing wasn't very surprising and may be more about having the new CEO in place before an important trade show in Las Vegas in March, he said by telephone from Richmond, Virginia. The CONEXPO-CON/AGG show is scheduled for March 7-11 in Las Vegas.
Since leading Caterpillar to record sales in 2012, Oberhelman has been steering through a slowdown in demand for engines, giant trucks and shovels. He reorganized mining and energy segments, shutting down dozens of factories and eliminating thousands of jobs. A years-long initiative to streamline the company's supply and distribution network has yielded results as its gross margin has climbed annually since 2013, even as revenue slumped.
The new CEO will face a more formidable global competitor after Komatsu Ltd., the second-biggest mining and construction equipment maker, agreed to buy Joy Global Inc. for $2.89 billion in July. That deal gives the Tokyo-based manufacturer the largest independent maker of underground-mining equipment and the heft to better compete with Caterpillar beyond Komatsu's dump-truck and excavator businesses.
JPMorgan Chase & Co. analysts Ann Duignan and Thomas Simonitsch had assumed Oberhelman would stay in the role until he reached 65, they said in a note to clients. The announcement comes a week before Caterpillar reports third-quarter earnings, when it often provides initial guidance for revenue growth for the upcoming year.
"The timing of the change in leadership suggests confirmation that the outlook for 2017 may be for a fifth consecutive year of revenue decline," Duignan and Simonitsch wrote.
Oberhelman, whose 2015 reported pay was $17.9 million, will remain as chairman until March 31 when Dave Calhoun will assume the role, in a non-executive capacity. Calhoun is senior managing director and head of private equity portfolio operations of The Blackstone Group LP. Umpleby will also join the board.
The stock has rallied 29 percent this year along with a recovery in commodity-producer shares. The company is scheduled to report third-quarter earnings on Oct. 25.