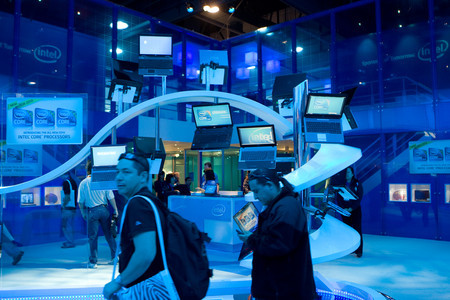 Attendance wasn't the only thing that was up at this year's International Consumer Electronics Show. So were participants' excitement levels.
"Last year there wasn't any buzz," said Gary Richter, president of Reno-based exhibitor PanaVise Products. "This year there was a lot of buzz. This year the people seem more upbeat. I think people feel we've hit bottom and now (they're thinking), 'What I am going to do to get out of the bottom.'"
In addition to the improving economy, Richter said attendees at the show were excited because of the emergence of 3-D television as the next hot "must-have" consumer item and the arrival of the iLounge, a showcase for Apple Inc.-related items that made its first-ever appearance at CES this year.
The excitement at the year's first major Las Vegas convention started with the attendance numbers.
CES drew 120,000 attendees, a 6.1 percent increase from last year's numbers, according to preliminary statistics released late Sunday by the show producer, the Consumer Electronics Association.
International attendance increased by approximately 1,000, and more than 5,000 reporters, analysts and bloggers attended.
The CEA had estimated 4,000 reporters would attend. Exact attendance numbers will be available in the spring.
CEA representatives did not return an inquiry on Monday for an interview.
Attendees at the show were particularly encouraged by the participants' attitudes about the economy.
Jim Kohler, resident and district manager in Las Vegas for Aramark, food service provider for the Las Vegas Convention Center, said the show's attendees' were more positive this year.
"The event exceeded our expectations," Kohler said. "Especially coming off the year we had last year."
Aramark operated the restaurants, concession outlets, food stands and beverage sales. It also catered 2,000 events for the convention center exhibitors this year.
Although Kohler would not provide specific revenue numbers, he said, "We're very happy with our results from the show."
He added: "The attendees were incredibly happy to be here. I can tell you spending was a little different and they were frequenting our restaurants. The catering business was strong as well."
Bill Lerner, a principal for the analyst firm Union Gaming Group, said the numbers from CES, along with a strong New Year's Eve, might indicate that things are getting better for Las Vegas.
"It felt different than it has for a long time," Lerner said of his conversations with hotel, restaurant and nightclub owners over the weekend. "Consumers are spending more money. We know more of them are coming here. It's now about what their spending patterns are."
CES, which ended a four-day run Sunday, used nearly 2 million square feet of exhibit space at the Las Vegas Convention Center, 200,000 square feet at the Las Vegas Hilton and meeting rooms at The Venetian.
The show did not use the Sands Expo Center, something 11-year exhibitor Howard Scheff said benefited CES.
"We saw more foot traffic because they combined everything into one building," said Scheff, founder of Las Vegas-based Professional Wireless Retailers Association. "It brought some people who would have never, ever made it into the Las Vegas Convention Center."
Although overall attendance increased, the number of exhibitors at the show dropped by nearly 2,000 from last year's 25,000.
The show's impact was also felt at hotel-casinos. Las Vegas Sands Corp. Vice President of Communications Ron Reese, whose company owns the Palazzo and The Venetian, said the properties sold out its 7,100 rooms on Thursday and Friday. A few rooms, however, were available Saturday due to early CES departures.
Reese said crowds helped create a "contagious buzz" in hotel restaurants and casinos.
"These weekends are the types of weekends that makes Las Vegas a special place," Reese said. "You can feel the buzz over the weekend. That's unlike most cities when the buildings are full and there's people crowded on the sidewalk. It's a great feeling."
Contact reporter Arnold M. Knightly at aknightly @reviewjournal.com or 702-477-3893.