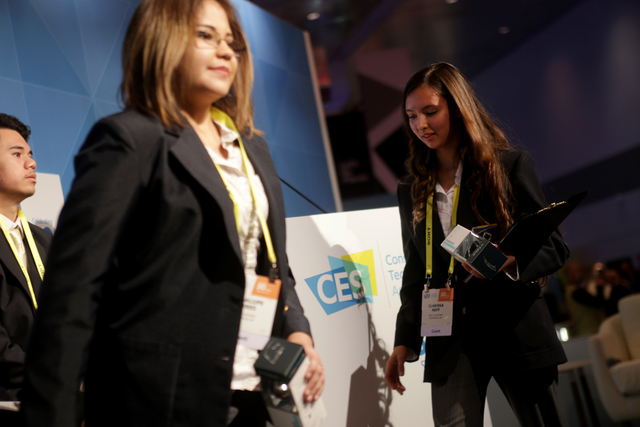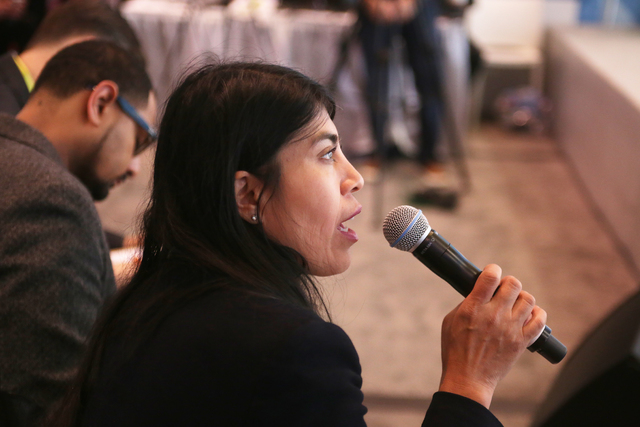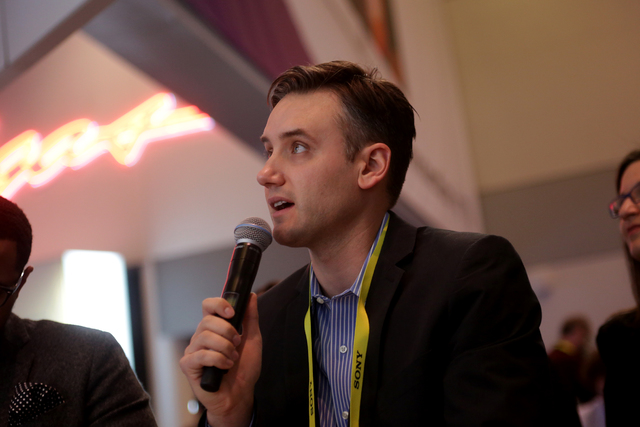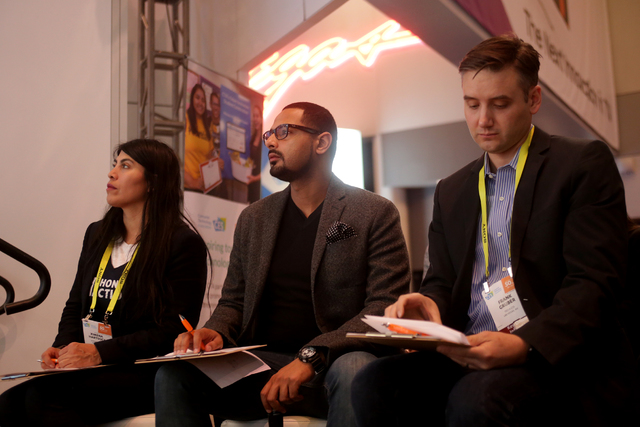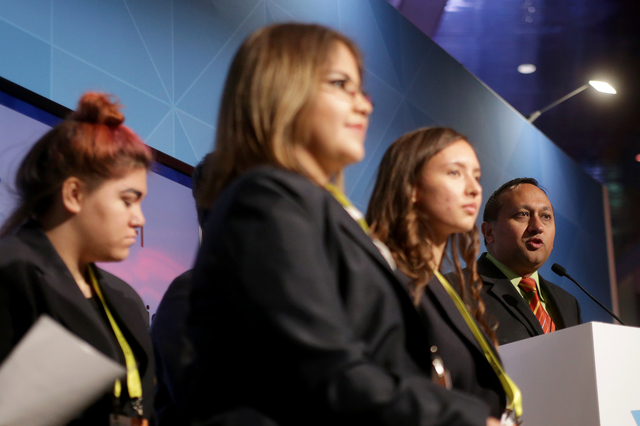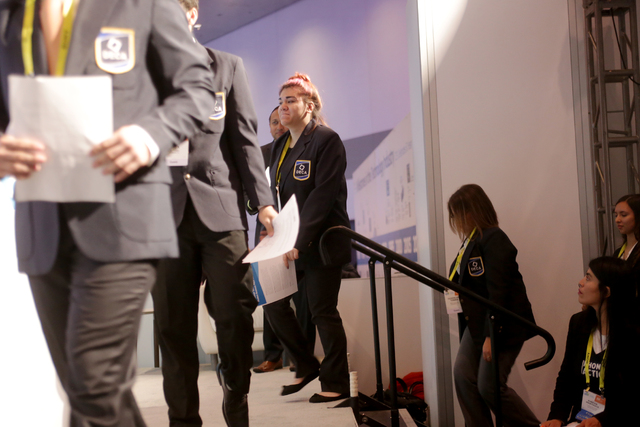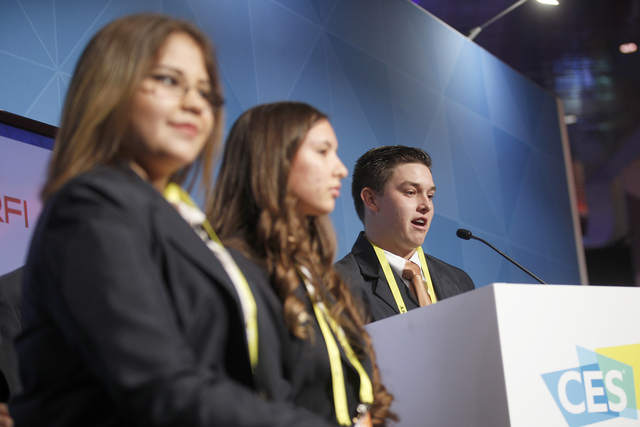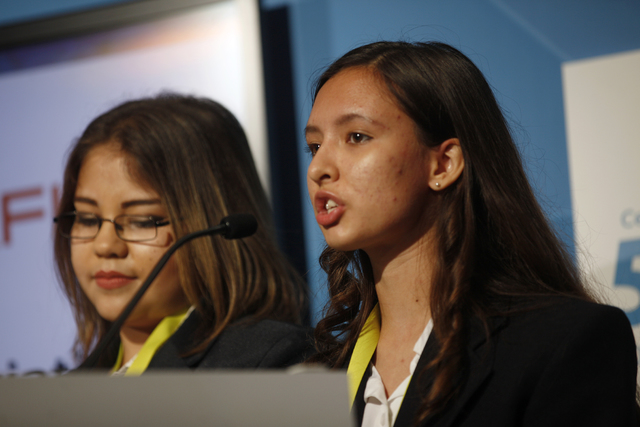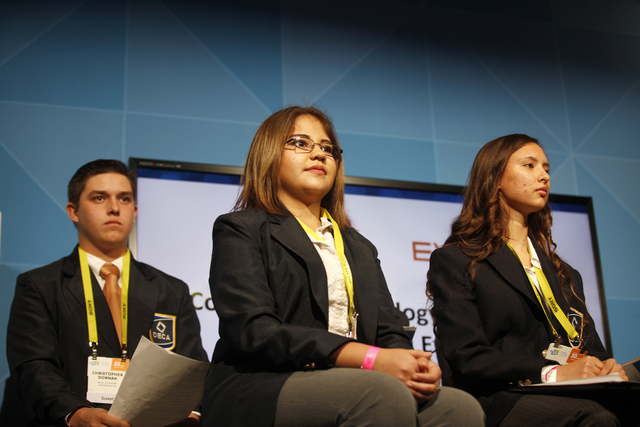 It was a two-minute drill for a dream.
On Sunday, the last day of CES 2017, five young entrepreneurs in businesslike black blazers and slacks pitched ideas quickly: for a mobile technology safety feature, a nutrition-based concept and an innovative medical device.
At the Las Vegas Convention Center, the group of sophomores, juniors and seniors from Basic Academy of International Studies had two minutes to present elevator pitches and one minute to answer judges' questions. The group was the first to participate in the business pitch competition, created through a partnership with the Consumer Technology Association, which stages CES, and EverFi, an education technology company.
"This is a tremendous opportunity to showcase the next generation of leaders in technology-related businesses," said Snehal Bhakta, program lead in the career and technical education department at the Clark County School District. "It also gives them a chance to apply what they've learned in class. It's a scary experience, but I tell students don't be scared of failing. Failure is the first attempt to learn and the first step in becoming successful."
Consumer Technology Association members judged the event. The panel included Frank Gruber, co-founder, CEO and executive editor of Tech.Co Media, a company combining a tech media hub with events and resources for entrepreneurs; Nate Yohannes, senior adviser and presidential appointee for the U.S. Small Business Administration; and Ximena Hartsock, founder and chief operating officer and president of Phone2Action, a digital advocacy platform.
Clarissa Neff, 18, and Guadalupe Torres, 17, pitched first, describing a medical device to increase comfort for surgical patients. The device features a plastic inflatable sac outfitted with a tube connected to a pressure control valve. It is meant to lift the part of the body the doctor is working on.
For Torres, the pitch was personal. She's been in and out of the hospital since she was diagnosed with kidney failure when she was 12.
"If I had this product, the preparation for the hospital procedures would've taken less time, and I could have been more comfortable," Torres said.
Brother-and-sister team Taulima, 15, and Tatiana DeVoux, 17, pitched snack packs — one high in protein, one gluten-free — for hungry, overscheduled students.
"We noticed that the age group 11-22 have become the generation of convenience," Tatiana said, adding that her family is often too busy to sit for meals. "We have the opportunity to fill the need of students on the go."
Last to present was Christopher "CJ" Dornak, 16, whose partner, Danny Vella, 16, was absent. The duo created a mobile device car disabler that would prevent people from driving until their cellphones are turned off.
One of Dornak's friends died because someone was texting while driving; Vella was in a car crash linked to it.
"You hear about these accidents all the time," Dornak said. "We want to put an end to this."
Each student had to explain the costs and potential profits associated with their products, the size of the targeted market and ideas for marketing.
The pitches paid off. Dornak and Vella finished first, earning FitBit Altas, with their in-depth market research and plausible idea. Second place, which landed FitBit Charge HRs, went to Neff and Torres. Third place, which brought Kindle Fire tablet computers, went to the DeVouxes.
To prepare for the CES competition, students participated in the Consumer Technology Association's Future Innovators program, which aims to teach students to think entrepreneurially about business and life. The program has reached over 1,000 students in 20 schools and counting across Clark County, said Ellen Patterson, chief revenue and partnership officer at EverFi.
"Research has shown that entrepreneurial mindset is actually linked to increased happiness," Patterson said. "Our goal is to help students understand that being an entrepreneur isn't a job; it's a way of thinking. It's about learning to think critically and help solve real-world challenges."
Contact Sandy Lopez at slopez@reviewjournal.com or 702-383-4686. Follow @JournalismSandy on Twitter.