Chairwoman of Nevada Taxicab Authority resigns from board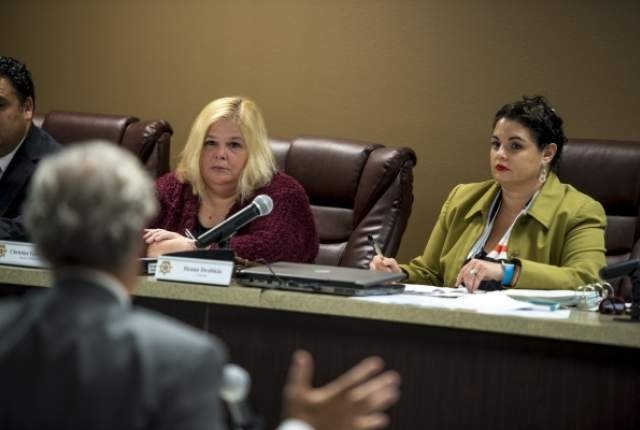 The Nevada Taxicab Authority has a new chairman after a fast-paced turn of events Thursday.
Former Metropolitan Police Department Lt. Stan Olsen was named chairman of the five-member board by Gov. Brian Sandoval. He replaces Ileana Drobkin, who resigned after being informed she was being removed as chair.
Olsen, a one-time chief of staff for former Rep. Jon Porter, also was a former state senator, appointed to complete the term of former Sen. Warren Hardy, R-Las Vegas, who resigned in June 2009 to focus on his work as president of the Associated Builders and Contractors.
Drobkin, who wasn't up for reappointment until October, said she had been considering resigning for awhile and felt the time was right to leave because a report defending the Taxicab Authority after release of a scathing state audit is nearing completion. The report, authored by Jeremy Aguero of Las Vegas-based Applied Analysis, is expected to be distributed within weeks.
Taxicab Authority Administrator Ronald Grogan said Thursday he learned of the change in the chairmanship late Wednesday and was told to meet with Olsen prior to Thursday's scheduled monthly Taxicab Authority meeting.
Grogan said he had about 20 minutes to brief Olsen on the agenda before the meeting began Thursday morning.
Olsen was appointed to fill a position that opened when former board member Dennis Nolan moved to Reno. Sandoval appointed Olsen chairman, but kept Drobkin on as a member. But after learning she had been replaced as chair, Drobkin submitted a resignation letter that Sandoval accepted at around noon. He will now need to appoint a replacement for her.
Drobkin's resignation letter mostly recounted the board's accomplishments during her tenure as chairwoman. But she did fire one shot against the audit, which recommended that the Taxicab Authority be dissolved.
"As most of you are aware, I've been planning on resigning for some time and now that Jeremy Aguero's report has been completed, I'm able to move on to new ventures knowing the misleading allegations are going to be properly addressed," the letter said.
Contacted late Thursday, Aguero said the report hasn't been completed.
The audit, issued in January by the Executive Branch Audit Committee chaired by Sandoval, recommended that the Taxicab Authority's responsibilities be handed off to a county agency or to the Nevada Transportation Authority after auditors determined that unnecessary fuel surcharges and credit-card fees overcharged taxi customers by $47 million a year.
Taxi industry members and the authority board disputed the findings and financed Aguero's study in response to the allegations.
Sandoval cited Olsen's experience as a senator and law enforcement officer in making the appointment.
"Stan has served the state of Nevada in multiple arenas throughout his career and is a highly regarded public servant," Sandoval said in a statement announcing the appointment.
Of Drobkin, Sandoval said "her willingness to devote time and energy over many years has been greatly appreciated and I admire her commitment and hard work."
Taxi company executives were surprised about the appointment when they gathered for Thursday's meeting, which included a number of public comments from cab drivers concerned about what they consider to be an overabundance of cabs operating on Clark County streets.
Some owners expressed concern about Olsen's appointment because as chairman of the Henderson Chamber of Commerce Legislative Committee he sent a letter of support for a state Senate bill supporting changes in insurance law that eventually enabled Uber and Lyft to operate in the state.
Olsen's March 30, 2015, letter backed passage of Senate Bill 440.
"Transportation services such as Uber help assist in filling current unmet transportation demands in Henderson neighborhoods and for Henderson businesses and SB 440 clarifies and increases the insurance required for the further safety of all customers and contractors," Olsen's support letter said.
Contact Richard N. Velotta at rvelotta@reviewjournal.com or 702-477-3893. Find him on Twitter: @RickVelotta.