Changes to Taxicab Authority could be drawn-out process
January 20, 2016 - 7:13 pm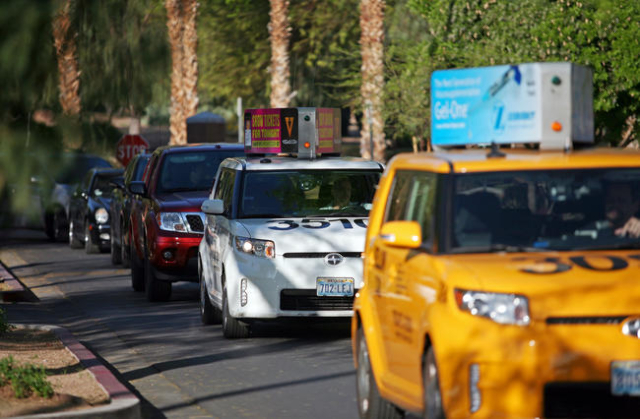 It would take at least a year and a half and a cooperative Nevada Taxicab Authority board to implement all the changes recommended in an executive branch audit on taxi operations released publicly on Tuesday.
But transportation officials could know as early as next week how smoothly that would go. Early indications are that the leader of the five-member board and the members of the audit committee don't see eye-to-eye on the issues raised in the stunning audit that recommends the dissolution of the authority board or folding its responsibilities into the Nevada Transportation Authority or a county board.
The Taxicab Authority next meets Jan. 28 and a discussion of the audit findings are on the meeting's agenda.
There were four key recommendations issued in the audit:
— Correct a fee structure involving fuel surcharges.
— Adjust a credit-card fee to 90 cents per transaction or eliminate it.
— Have the board adhere to statutory roles and responsibilities, particularly involving the enforcement culture of the agency's peace officers.
— Eliminate the Taxicab Authority board.
The audit committee recommendation calls for the rates and fees to be corrected by June and a decision on eliminating the agency and adhering to statutory roles by June 2017.
Auditors said a 20-cent-per-mile fuel surcharge gouged the public by $27 million last year based on an average 5-mile trip, at a time when gasoline prices were falling. In August, the board approved the industry's first rate increase in four years, modifying the 20-cent fuel surcharge to an 8-cent rate increase and a 12-cent surcharge.
The authority board justified that on technological limitations of the taxi meters, which can charge based on one-twelfth of a cent. In addition, it costs about $10,000 to change meters industrywide whenever a rate change occurs, which is why the board encouraged the rate increase at the same time as the surcharge modification.
But the audit questioned leaving any portion of the fuel surcharge in place when gasoline prices were falling.
On the credit-card fee, the Nevada Legislature authorized charging a fee for using a credit card for a cab ride but didn't establish a rate or limitation on the cost.
The audit concluded that the $3-per-transaction fee is exorbitant and recommended that it be reduced to a break-even level of 90 cents per transaction or absorbed by the cab companies as a cost of doing business.
Most credit-card payment systems include a video screen that can generate revenue for the cab company through advertisements.
Brent Bell, president of Bell Transportation, which operates two Southern Nevada taxi companies, said if the transaction fee is ordered reduced that cab companies may not be able to afford keeping them in cabs and consumers would lose the convenience of paying by credit card.
Bell said the industry opted not to comment directly on the findings of the audit.
'Power play' seen
But Jason Awad, owner of Lucky Cab in Las Vegas, said there's no question in his mind that the audit is a power play to displace Taxicab Authority board chairwoman Ileana Drobkin, who he characterized as "a very strong chairwoman who doesn't bow to convention."
"I think there's a public power struggle and it's very disgraceful," Awad said.
He said he plans to attend next week's board meeting with a strategy to move forward.
"The board was given the authority to do what it does by the Legislature," Awad said. "The decisions on the credit-card processing fees were made four years ago. Did the auditors just wake up to find that this is suddenly unreasonable?"
He said most of the revenue generated in credit-card fees goes to the processors and not the cab companies.
"If that needs to be revisited, fine, there's a process for that and it occurs in a public session," he said. "There's an impression that this was done secretly, but it was all approved in open meetings."
Drobkin, who did not attend the audit committee meeting, said the board's decisions involving rates and fees were reached based on judgment and experience and that it has always abided by directives of the board's legal counsel, which is provided by the state attorney general's office.
When the authority board meets next week, it likely won't make any final decisions on rates and fees, but could set dates for further consideration at future meetings.
Drobkin declined further comment on the audit because it's scheduled for discussion at the next meeting.
Members of the Taxicab Authority board were invited to the audit committee meeting and two members who indicated they planned to attend didn't show up.
The two long-term recommendations, including elimination of the agency, won't be within the Taxicab Authority board's purview — that's a matter that would have to be introduced in the 2017 legislative session.
Change in oversight?
Among the suggested solutions to regulating cabs in Southern Nevada are to turn over the authority board's responsibility to the Nevada Transportation Authority or to Clark County.
Ann Wilkinson, newly appointed chairwoman of the Transportation Authority, said she hopes to meet with Taxicab Authority Administrator Ronald Grogan in the weeks ahead to discuss the possibility of her agency taking on regulating taxis in Southern Nevada.
Among the Transportation Authority's current responsibilities are oversight of buses, limousines, tow companies, moving companies and transportation network companies statewide and taxi companies in every county outside Clark.
"It's premature to speculate on where this is headed," Wilkinson said. "But I've wanted to get together with Mr. Grogan to talk about mutual concerns and this seems to be an opportunity to talk about potential consolidation and responsibilities. It would require legislative authorization and approval, and the devil is in the details."
Grogan did not return calls to his office Wednesday.
Clark County also is in the mix as a potential landing spot for taxi regulation.
Clark County Commission Chairman Steve Sisolak, a former member of the Taxicab Authority for five years, said the county would have the capacity to take on regulating cabs as long as it also received the revenue associated with the process. Through permit and licensing fees and revenue received on fines and citations, the Taxicab Authority is self-funded.
"While we have the capacity to handle it, I don't know if we want to," Sisolak said in a telephone interview Wednesday. "I've always thought it would be beneficial if there was one agency that regulated taxicabs, limousines and the TNCs (transportation network companies). It makes no sense for there to be three different bodies doing that because there's so much crossover in what they do."
Sisolak acknowledged that regulating taxis is more complex than most people realize and that it isn't just about setting rates.
"There are lots of policy issues and it makes sense to have one body, whatever that body is, to understand the issues and to make decisions that are consistent," he said.
Contact reporter Richard N. Velotta at rvelotta@reviewjournal.com or 702-477-3893. Find @RickVelotta on Twitter.