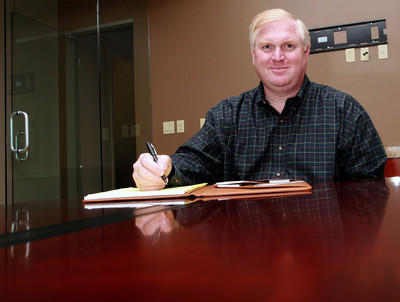 Las Vegas business development specialist Christine Girardin laughs a little when she recalls her days as a Detroit middle school teacher. There was the time a man pulled a gun when his daughter lost a talent competition; more than once, parents shot it out outside the school while they waited to pick up their children.
And that was "the good school."
Girardin, 32, doesn't laugh because violence and despair permeated the Detroit Public School District, she explains. No, the humor is a nervous sort, stemming from memories of recesses more dangerous than strolls in war-torn Baghdad.
"When I took my students outside for recess, other teachers told me, 'You are such a dedicated teacher,' and I didn't understand why," Girardin remembers, "until I looked around and saw all the burned-out buildings and realized I was a standing target for someone to shoot at. That was the last time we went out for recess."
It was also the last of three Detroit-area schools at which Girardin would teach. She quit in April 2006, after nine years in the profession. Then she moved to Las Vegas.
Her new career — she's director of business development for Carpenter Sellers Associates architectural firm — has taken her far from the burned-out buildings and ricocheting bullets of Detroit. Today, Girardin rubs shoulders on the golf course with the likes of Nevada Development Authority CEO Somer Hollingsworth and Thomas & Mack Development Co. President Richard Myers. The former teacher is part of a steady drumbeat of American workers who switch careers midstream. A survey by outplacement firm Challenger Gray and Christmas found that almost half of job seekers in the past five years have found positions in completely different professions.
Las Vegas, with its year-round sunshine and traditionally strong economy, seems to be a magnet for people like Girardin who want to start over. The career transplants aren't concentrated in one particular area, either, such as real estate or gaming. They take positions in far-flung sectors, such as positions in federal government, at start-up technology firms, even plumbing.
Dennis Wengert, 52, is the U.S. Small Business Administration's deputy district director of Nevada. He joined the government's work force two years ago after moving to Las Vegas from the Salt Lake City area. He has spent more than two decades in the private sector, mostly in health care. He obtained a master's degree from Brigham Young University in heath care administration.
Unlike Girardin's career change, which came amid shell casings, Wengert's occurred after a health scare and a triple bypass.
"I had blood pressure of 220 over 120, and (the medical staff) said, 'It's a good thing that you aren't 15 years older or you would have died,' " he recalls.
The seriousness of his condition led him to reassess his priorities.
"I had two months to recuperate, and during that time I did a lot of soul searching, and online searching, for a better occupation," Wengert said.
But did he ever think he would be a government employee?
"Absolutely not," Wengert says with a laugh.
The transition wasn't easy. Wengert has a lot of people above him now.
"If you are new to the organization, there is a learning curve. … I certainly didn't have as much influence as I did in the private sector," he noted.
Reconciling the differences was difficult — the private and public sectors are different beasts, he says.
"When you're in government work, there isn't the same level of production pressure as we have in the private sector," he said. Bureaucracy can also lead to "frustration," he admits. Changeover in government, especially at the top administrative levels in Washington, D.C., occurs more frequently than in the private sector, which Wengert says can be frustrating.
Wengert's experience is unlike some workers' who may go career-hopping before they even reach the so-called "middle" of their first occupational stint.
Jeremy Prevost is not quite 30 yet, but he already has a few professions under his belt. He spent his early working years, ages 21 through 25, holding marketing jobs in the gaming industry. Starting in 1999 at Caesars Palace, Prevost had duties such as organizing blackjack tournaments and beauty pageants and handling high rollers.
A few casino jobs later, Prevost came into contact with some casino customers who offered him a management position with an Arizona plumbing company. At first, the transition was a dramatic departure from his previous interactions. "I was out with the plumbers every single day, making sure their installations were clean and fit," he recalled.
Now with Yes! Air Conditioning and Plumbing and back in Las Vegas, Prevost is again tackling the marketing side of business.
But bullets, heart attacks and unsatisfying casino jobs aren't why most people switch professions. No, it's fear. Fear of termination, mostly.
A possible pink slip tipped the scales for Girardin in Detroit. The school district there sent notices to thousands of employees saying they "might" be laid off. It informed Girardin, in her case, it was "highly unlikely" to happen, because of her seniority. But the district's note gave her pause.
"It made me think that maybe my job wasn't as secure as I thought," she said.
Business coach Doug Beckley of the Beckley Group said the fear of being terminated, and the fear that comes after actually being terminated, are the two top reasons why people decide to pick up a new trade.
Burnout is also a major factor in career jumping. Often, a person just outgrows a career. Bill Gang became a reporter at age 19, going to work for the Las Vegas Review-Journal in 1966. He didn't have a college degree, but thought he knew what he wanted to do with his life: be a journalist.
Gang's career path took him to the Las Vegas Sun in 1969, where he covered police and courts. Later he went to work for the Clark County juvenile court system handling human resources. Like Wengert, the private-to-public sector jump was a tough transition.
"I got tired of all the bureaucrats," he says. "And frankly, being a reporter was a lot more exciting."
Gang left and took a job as assistant editor at KLAS-TV, Channel 8. The former scribe decided TV wasn't for him, either.
"Then I started making and selling furniture. I took classes, I learned the techniques," he said.
Designers hooked him up with businesses, and Gang said he did pretty well. But, later, in a fit of thrill-seeking, he opted for another stint at the Sun as a court reporter.
"I didn't want to be 50 and hauling furniture around," he said.
Gang wasn't done changing careers, however. Next stop: the Nevada Supreme Court as the public information officer.
Beckley advises employees contemplating a leap to look first, and figure out what best fits their skills. Workers may find common ground from one profession to the next. Wengert, for instance, discovered his administrative background was useful in his SBA job. Gang used his knowledge of courts in his government jobs.
A personal loss and the dire need to make more money motivated John Kaspar, 43, to ditch his 15-year career as a certified public accountant in Fort Lauderdale, Fla., to move to Las Vegas two years ago. A college friend's fatal heart attack at age 38 made Kaspar realize he wanted work he enjoyed. He sold the accounting firm he founded in Florida and his other businesses and walked away from $200,000 a year.
Money was also factor.
"As an accountant or a lawyer, you are limited in what you can make because you bill by the hour," he said.
Kaspar has recently started another business, an online raffle company named Win For Charity.
Whether it is switching a career or leaving to go back to your first occupation, connections are vital. Gang stays in contact with a lot of his old reporting colleagues. Girardin and Wengert, too, hold connections to their past.
"I wouldn't call it an escape hatch, but I do let them know where I am and what I am doing," Wengert says.
He contacts former co-workers about once a month, and touches base with former vendors every few months.
Beckley advises career changers to use both their networks and the network of colleagues. Leaving a job on good terms is always a good idea, even if the departing employee has no desire to work there again, he said.
Prevost has followed that advice.
"I still have a lot of good friends in the casino business, and over the years, they have got promoted," Prevost said. "I could go back."
This story first appeared in the Business Press. Contact Valerie Miller at vmiller@lvbusinesspress.com or at 387-5286