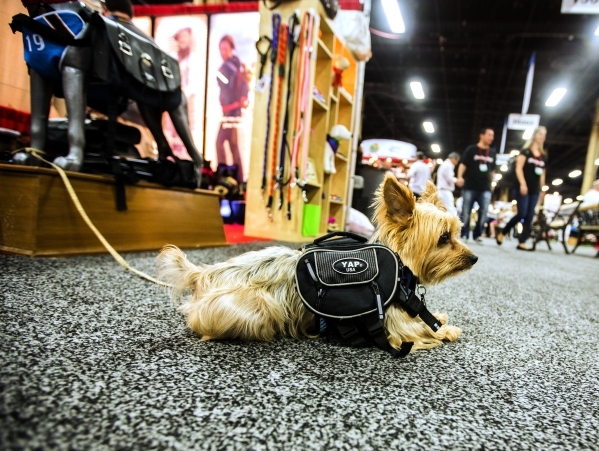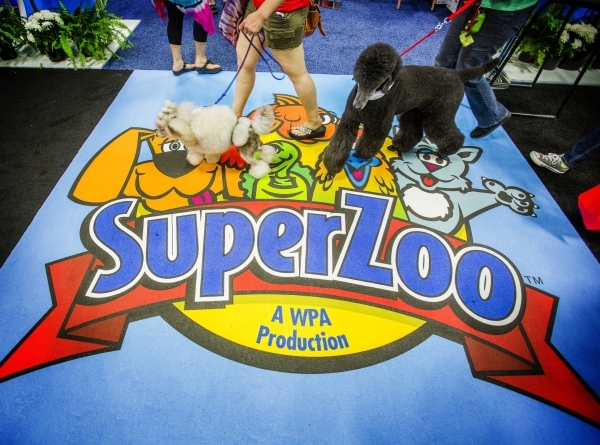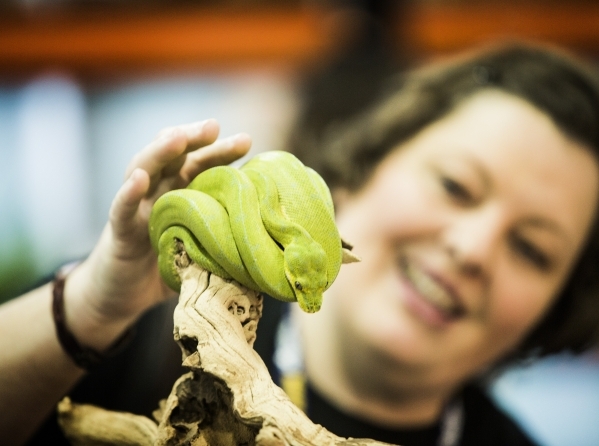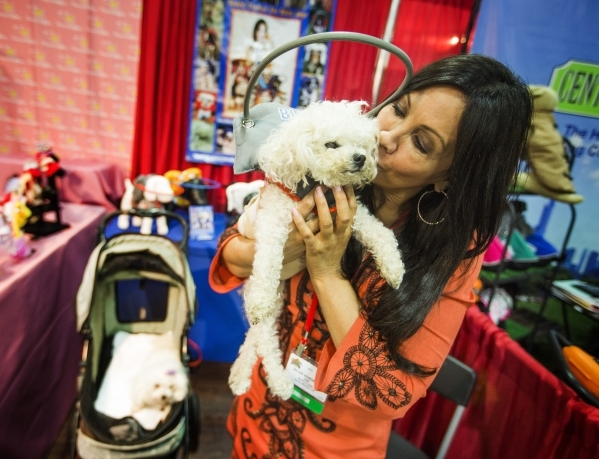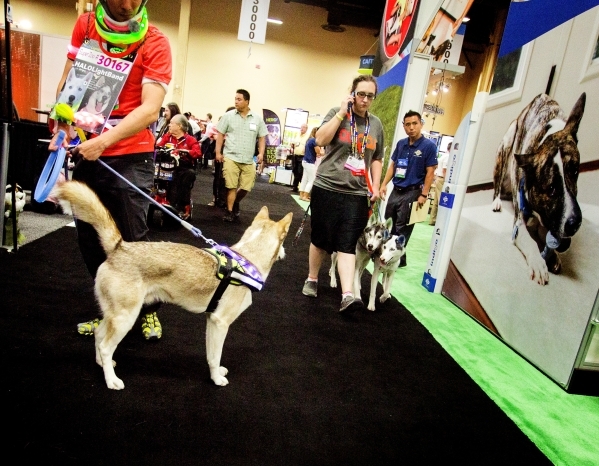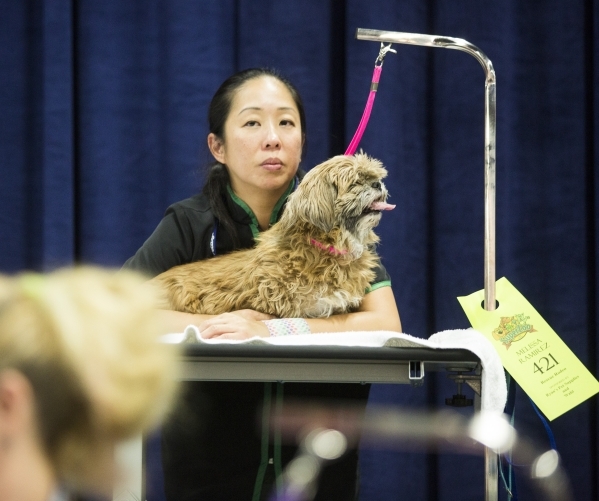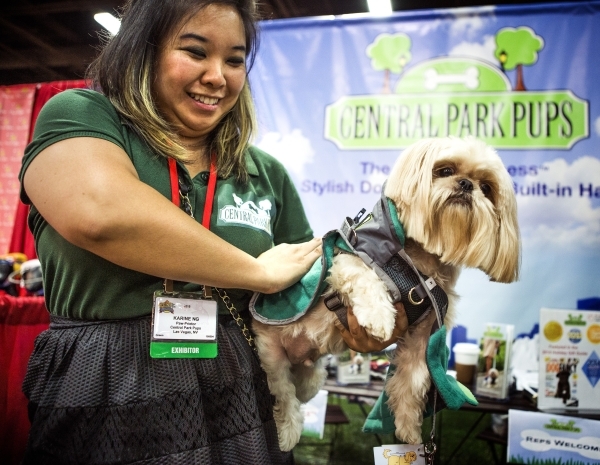 Mandalay Bay may be the most pet-friendly resort in town this week.
That'€™s because through Wednesday, SuperZoo — the most popular trade show for the pet store industry in North America —€" is in Las Vegas with more than 20,000 people at the Mandalay Bay Convention Center.
The show is an industry event and not open to the public.
Pet products have grown to a $60 billion-a-year industry and Doug Poindexter, president of the Monrovia, Calif.-based World Pet Association, producers of SuperZoo, said the three-day trade show has grown by double-digit percentages even through the recession.
That'€™s good for Southern Nevada as well as the pet industry and Poindexter said his association wants to lock in dates for shows here through 2020.
"€œMoving the show to Mandalay Bay was one of the best things we did because not only did the show grow during the down economy, but the quality of our exhibitors and programs improved as well,"€ Poindexter said.
SuperZoo first came to Las Vegas in 2004, taking residence at Mandalay Bay a year later. It'€™s been here annually ever since and is contracted through 2017.
This year'€™s show covers more than 216,000 square feet with 983 exhibiting companies filling 2,170 booths. The association also has 51 leaders in the pet industry offering 84 educational sessions on everything from cat behavior to dog grooming.
The event has a showcase of new products on display, many with creative names like Fabuleash, Scaredy Cut and Wyld'€™s Wingdom.
'A part of the family'
Poindexter attributes the rapid growth in pet products to the love owners lavish on their pets and the recognition of that by big-box stores that have tried to get a piece of the industry for themselves.
"Us humans have made pets a part of the family,"€ he said. "As a result, there are thousands of entrepreneurial people developing products for pets. I'€™m always amazed by the new things I see on the show floor,"€ he said.
"Add to that the interest that stores like Wal-Mart and Target have taken in the market. It'€™s not just pet stores in the market these days,"€ he said.
Among the innovative products on the show floor are Muffin'€™s Halo, a product that prevents blind dogs from bumping into walls and hard surfaces.
Silvie Bordeaux, founder and inventor of Muffin'€™s Halo, developed the three-piece, lightweight wing and harness that holds a piece of vinyl tubing with velcro that redirects a dog from a wall collision.
Bordeaux developed the prototype for her 15-year-old toy poodle, Muffin, who developed cataracts and became immobile in blindness.
Bordeaux'€™s Santa Monica, Calif.-based company has donated some products to blind dogs in shelters to improve their chances for adoption.
"€œWe say that it's a happy ending for blind dogs and gives them a new leash on life," she said.
The product sells for between $70 and $150, depending on the size of the dog.
A musical squeeze toy
Another new company introducing products at SuperZoo is the Celebrity Pet Toy Co., co-owned by sisters Carol Green Richardson, Rapid City, S.D., and Donna Heminger, Las Vegas.
Available online at Amazon.com and UnbeatableSale.com, the product is a squeeze toy, but instead of producing an annoying squeak, it emits music. Some versions have a record device that will allow the owner to deliver a 15-second message when the pet triggers the sound with a good squeeze.
The company has entered the political realm with "Bark for Hillary,"€ "€œBark'€™n for Bernie"€ and "€œGOP 2016″€ versions.
"There are just too many Republican candidates (for president) at this point,"€ Richardson said. "€œI couldn'€™t come up with anything specific for them yet."€
The toys retail for about $5, with the recordable version at $10.
A new Las Vegas company also is exhibiting at the show.
Central Park Pups was showing The Hidden Harness, an easy-to-use step-in harness for dogs that is held in place with velcro and a plastic fastener.
Karine Ng, who calls herself the "€œpaw-prietor"€ of Central Park Pups, recently moved to Las Vegas from New York, whose park inspired the company name.
Contact reporter Richard N. Velotta at rvelotta@reviewjournal.com or 702-477-3893. Find @RickVelotta on Twitter.