Clark County bars shut down — again — amid spike in COVID-19 cases
Updated July 11, 2020 - 2:29 am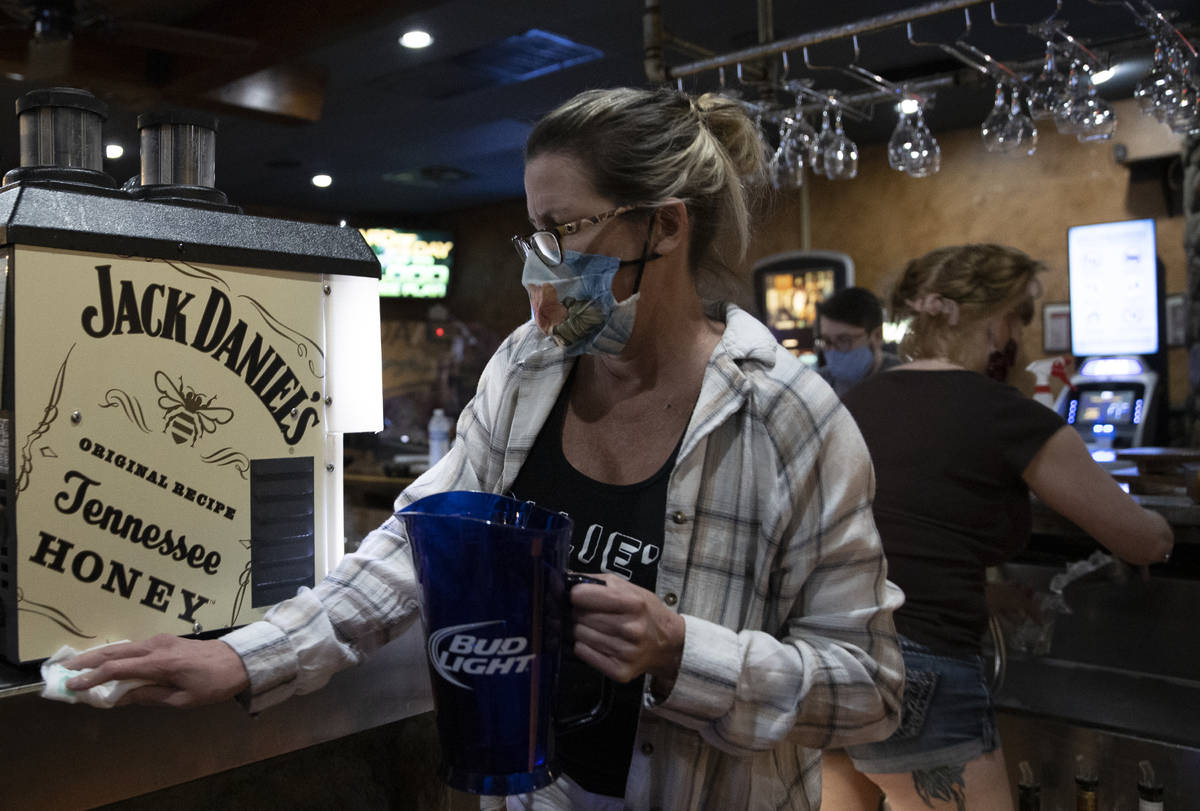 Bars in Clark County shut down again Friday night because of a recent surge in COVID-19 cases.
Nevada Gov. Steve Sisolak on Thursday issued the order for bars to close at 11:59 p.m. Friday.
One bar, Jackson's Bar & Grill, could have continued operating as a restaurant, without access to its bar area and video poker machines. They decided to close altogether, however, because the majority of their income is derived from gaming.
By 10 minutes after 11, about 40 people were still scattered between the bar and dining areas. Most seemed in a good mood, although many questioned why neighborhood bars were closing while casinos remained open. Nearly everyone in the house appeared to be a regular.
"I came here tonight, because I'm always here," said Billie Robertson, as he took a break from the video keno in front of him.
#TheScene @TuscanyCasino #Covid_19 #Maskup4nv #Entertainment #Vegas pic.twitter.com/wtfvxvW2Ec

— John Katsilometes (@johnnykats) July 11, 2020
Nonetheless, around 11:20, the staff had to escort a customer out the door. Owner Robin Slipock said the man was a regular as well.
"He's just not been kind," she explained, shaking it off with a smile on her face.
It wasn't enough to put a damper on what her husband, Brian Slipock, said had been "a really good, crazy type of a day."
That day included a total of six taxable jackpots of $1,200 or more. Longtime customer Lyle Boggess wasn't one of the winners. But he said he preferred it that way.
"I would kind of feel bad to hit a really large jackpot at this point," he said. "Because these people are my family."
Around 11:45, as Toby Keith's "I Love This Bar" played on the jukebox, a couple danced to it at one end of the bar, face masks on. They took their seats as that song ended, and Sammy Hagar's "Mas Tequila" kicked in. At that point, the group next to them downed some shots.
It was about 11:49, when employees Teah Heath and Dawn Smith shared the dubious honor of doing something that's rarely done in a 24-hour gaming bar: announce last call. As they finished, the dancing woman could be heard shouting some choice words about the governor.
The team, many of whom had been there all day to support their bosses, began removing liquor bottles from behind the bar about eight minutes before midnight. And within a few minutes after the clock had struck 12, they'd already begun disconnecting the video poker machines.
It took until nearly 12:30 a.m. for the final customers to exit the building. Staff stuck around a little longer, not knowing when they'd be working together again. Despite that uncertainty, their boss, Brian Slipock, said they were better prepared this time around.
"We did this three months ago," he said. "So we kind of have a better feeling for it now."