Clark County's deal with Republic Services a money loser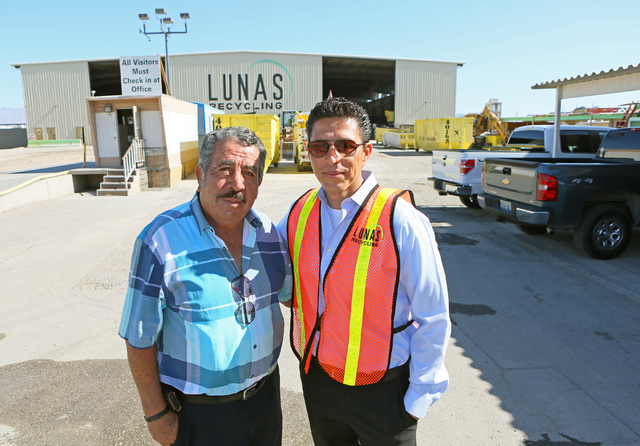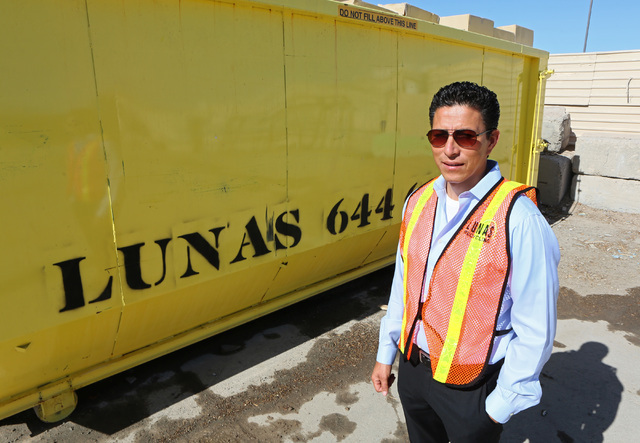 Clark County is losing money from its own franchise agreement with Republic Services, the only waste-disposal company allowed to collect municipal solid waste from county businesses.
Under a 1993 franchise agreement between the county and what is now the Republic Services-owned Apex landfill, the county receives 4 percent of gross monthly revenue from tipping fees, or the fee of dumping waste into Apex landfill.
But many other waste collection and hauling companies are choosing to drive two and half hours to a landfill in Lincoln County rather than use Apex because they say Republic's tipping fee is too high.
As a result, Clark County gets less revenue — though how much is unclear.
That's revenue that would go into the county's general fund.
"It could go to police, it could to to fire, it could go to adoption services, foster care, senior programming, parks and rec," said Clark County Commissioner Chris Giunchigliani. "Even a few hundred thousand makes a difference, that could add a bathroom to a park for heaven's sake."
The county is losing money because of what Giunchigliani describes as a "glitch" when the commissioners amended their contract with Republic Services in 2005.
The amendment allows Republic Services to compete with companies in the private construction and demolition market while simultaneously allowing Republic Services to set its own rates for competitors at its Apex landfill. Apex is the only landfill in Clark County, and the franchise agreement states that Republic Services has the "sole right to set and collect tipping fees."
Republic Services has an internal rate that it charges itself for disposing of waste into the landfill, but Clark County doesn't know what that rate is. Nor would Republic Services disclose that rate to the Las Vegas Review-Journal.
The posted gate rate for other companies is $37.54 per ton.
GATE/TIPPING FEES
"They can charge whatever they want, raise the fee whenever they want, and that's one of our big issues that we have," said Chris Darling, manager at A Track Out Solution, which competes with Republic Services in the construction and demolition market.
"I understand that the franchise agreement says that they're allowed to set their own rates, but at the end of the day that's when they had no competition (1993) and they were the only company providing a service for both C&D (construction and demolition) waste and MSW (municipal solid waste) in Clark County," Darling added.
It would cost Darling $938.50 to dispose of a 25-ton transfer truck filled to capacity at the Apex landfill. Instead, he uses the Western Elite landfill in Lincoln County, where it costs $647.50 for the same service.
Norberto Madrigal, co-owner of Lunas Construction Clean-Up, said the company has a three-year commitment with Republic to dump at least 4,000 tons of solid waste per month at Apex at a rate of $28 per ton.
"But we recently found out that another waste hauling company is receiving a substantially lower rate of $21.49 per ton," Madrigal said. "If I have an agreement with Republic Services and they told me that we are supposedly getting the best price, and then we find out that they're getting this great price, a much better price, it's very frustrating."
Republic Services consultant Bob Coyle, a former vice president of the company, told the Clark County Board of Commissioners on March 1 that Republic offers companies a volume discount of $34 per ton for a commitment of disposing 751 to 1,750 tons a month; $30 per ton for a monthly commitment of 1,751 to 4,000 tons; and $28 per ton for anything over 4,000 tons per month.
Aside from Lunas, all other private construction and demolition companies with a sorting and recycling facility in Clark County make the drive to Western Elite's landfill in Lincoln County because of its lower gate fee.
Tim Oudman, market vice president for Republic Services in Nevada, said the company sets its rates based on what produces the best return on investment and what the market will allow.
"We have invested hundreds of millions of dollars in just the landfill infrastructure between here and all the indemnification that we had at Sunrise landfill for the county," Oudman said. "We need to recoup our investment on that so we've set prices, we've set a gate rate there and there is a competing landfill in Lincoln County. So, to drive tons there, they've obviously made a decision to set pricing how they deemed necessary to get business."
It's difficult to quantify how much additional revenue Republic Services could be giving to the county if more companies that collect and haul construction and demolition waste were to use the Apex landfill.
"I don't care if it's $5," Giunchigliani said. "It's the principle of it as well as the fact that there's a franchise agreement and they should not be raising tipping fees so they pay us less on that 4 percent."
Even if that is not the intention of Republic Services, the company should at least be charging itself the same tipping fee as it charges others to use the landfill, she said.
"That's a loss of franchise collections," she said.
THE WASTE ADVANTAGE
Several companies that collect and haul construction and demolition waste cite the high gate fee at Apex landfill as evidence of being pushed out of the market.
Kam Brian, the chief operating officer at Las Vegas landscaping company Par 3, said he sold the dumpster and recycling part of the landscaping company to Western Elite last March because of Republic Services' high tipping fees and its increasingly low dumpster servicing rates.
"We were forced to make a decision as to whether we wanted to stay in a business where our competitor controlled the market — and because Republic Services has the only landfill in the county, and they own that landfill, they could charge whatever they wanted. When the economy took a dive in Las Vegas, Republic Services got really aggressive in their dumpster pricing.
"Their (dumpster) pricing went way down (to compete more aggressively) and their landfill prices went way up," Brian said.
Oudman acknowledged landfill prices have gone up because of the investment the company has made in the landfill. He declined to disclose dumpster pricing.
DOES COUNTY LOSE OUT AGAIN?
According to a 2015 study by Applied Analysis, commissioned by three of Republic's competitors in the private C&D market, Republic Services may also be overcharging the county for its dumpster service in the franchise agreement.
Republic Services charges Clark County $352.45 for an on-call 40 cubic yard dumpster service for municipal solid waste, but it's able to charge less for the same service in the private construction and demolition market. Invoices obtained by the Review-Journal show that Republic is charging one private company $280 and another $285 for the same service.
"In some cases (the rate is the same); in some cases not," Oudman said. "Same type of trucks, same type of boxes, but we evaluate the C&D piece based on job location and job type. We can't do that under the franchise. We need to use an average rate for lots of different loads."
Applied Analysis Principal Jeremy Aguero said the inconsistency between the cost of providing service in the franchise agreement and the cost of providing service in the private market "is relatively problematic."
"The fundamental question is a very fair one as to why there is a disparity between what the cost is of providing those services, and what the charges are that are held out to one group, the public, and to the other group, the government," he said.
Contact Nicole Raz at nraz@reviewjournal.com or 702-380-4512. Follow @JournalistNikki on Twitter.
The waste advantage
Republic Services is allegedly using its exclusive franchise agreement with Clark County to create an unfair competitive advantage in construction and demolition waste. As of 2005, Republic Services competes with private companies to service construction and demolition waste. Below is a breakdown of how:
Once a dumpster is full or the dumpster rental period expires, either Republic Services or a private company will haul the waste away. This is how the process differs between the companies.
Sources: Clark County; Republic Services; *Applied Analysis
Nicole Raz, Gabriel Utasi/LAS VEGAS REVIEW-JOURNAL
THE DUMPSTER BIZ
Any time you see an implosion or a construction site, you'll usually see a 40 cubic yard dumpster. A servicer, like Republic Services, was probably hired to provide and haul that dumpster to that site. Once it is full, or once the rental period for that dumpster expires, the servicer will return to the site and dispose of the waste.
Construction and demolition waste often includes wood, wires, concrete and general garbage. In the case of Republic Services, such waste would be taken to a transfer station, where that waste would be consolidated with municipal solid waste (which includes everything from your stale fridge food to that broken picture frame you threw away) into a 25-ton transfer truck, and then taken to the Apex landfill.
A different private company will take that construction and demolition waste to a materials recycling facility, where workers and equipment sort through the waste to separate the recyclable materials from the non-recyclable materials. Whatever cannot be recycled is put into a 25-ton transfer truck, and once it reaches capacity it is taken to a landfill.