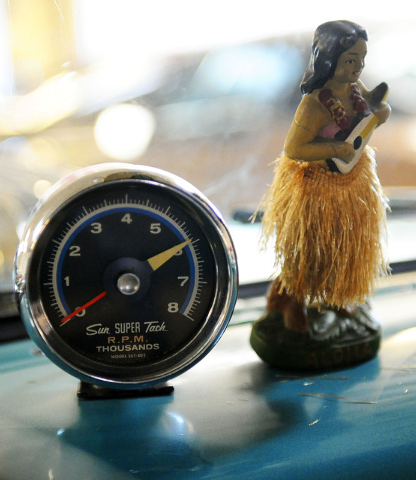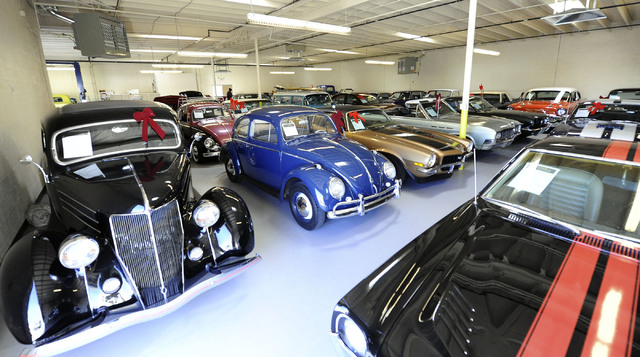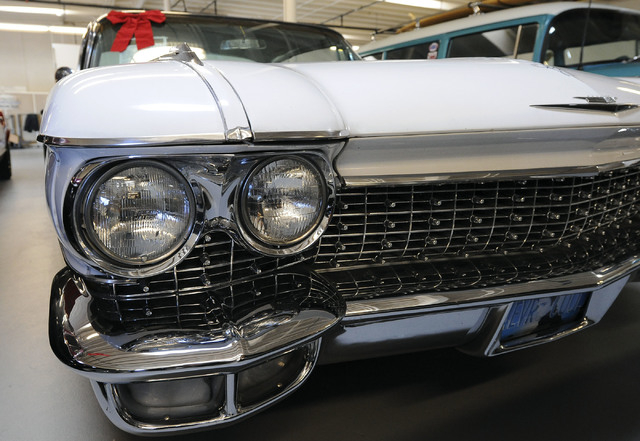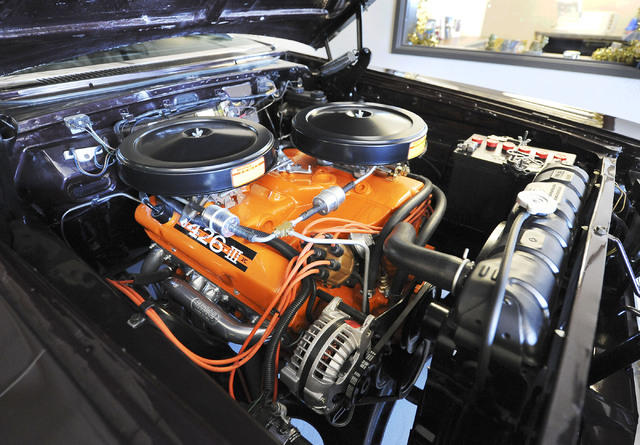 With demand for their modestly priced classic cars growing, Michael Nicholl, owner of Classic & Collectible Cars Las Vegas, needed to find a new home large enough to display his eclectic inventory.
Nicholl's first move was to approach the owner of the former Andre's French Bakery and Normandie Country Bakery site on the corner of Sirius Avenue and Sheridan Street down the street from their previous location.
"We needed a building," Nicholl said. "For 10 years, our former building was dimly lit. We essentially operated out of a warehouse. This building was abandoned."
Nicholl said his first attempt to buy it was unsuccessful. He said the property's owner only re-approached him to see if he was still interested after a fire destroyed most of the former bakery.
Nicholl described the abandoned bakery as a "slab and walls" after the fire.
"It came at a much more attractive price," he said. "I don't think we stole it. We also stayed in proximity to our last location, which was a goal."
Classic & Collectible Cars Las Vegas' previous home might have been 15,000 square feet, but it was an outdated and costly building on Sirius and Polaris avenues. Nicholl said construction on the new 8,200-square-foot building began in March and was completed by the end of July.
"My goal was not to get bigger," Nicholl said. "We have always been a family business. The goal was to improve our presentation. Our building sits on a half-acre lot that's fenced in with plenty of parking. It has a nice feel."
To fund a brand-new facility, Nicholl's only option was to seek out a Small Business Administration 504 loan. The $664,000 loan is a partnership with Valley Bank of Nevada and the Nevada State Development Corp.
The NSDC said the interest rate on the loan was 5.451 percent. The NSDC is a nonprofit certified development company with offices in Las Vegas and Reno that provides SBA 504 loans in Nevada, Mohave County, Arizona, and 11 counties in California.
The total project cost of $664,000 had Valley Bank of Nevada funding $332,000 and an NSDC loan for $276,000. Classic & Collectible Cars put $56,000 down on the loan.
"This was a win-win situation for everyone," said Stephen Wagner, senior vice president and commercial loan officer at Valley Bank of Nevada in North Las Vegas. "Since the building was burned down, the bank was able to view this as a ground-up construction loan and it rid the area of an eyesore."
Nicholl agreed, saying an SBA loan was the only way to finance a new facility, because his company is "not a Chevy dealer selling hundreds of cars."
"We are in an odd business," Nicholl said. "An SBA loan made sense for us."
Classic & Collectible Cars has been in business since 1982. Nicholl said his father, Larry, who had retired after 22 years in the U.S. Air Force, founded the company that specialized in the sale of classic Mustang parts.
Within a year, Larry Nicholl shifted the focus of his business to selling and appraising classic cars.
Today, Classic & Collectible Cars' inventory includes a Chevrolet Bel Air two-door hardtop coupe ($59,995) and a 1936 Ford humpback two-door sedan ($39,995).
"Our new location is right near the Strip; it's 15 minutes from the airport," Nicholl said. "It's an ideal location, because we have a lot of tourists stopping by. Las Vegas has become a destination for collective car buyers."
For example, Classic & Collectible sold 15 cars in November, 13 of which were exported. Nicholl said his company exports most of its cars to Australia, followed by Germany and the Middle East.
"I sold six cars to a guy in China in October," Nicholl said. "China is the next frontier for collecting cars. In general, in the last five years, it's the international markets that really carried us."
Nicholl said he's started to see a rebound in the U.S. market. The months where business is 90 percent exports and 10 percent domestic, or 80 percent exports and 20 percent domestic sales now includes the occasional month where business is 50-50.
"It tells me that people are loosening up," Nicholl said.
Contact reporter Chris Sieroty at csieroty@reviewjournal.com or 702-477-3893. Follow @sierotyfeatures on Twitter.