Cleaner burning GDiesel refinery slated to be built in North Las Vegas
February 8, 2014 - 4:48 pm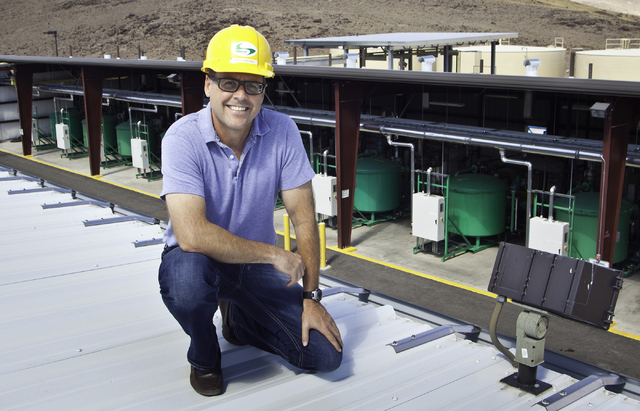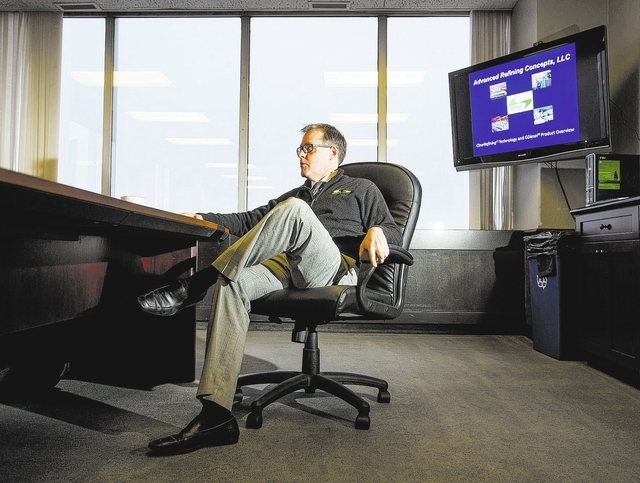 Some Clark County government fleets should return to burning a Nevada-produced cleaner fuel by summer when construction of a refinery that mixes natural gas and diesel is expected to start in North Las Vegas.
Reno-based Advanced Refining Concepts plans to build its second GDiesel plant on 5 acres on North Sloan Road, a mostly industrial area between Las Vegas Boulevard and Interstate 15, near Nellis Air Force Base. GDiesel is a proprietary mix of low-sulfur diesel and natural gas whose benefits, as touted by its creators, include lower emissions and better mileage.
The patented fuel is sold only in the Silver State, but Advanced Refining Concepts' owners hope to take GDiesel global as the market for alternatives to petroleum products expands — often with government insistence.
The company already has a market in Southern Nevada: Clark County, Las Vegas and Henderson each ran at least a portion of their vehicles with it at some point from 2011 to 2013, before the company took a one-year hiatus from delivering to this part of the state because of the cost of transporting the fuel.
Clark County's head of automotive services, David Johnson, tested GDiesel for six months in 2010 before signing off. It didn't clog filters in some of the older trucks the way biofuels – diesel mixed with plant or animal products — sometimes can, Johnson said. There also wasn't a huge change in miles per gallon of fuel for the more than 1,400 vehicles the county ran off the product, but the black puffs of smoke they normally cough out disappeared.
"They were 100 percent correct on that," Johnson said.
COUNTY SAVES ON FUEL COSTS
The county paid about $8.4 million for 2.8 million gallons of GDiesel from January 2011 to last July, Johnson said. The gallon count is in line with other varieties of diesel that county vehicles — including shuttles at McCarran International Airport and emergency generators used to provide electricity to buildings during power outages — would have consumed.
The figure fluctuates, but it came out to an average of $3 per gallon. By comparison, a gallon of diesel was going for around $3.90 a gallon last week in Las Vegas.
Advanced Refining Concepts sold GDiesel to the county for 5 cents per gallon less than the industry standard as reported by Oil Price Information Service. The price differential saved the county about $140,000.
Las Vegas and Henderson signed on later to the same agreement Clark County used, pumping another 420,000 gallons of GDiesel into nearly 900 government vehicles.
Business was steady for more than two years of what was to be a five-year agreement, but it got to be too much for the company.
Peter Gunnerman, who owns Advanced Refining Concepts with his father, said he couldn't afford to continue trucking daily loads of GDiesel on the 450-mile trip from Northern Nevada to the Las Vegas Valley.
"That ended up becoming unbelievably expensive," Gunnerman said from his office on the 16th floor of Reno's City Hall. At the top of that building, Gunnerman and his staff have views of the Sierra Nevada — a sign that he's made inroads with government in that part of the state, too. He's quick to point out that his company hasn't received subsidies.
Paying for the North Las Vegas refinery and paying for transport was too much at one time. Financing the plant has taken longer than expected. It's been in the works since 2011.
The plant should cost about $10 million, Gunnerman said.
But the county and two cities apparently liked GDiesel enough to give Gunnerman a year off from his contract. That's not quite as simple as it seems. Because of requirements to use cleaner fuels, it took approval from the State Environmental Commission, the same board that certified GDiesel for use as an alternative fuel in Nevada.
Johnson said the county will follow state laws for contracts this summer when it's time to negotiate with Advance Refining Concepts but that GDiesel is the preferred alternative fuel out there now.
NEW PLANT PROMISES A FEW JOBS
Once built, the North Las Vegas site will provide about 20 jobs for plant operators, drivers and managers, Gunnerman said. It will be a carbon copy of the company's Peru Heights refinery in the Tahoe Reno Industrial Center, which can produce 400,000 gallons of GDiesel a day.
Making GDiesel is a low-temperature catalytic process that doesn't create emissions, so there will be no smokestacks, Gunnerman said. The warehouse full of tanks "looks more like a winery than a refinery," he said.
The North Las Vegas refinery won't quite be ready by July, when his one-year grace period is up, Gunnerman said. But he will truck down the fuel for the few months until the plant becomes operational — planned for late summer.
GDiesel isn't the only alternative fuel used in Clark County. The Clark County School District has buses and other vehicles than run on biofuel, gasoline or diesel that can be mixed with cooking grease or corn-based ethanol, or that are electricity/gasoline hybrids.
Governments are making the push for greener fuels for a variety of reasons, said David Gelman, a consultant with Sustainable Energy Strategies in Fairfax, Va. It promotes less dependence on imports and makes the United States more secure, and some governments want to make a statement about environmental stewardship.
"Each of the alternative fuels has their area where they make sense. The problem is everyone is asking, 'What's the one solution? And the answer is, 'It's more complicated than that.'"
Contact reporter Adam Kealoha Causey at acausey@reviewjournal.com or 702-383-0401.