Closing time coming a lot earlier these days
October 26, 2008 - 9:00 pm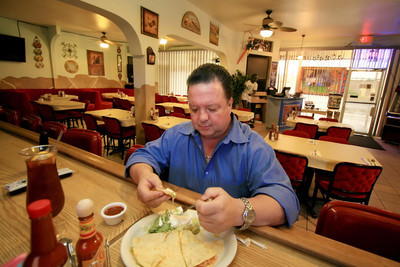 The lights are out already and the door is locked at the LaCabana Mexican Restaurant on Martin Luther King Boulevard.
Only the fading sun provides a peek into the deserted interior. It is well before 6 p.m. on a weeknight, but the once-popular neighborhood spot is among the growing number of businesses opting to cut their losses by cutting their hours.
Limiting business hours is being seen as a Band-Aid to stop the financial bleeding in an economic setting that has already proven to be worse than the previous downturn. The last recession included the aftermath of the Sept. 11, 2001, terrorist attacks and the dot-com collapse. LaCabana owner William Jacobs recently reduced the 17-year-old restaurant's hours of operation by more than 25 percent. The restaurant was just this spring open more than 90 hours a week. Today, it is open 65 hours a week.
Jacobs was hit especially hard by the economic skid because he also owns the Paradise Lounge next door. The bar's revenue helped to cushion the drop in business at LaCabana for a while, but it is also seeing fewer patrons.
The high-spending construction workers and laborers have vanished, he lamented, leaving the restaurant near Alta Drive to try to survive on new budget-conscious lunch specials.
"We cut off about five hours a day during the week," he said. "We cut the equivalent of three workdays off our schedule."
That also meant letting four of his 11 employees go. He made the choice to lay off some workers altogether rather than make everybody work fewer hours. The ones kept on full time are more loyal to their employer, he theorized.
Even with shorter hours and a lighter payroll, Jacobs said he can only hope he has a lean enough business to survive.
"I probably would lose about $1,000 a month. If I kept going that way, we would have had to close our doors," he said.
Not far from Jacobs' restaurant is a another valley staple, El Sombrero on Main Street. The Las Vegas favorite of three decades once benefited from a resurgent downtown. Nestled on an old industrial stretch, an auto repair shop serves as one of El Sombrero's neighbors. Customers liked the old Vegas feel, however, and would come in until 10 or 11 p.m. Owner Jose Aragon shuts his doors at about 4 p.m. now.
"Oh yes, we barely made it through the year so far," he said.
The El Sombrero owner has cut about a third of his business hours, from being open 64 hours a week two years ago to about 44 today. Aragon kept on just a small staff, now made up of family members. The ghost-town atmosphere after lunch, and his advancing years, made it impractical to keep the doors open late anymore.
"It was costing me more to keep it open and pay employees. I cut three people, 31/2, from the night crew," he said. "Now, it is just me and my wife, my nephew, my sister-in-law and my son."
An oversaturation of restaurants and fewer customers to go around has gotten to be too much for the longtime owner.
"It's the economy and the fact that there is a lot more competition, too," Aragon said.
Those looking for late afternoon eats and dinner options downtown will find fewer choices. For reasons not necessarily economic, Jason's Deli across from Las Vegas Premium Outlets Mall and the planned Union Park, has reduced its hours, too, eliminating weekends and closing after the last lunch rush. The new hours are more consistent with those the chain has in other downtown cities across the country, Jason's Deli marking director Chris Flynn said.
"We have changed hours and reduced hours. It is solely for the reason that development in the area is not built out yet," he said. "When development across the street is built, we will get back to our regular hours."
Restaurants aren't the only businesses that are turning out the lights earlier or more often these days. The Curves gym at the Las Vegas Beltway and Decatur Boulevard has opted to cut hours in the middle of the day. Owner Bob Ansara said membership was "stagnant" for the past 18 months, except for about six people dropping memberships for undisclosed reasons. One trainer said the sagging economy was a factor.
"We've heard a lot of women, with the economy, were calling up to say they had to drop their memberships," the employee said.
Trainers, also, were asked to accept reduced hours.
The change in Curves' hours — closing roughly three hours in the middle of each weekday and opening four fewer hours on weekends — is consistent with the Curves corporate model, Ansara said. He had gone outside the normal hours to see if they would prove profitable. They weren't.
Anytime Fitness, a competitor, offers nonstaffed 24-hour access through keys provided to members, said Yorgho Triantaphyllou, the owner of the West Charleston Boulevard location. No one staffs the gym after 8 p.m. on weeknights or on weekends.
Triantaphyllou lauded his low overhead costs through the do-it-yourself model. But Ansara said he would "be concerned about the liability" of having a nonstaffed facility. Ansara has more than Curves to watch. He also owns Ricardo's Mexican Restaurant and has seen that business drop 10 percent, resulting in six layoffs. While he concedes his two ventures might be deemed discretionary by economists, Ansara said no one is safe.
"I've seen a lot of things cut that were nondiscretionary," he said.
It doesn't surprise economist Keith Schwer that businesses are resorting to reducing hours.
"We know that furniture, autos and home repairs are the first to go, then restaurants," he said. "Gyms also fall into the discretionary category."
Tourism has stumbled, hurting the local economy even more, he said.
"We know in the Las Vegas economy, that people's incomes were less and prices were going up." Schwer said. "Visitor volume is down."
Reduced hours are showing up in more than the "closed" signs on shops' doors. The state of Nevada Department of Employment Training and Rehabilitation is seeing a trend in the rising numbers of unemployment claims. More and more Nevadans are putting in claims for "partial unemployment," said Jered McDonald, a department economist.
"The percentage of partials has jumped 0.8 (percentage points)," he said, citing figures from August 2007 to August 2008. During that time, the percentage of unemployment claims for partial benefits rose from 6.1 to 6.9 percent. He called the change "significant," especially when compared to 2005 numbers. Three years ago, partial unemployment claims only accounted for 4.8 percent of those unemployed.
"Employers are cutting back before they lay people off," he said.
And those statistics don't necessarily represent all the workers who have essentially lost part of a job, McDonald said. To claim partial unemployment, the worker must be making less than the maximum weekly benefit check — $393 — after the hours reduction.
"We did see almost 10,000 new ones, so they are there," McDonald said. "I think a lot of them don't know they can claim."
Cutting back can be a mistake sometimes, two local small-business advisers cautioned. Don Luck and Russ Lagattuta both counsel businesses for the Service Corps of Retired Executives, or SCORE. Luck warned that ramping a business up again after it scales back isn't always possible. Much of the problem lies in lack of initial planning for hard times, he said.
"Eighty percent of the people who get in trouble didn't have a business plan. They are undercapitalized," he said.
Luck urged business owners to "reinvent themselves" when they lose customers, and seek new markets.
"Get out there and make sure you are part of the community if there is a downturn," the SCORE adviser said.
Most businesses, Lagattuta says, don't take the right path.
"What we've seen is when there's a problem, they cut costs. Often what they do is kill the business when they are trying to keep the business open," he said.
Schwer said that sometimes there are no good options. "The key for businesses is to do what you have to in the short run to make it through to the long run."
The long run may look like a marathon to local business owners. Aragon still has hopes his downtown neighborhood will see another boom. Then, as his dream goes, the city or a private developer will ride in and offer him a nice retirement nest egg in return for the spot where El Sombrero now sits.
"Hopefully, I can hang on until the property values go back up," he said wistfully.
Jacobs vowed that his LaCabana will survive, but knows it won't get easier anytime soon.
"It's been crippling," he said, "not just for me but for everyone."
This story first appeared in the Las Vegas Business Press. Contact reporter Valerie Miller at vmiller@ lvbusinesspress.com or 702-387-5286.
THE QUESTION IS ON EVERYONE'S MIND: Have we hit bottom yet? One state economist says a good way to judge that might be by looking at the temporary staffing agencies.
When the agencies start placing more people, it tends to indicate businesses are gearing up for a permanent hiring surge, said Jered McDonald, an economist for the State of Nevada Department of Employment Training and Rehabilitation. He keeps an eye on temporary labor companies as a barometer of the state of the economy.
"I would suspect that once the economy begins to turn, temp agencies will be at the forefront," the economist said. "We topped out at 31,100 in 2006 in employment for those agencies. About 23,900 worked for those agencies before the 2001 recession, so it follows the regular business cycle."
Temporary workers are counted by DETR as employees of the staffing agencies.
So far, unfortunately, signs of a turnaround using the temp trend method aren't visible, McDonald said.
Unemployment is on the rise at staffing firms. Only 22,300 were employed by temp agencies as of August this year, compared to 26,500 in August 2007.
"It's a change of 4,200 (jobs) or 15.8 percent so employers aren't hiring as many temporary workers," he said.
— VALERIE MILLER