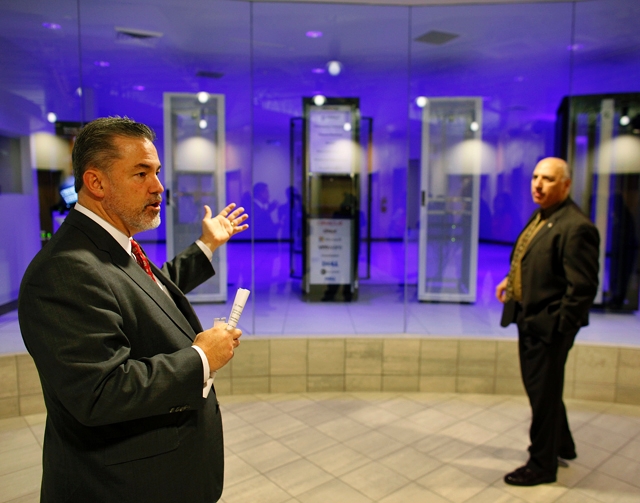 It can be pretty exciting when you get the keys to your new house. For the cloud, today was its day.
With the grand opening of Cobalt Data Centers, Cheyenne Campus, the cloud has a new home in Las Vegas. And with the white cabinets already moved into the collocation center, the cloud was more than ready for its housewarming party.
Thursday morning, Cobalt Data Centers CEO Mike Ballard opened his 34,000-square-foot castle to invited guests and gave tours to Mayor Pro Tem Stavros Anthony and the media. Inside the white building at 7710 W. Cheyenne Ave., blue lights glowed inside the data zone.
The new center sits at the site of failed Internet startup PurchasePro, a business-to-business purchasing facilitator that collapsed in bankruptcy and felony convictions for its CEO in 2002. The data center originally was built in 2000 for
$5.9 million.
"These aren't inexpensive. They take a lot of capital to build," Ballard said.
When all is said and done, Ballard said an excess of $25 million to $30 million will have been spent on the Cobalt data center. Ballard's partners in Cobalt are Russ Ketchum, Joseph Gallagher, Paul Reynosa and Mark Hansen. Ketchum was a customer of Ballard's when the former worked for the Four Seasons and the latter worked for Switch, another data center in the valley. Gallagher formerly worked for the Sands, Station Casinos and Marnell Corrao.
The company expects to employ 20 people.
Cobalt's first Las Vegas foray features 5.5 megawatts of power and space for 312 cabinets — 212 in the first phase and 300 in the second. The data center was designed for collocation, cloud computing, compliance and managed services. The center's clients also can use work spaces at the facility such as conference centers, a war room or cubicles.
When thinking about a data center, it can be helpful to think about data in general. That picture you just took and then pushed to the cloud? That's being stored in a company's server somewhere and those servers are stored in cabinets inside data centers, which typically are climate controlled and protected by multiple security measures, as are Cobalt's. The center uses retina scanning, security guards and surveillance to keep an eye on who's going in and out.
Sam Traznik from Calabasas, Calif.-based Maxxiss Communications, one of Cobalt's first customers, came to the grand opening ceremony Thursday.
"In a way, the sky is the limit. There's money being poured into technology for some companies who have been holding back and this is just the perfect footprint for us," Traznik said.
His company offers hybrid cloud computing, application development and disaster recovery.
"We're looking forward to growing our business here," Traznik said.
Already, Cobalt has roughly a dozen customers including those in the cloud computing, voice over Internet protocol and health care industries. Any company that stores data electronically can be a customer of Cobalt's and other data centers, and they can be located anywhere in the world.
Costs for services can vary widely, depending on a client's needs, but can be as low as $500 per month to $40,000 per month, depending on use. Cabinet space, Internet use and power all factor in the price.
Cobalt also owns 2.4 acres on East Sahara Avenue on which it's planning to build another data center soon. Ballard said cloud computing, a growing market, is expected to grow by 30 percent each year for the next five years.
Other data centers in Southern Nevada include Switch's campus at 7135 S. Decatur Blvd., for which Ballard was chief financial officer before he left in 2006. In an ongoing lawsuit that was filed against Ballard in 2011, Switch alleged that Cobalt relies on Switch trade secrets.
"We're working on settling that," Ballard said.
Contact reporter Laura Carroll at
lcarroll@reviewjournal.com or 702-380-4588.
Follow @lscvegas on Twitter.