Company called WET has highly liquid relationship with Las Vegas
November 13, 2013 - 10:59 am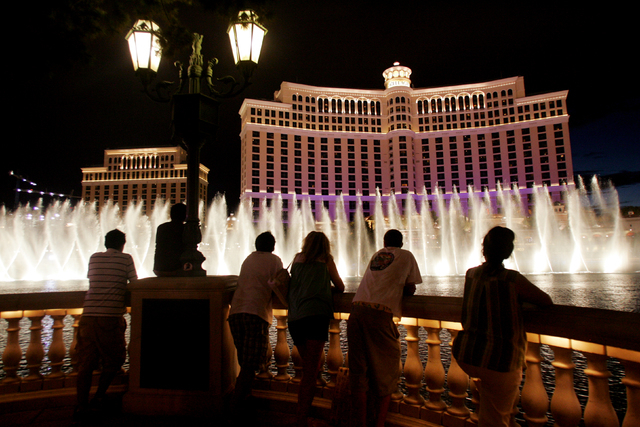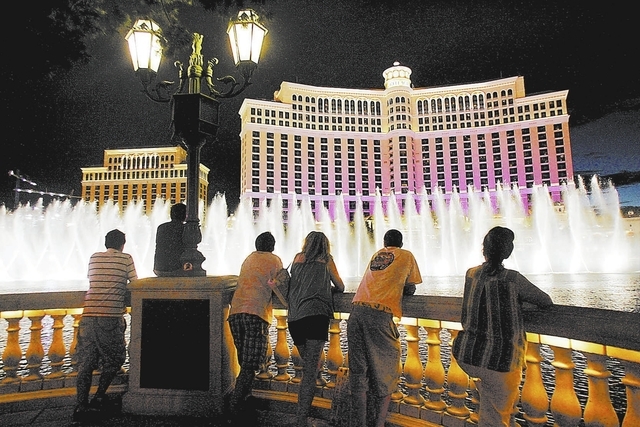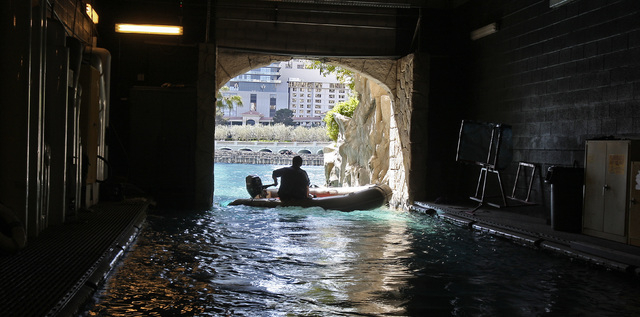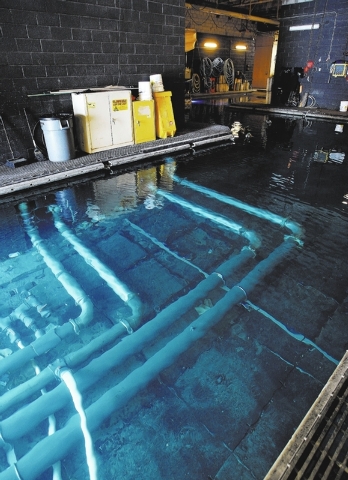 The year was 1985.
"Splash," a new show by Jeff Kutash, was hitting the Strip, bringing a mix of street dance and classical moves to the Las Vegas entertainment scene.
Part of the excitement about the show centered on a new concept at the time — dancing waters that moved in sync with the performers' choreography. At the time businessman Mark Fuller had no way of knowing his water creation would launch a long-standing business relationship with the Las Vegas resort community.
After creating the water features for "Splash," Fuller's L.A.-based company, WET, took off. In Las Vegas, it landed contracts with the Stardust Hotel, Embassy Suites, CityCenter and the Bellagio Conservatory. It's also responsible for the Bellagio Fountains, which really propelled WET into the limelight: The company has a project backlog and is booked for a few years.
A former Disney employee, Fuller co-founded WET in 1983, just two years before "Splash" hit the Strip. The company focuses on water feature design and technology and holds more than 50 patents in the field. After creating the Bellagio Fountains in 1998, WET went on to create hundreds of water and fire features in locations across the globe, including the Dubai Fountains in 2008.
All design and creation is completed in Los Angeles, and the company maintains an operations and maintenance office in Dubai and China. WET employs 220 people, with more to come.
"We're hiring rather aggressively right now," Fuller said.
The reason? The company has a project backlog and is booked out for a few years. At any given time, WET is working on about 12 projects of varying scale. A mix of graphic designers, illustrators, optical engineers, chemists, special effects people, landscape designers and textile designers work in WET's Los Angeles offices.
It wasn't always that way. Over the years, feelings about water features have changed. When the company was founded it was relatively rare for a project to have a water feature, Fuller said. Now the opposite is true: It's a rarity to find a development without a water feature.
"Without trying to sound boastful, I give WET credit for that," Fuller said.
WET's first Las Vegas creation for "Splash" consisted of laminar streams — water curves that look like arches you can walk under. The performers would dance in, around and through the streams, making it look seamless between what the dancers were doing and what the water was doing.
"It was interesting for us," Fuller said. "We had come out of Disney and everything out of Disney was automated. Here we had to synchronize with a cast of people and throw to the wind the automation."
Offstage, technicians worked complex machinery to make the water work in sync with the music and performers.
"We get such pleasure out of what we do. The substance of what we use, water; you show me a kid who doesn't like to play in the water," Fuller said.
Later on, Fuller was introduced to Steve Wynn through Wynn's landscape architect. Wynn asked him for ideas and Fuller ended up revamping The Mirage's volcano's water feature, making the water look thicker, glowing and viscous — much like lava.
Then WET was given the chance to create something special for Bellagio.
"When Mr. Wynn described his vision, and no one can describe an idea like Steve does, he said he wants people to feel like they're in a different world," Fuller said. "That set a wonderfully high, challenging bar for us."
The collaborative effort paid off: The Bellagio fountains were born, a creation that's now recognized around the world.
"Visitors from around the world come to experience the magic that takes place in front of Bellagio every day. Perhaps that's why Trip Advisor named the fountains the number one travel landmark in the United States this year," said Jenn Michaels, senior vice president of public relations for MGM Resorts International.
The fountains originally were conceptualized with colored lights, not the white they've become famous for. White, though, was decided on after some early deliberation. Fuller said the white is a metaphor for an "unbelievable chandelier."
"The team at WET takes a simple object — water — and creates moments that are incredibly special and significant," said Michaels.
As for WET's future with Las Vegas, Fuller said he couldn't disclose too much, but "we're always looking to the future and what we can bring to that."
Since creating Bellagio's focal point, WET has created all of the water features for CityCenter: Lumia, Halo, Glacia, Latisse and Focus, one of the largest water walls on Earth.
"At CityCenter, Wet took a very different approach. The water features there are much more subtle, but no less special," Michaels said. "Visitors stop to enjoy these interesting moments where Wet has played with water and how it flows, how it interacts with color, what happens when you turn it into ice and more. Each one is unique and special in its own way."
Fuller added: "People love that because it gives you a feeling of a sublime combination of nature but clearly expresses the hand of man."
Outside the city, Wet is working on a number of projects, including one in the Russian Meadows Plaza in preparation for the 2014 Winter Olympics in Sochi, Russia.
"It is some pretty neat stuff," Fuller said.
Contact reporter Laura Carroll at lcarroll@reviewjournal.com or 702-380-4588. Follow @lscvegas on Twitter.