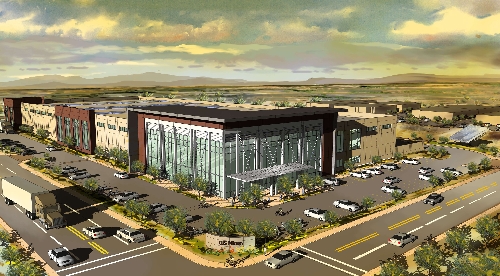 U.S. Micro Corp., an Atlanta-based computer recycling company, is moving its headquarters to Las Vegas.
The 15-year-old firm is building a new 130,000-square-foot facility at 7000 W. Teco Ave. in the southwest valley. The $15 million building will house administrative offices, warehouse space and a recycling facility. The company is expected to opens its doors in mid-2011, and create up to 100 jobs.  
"We are expanding our physical operations as a result of organic growth," said U.S. Micro Corp. President Jim Kegley. "We chose to relocate to Las Vegas because of the area's competitive business climate, talented labor pool, state-of-the-art technology and transportation infrastructure, as well as its proximity to some of the world's largest information technology markets."  
Said Nevada Development Authority President and CEO Somer Hollingsworth: "Companies are increasingly attracted to Southern Nevada's business climate and our new infrastructure and international airport. U.S. Micro Corp. could have gone anywhere in the country, but they came here. Their local presence greatly boosts our growing 'green' economy."
The two-story building, on 6.48 acres, will be situated within the 2-year-old Buffalo/215 Business Park at the southwest corner of Buffalo Drive and Post Road. Panattoni Development Co. bought the foreclosed 19-acre office and retail complex last summer from Nevada State Bank for an undisclosed price.  
Construction of the headquarters building will create up to 120 jobs. 
"The building will require 74 concrete panels to create, with the largest panel weighing 157,000 pounds, or the equivalent of 34 mid-sized pick-up trucks," said Panattoni Construction Senior Vice President Matt Clafton. "The 26-foot-tall building will be roughly the length of six basketball courts laid end to end." 
Yet, the concrete and glass building will be energy efficient and highly sustainable with photovoltaic panels and a storm water collection system, drought tolerant landscaping and natural daylight. Other green building components call for recycled and regional building materials and low volatile organic compound glues and paints. The project is pursuing a Leadership in Energy and Environmental Design certification from the U.S. Green Building Council. 
The company buys used computer equipment and erases data before recycling plastics, metals and glass into construction materials and finishes products for reuse in bicycle racks and outdoor furniture, among other things. U.S. Micro Corp. is an authorized refurbisher for computer software giant Microsoft Corp.  
"Unlike California and Washington, we sense that Las Vegas is a city that is open for business and are excited to be a part of it," Kegley said. "We also look forward to helping businesses dispose of their information technology assets securely, sustainably and cost-effectively." 
Contact reporter Tony Illia at 702-303-5699 or tonyillia@aol.com.