Computer software company expands in Las Vegas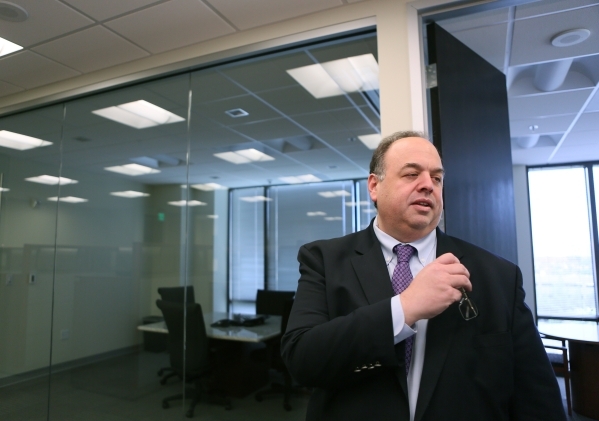 A Las Vegas-based computer software maintenance company has expanded its headquarters in the Hughes Center by adding 11,000 square feet of office space for 60 more lawyers, finance workers, payroll employees and assistants.
Rimini Street, founded in Las Vegas in 2005, launched the multimillion-dollar expansion to accommodate worldwide growth. The expansion adds to 3,000 square feet and 17 employees already in Las Vegas.
Rimini Street specializes in undercutting vendor software service contracts by 50 percent. Rimini Street says it will respond to software service requests within 3½ minutes round-the-clock to 1,080 clients in 90 countries.
It has more than 600 employees in Silicon Valley and in countries such as Australia, China, Germany, India, Israel, Japan and the United Kingdom. Its clients include more than 100 Fortune 500 and Global Fortune 100 organizations.
"When something happens, we're the 911 experts," CEO Seth Ravin said.
Rimini Street scheduled a Thursday evening celebration of its expansion for community and business leaders.
Net revenues for the second quarter of 2015 increased 36 percent over the same three-month period in 2014 to $27.8 million. The company expects to generate more than $100 million in revenue for the 2015 calendar year, Ravin said.
Ravin anticipates an initial public stock offering in 2016, he said.
He expects his company's niche of software maintenance services will grow in Las Vegas with as many as 300 people in coming years.
The Las Vegas base will be home to business staff, such as lawyers and finance, with IT personnel in Silicon Valley and other locations.
Las Vegas "is a place that knows how to turn paper," Ravin said.
He noted Las Vegas is equipped to handle a headquarters but does not have the deep pool of tech workers.
"Every time you incubate (a tech business) in Las Vegas they move it to Silicon Valley to staff it," Ravin said.
Contact Alan Snel at asnel@reviewjournal.com or 702-387-5273. Find him on Twitter: @BicycleManSnel.