Concierges give condos touch of high life
November 4, 2007 - 10:00 pm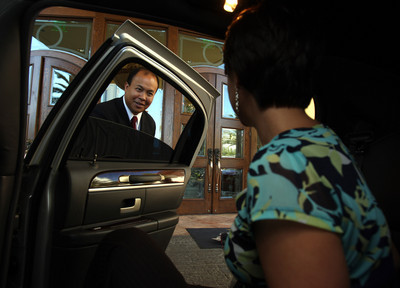 Maybe Fido needs a walk and the dry cleaning has to be picked up. Or, perhaps you need to rent an elephant or hire a Speedo-wearing little person.
No problem.
No job is too big or too small for the throngs of concierges who are popping up inside the city's newest high-rises.
As the city goes vertical, condos, lofts and high-rises are moving up, too, borrowing the concierge tradition from their hotel brethren.
Residents of the luxury dwellings expect service at their fingertips, developers say.
"If it is $500,000 to $1.8 million and up, they should have concierge service," Michael McCracken, the general manager of the newly opened Boca Raton Condominiums, said of the standard luxury prices. The Boca Raton condos were priced from $400,000 to $1.2 million.
Two Boca Raton concierges set up show and dinner reservations, deliver mail and essentially do "anything that is legal" for residents of the 378-unit development.
The developer will eventually add 378 units and another concierge, to ensure that residents get all their wishes fulfilled, McCracken said. That might mean setting up a bachelor party or getting a baby sitter. "Everything you can think of, they do," he said.
For services that require concierges to leave their desks and run errands, McCracken outsource requests to Las Vegas-based TimeWise. Contracting with outside vendors has become a cost-effective way for developers to pamper their residents.
TimeWise provides concierge services for high-rise properties, including the soon-to-open Allure Las Vegas, Manhattan and the planned Manhattan West, said Julie Ulrich, the company's president. In addition, TimeWise supplements concierge services at Boca Raton, the C2 Lofts and the Panorama Towers. It recently signed Meridian Luxury Suites.
Allure took concierge service a step further when it provided it two years before tenants moved in.
"We had a contract that started their concierge service right now (at signing)," Fifield Realty Senior Vice President Alan Schachtman said.
Chicago-based Fifield developed the 428-unit Allure, which opens soon.
Allure's single units range from $300,000 to $2 million, but Schachtman said there is no charge to buyers for the before-move-in service.
The freebie ends when owners become residents. The homeowners' association then takes over billing for the service's costs. That price is included in the association's monthly fee assessment.
"It is very incremental, since we have a deal with (TimeWise) for the whole building," he said.
"We are talking to Julie (Ulrich) about doing the same thing in Waikiki (Hawaii)."
The prevalence of part-time residents and tourists in both cities make them a good fit for concierges, he added.
The amenity can be offered in different ways. Turnberry Place and Park Towers, two of Las Vegas' first luxury condo high rises, use their own in-house concierge service. The 84-unit Park Towers has a chef concierge who organizes wine tastings, holiday barbecues and other social events at Park Towers. "The beauty of a concierge that is a real concierge and not just a task master is that they breathe life into things," said Richard Worthington, the president and chief operating officer for Park Towers developer, Paradise Development Co. and the Molasky Group.
"When you have apartments that are north of $2 million, it makes sense to have a full-time concierge who stays abreast of what's going on and has connections through networking," he said.
Park Towers' concierge even puts out a newsletter. Worthington, as developer and director of Park Towers Homeowners Association, decides on the duties of his concierge. Homeowners associations typically direct the staff concierges, as is the case with Boca Raton, Park Towers and numerous others.
Developers are finding ways to provide round-the-clock concierge service even when the duly attentive servants have called it a night. One Queensridge Place, for example, supplements its concierge service.
"Our lobby security is cross-trained, as well, when the concierge is off-shift," said Sydney Young, the assistant general manager of One Queensridge Place Homeowners Association. Security officers can't do everything a full-time concierge could do, such as booking rooms and planning parties, but they can check on reservations and advise on local goings on.
Residents in luxury developments want to feel as if they're living at a five-star resort and the concierge helps accomplish that, said Michael Saye, general manager of the Stirling Club.
He is in charge of all Turnberry concierges.
Residential concierges differ from hotel concierges in that they get to know the people they serve, he said.
"There's a sense of security there. … If they need a cup of sugar, there will be somebody there to help them," Saye said.
Forty percent to 70 percent of residents use Turnberry as their second or third home, so they also want to see tourist attractions while staying in Las Vegas, Saye noted.
Remit with your monthly bill
With such perks as concierges come extra costs to homeowners. Although it is not factored into the selling price, a charge for the service is often paid through homeowners association fees that are divided up among residents. Although Worthington declined to disclose his concierge's salary and overhead costs, he said a $50,000 yearly concierge cost would amount to $600 a year per homeowner, or $50 per month.
One Queensridge Place's representatives wouldn't break down the costs either.
"Concierge is part of the overall package that comes with owning a custom home at One Queensridge Place," Young said by e-mail. Homes in the Summerlin development range from $1.8 million to more than $25 million.
Turnberry factors it in with the homeowners association fees, so it does not affect what residents pay to buy a unit, Saye said.
The five concierges at Turnberry are paid an average salary of between $33,000 and $45,000 a year. They serve about 772 units in the development.
House watching is a popular service Ulrich includes.
"With Las Vegas being a popular place for second home owners and investors, absentee home care gives the owner peace of mind," she said.
Turning on faucets, flushing toilets and mail-forwarding are routine. Sometimes the returning homeowner wants a refrigerator stocked, she notes. Her concierges comply.
Requests for services run from the mundane to the bizarre. Ulrich recalled one such request involving a London man coming to Las Vegas for an off-site company meeting.
"He wanted me to help embarrass his CEO. He wanted a little person to be dressed as the CEO," she said. "I thought the little person would be dressed in a suit, but he said (the CEO) was wearing Speedos. They wanted to do the Mini Me thing. They were in matching Speedos and handcuffed together for two hours at the Hard Rock (Hotel) pool."
McCracken recalled hearing of concierges arranging for an elephant for a children's party. Hiding diamond rings in rooms to enable surprise marriage proposals isn't an uncommon concierge task, either.
But finding a good concierge — no one knows how many there are — can be like finding a diamond in the rough. Every one is looking for the best. Ulrich, who is also president of the Nevada chapter of the National Concierge Association, said the group has between 70 and 80 members.
The going rate for a concierge varies. TimeWise pays between $12 and $19 per hour. The tipping policy depends on the property, Ulrich said.
Ronald Danka, a Turnberry concierge, said residential concierges don't live off gratuities.
"A concierge here at Turnberry might get $20 to $25 per day, because most of our requests are here on the phone, and not in person," he said.
The trend of offering residential concierge service will likely continue.
"The value of the concierge is slowly being recognized. Hotels had it for a long time," Saye said.
He likes to give his development credit.
"Turnberry was really the leader, but as in all other good things, people follow."
This story first appeared in the Business Press. Contract reporter Valerie Miller at vmiller@lvbusinesspress.com or (702) 387-5286.