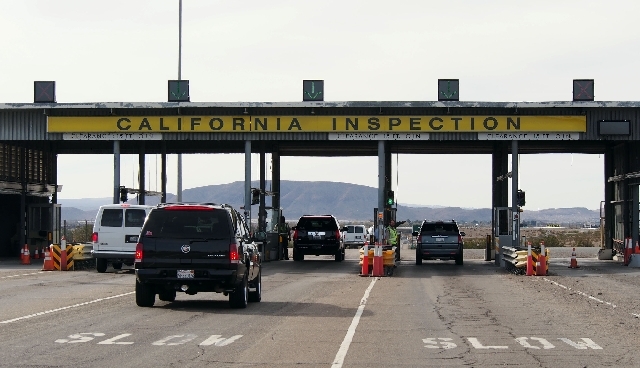 After a quarter century of talk and planning, California is moving ahead with a vehicle inspection station on Interstate 15 just south of Primm.
That state's Department of Transportation will open contractor bids on July 25 for the $34 million first phase of what is officially called the Joint Port of Entry. The schedule calls for a groundbreaking in October and completion in January 2015. It will house the weigh station for commercial trucks, where any exceeding state limits would have to shed cargo to avoid excessive wear on the highway.
The Agricultural Inspection Station, now in the desert outpost of Yermo, would follow in a second stage after the state's Department of Finance arranges funding.
"We hope to have the money to go forward in the fall of 2014," Caltrans project manager Jason Bennecke said.
Known to millions of drivers heading to Southern California as the "bug station," the Yermo facility has long been the bugaboo of the Las Vegas tourist industry. As drivers slow down or stop completely to answer an inspector's question about whether they are carrying fruits and vegetables into California, traffic can back up for several miles, particularly on Sundays or at the end of holidays as tourists head home en masse.
While some local tourist industry leaders would like to eliminate the bug station completely as an unnecessary irritant, California keeps it as a first line of defense for its huge agricultural industry. California officials say the new station would reduce or eliminate traffic bottlenecks by expanding the number of inspection lanes to seven compared with the four at Yermo, a nearly 50-year-old facility 140 miles southwest of the Strip.
Drivers in recent weeks have reported the car lanes have no inspectors at all, not even to wave drivers through, while the truck side remained active. But California Department of Food and Agriculture spokesman Steve Lyle said policies have not changed.
The new bug station would cost about $25 million, according to Bennecke, but may require update of blueprints drawn two years ago.
The Yermo station straddles the freeway, but the new station will be next to existing travel lanes.
At Yates Well Road, about five miles south of the state line, heavy trucks will be diverted from the freeway, traveling three miles on parallel lanes to reach the weigh station. When the insect inspection station opens, about a mile of southbound I-15 will close and all vehicles will be diverted through inspection lanes.
According to a federal environmental impact report, California began evaluating a joint port of entry, combining the agricultural inspection with a highway patrol station, in 1988. Planning was launched in 1992, but it stalled because of the state's chronic budget woes.
As the fiscal picture has improved in the past year, the money for the first phase was approved by the California Transportation Commission in May.
Contact reporter Tim O'Reiley at
702-387-5290 or toreiley@reviewjournal.com.