Construction planned for Fergusons Motel in downtown Las Vegas still yet to be seen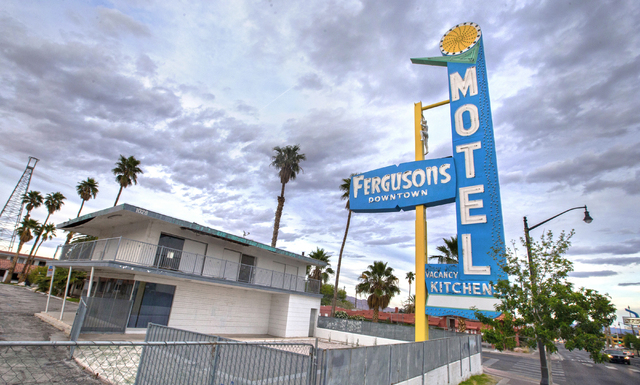 Construction is dormant on the site of the former Fergusons Motel.
Although Downtown Project officials haven't cited any difficulties with plans for the shuttered motel at Fremont and 11th streets, they said they want to "get it right the first time."
"We've realized that there's a lot of planning and it takes some time when you're talking about physical structures and businesses, and getting them to the right place," Downtown Project public relations director Maria Phelan said.
Downtown Project, a private redevelopment initiative founded with $350 million in financial backing from Zappos CEO Tony Hsieh, presented plans for the old motel at 1028 E. Fremont St. in August 2013. Plans for the 50,768-square-foot retail center called for:
— A circular designed amphitheater with four grassy levels.
— A 247-square-foot platform for staging audio equipment for special events.
— A 1,732-square-foot veranda on the site's southeast corner for an outdoor patio that will be used by one of the three proposed taverns.
— Artwork by Los Angeles artist Mike Ross that will include two disabled semi-trucks, with the piece mounted to the ground. Ross' "Big Rig Jig" has appeared at Burning Man.
— Planters, trees, shrubs and pavers adorning the location.
— Offices and retail suites.
However, none of these components are so far on the site.
No trespassing signs are on the building; a chain-link fence surrounds the property. Paint is peeling in places and drywall has separated from the motel's roof. Litter is strewn along the grassy area and sidewalk next to the property.
The City Council was first presented with the site plan and tavern special-use permits Aug. 21, 2013. The council gave the go-ahead on Oct. 2, 2013.
"We're still considering all design and development options with that particular property," Phelan said. "Nothing has been taken off the board in a really solid way."
The last time construction occurred on the property was in 2013, Phelan said, when the motel's interior was taken down to studs.
John Curran, the Downtown Project's real estate portfolio manager, said his company is proceeding with a "limited first phase" of the project. But he offered no timeline or description of what the first phase would entail.
"The day will certainly come," Curran said. "We want to make sure we get the entirety of the project right the first time."
Scott Seeley, owner of the Writer's Block Book Shop, said he would be excited to see Fergusons Motel transformed into something new.
"Anything that draws people down to this neck of the woods would be wonderful," said Seeley, whose store is on the block adjacent to the site.
Councilman Bob Coffin, who made the original motion to approve the site plan in October 2013, said he's unconcerned about the project's timeline.
"It's just one of many projects down there," he said. "It's well-kept. It's much better than it was before. They're maintaining the work site very well."
Contact Natalie Bruzda at nbruzda@reviewjournal.com or 702-477-3897. Find her on Twitter: @NatalieBruzda
RELATED
New plans proposed for rundown Fremont Street motel