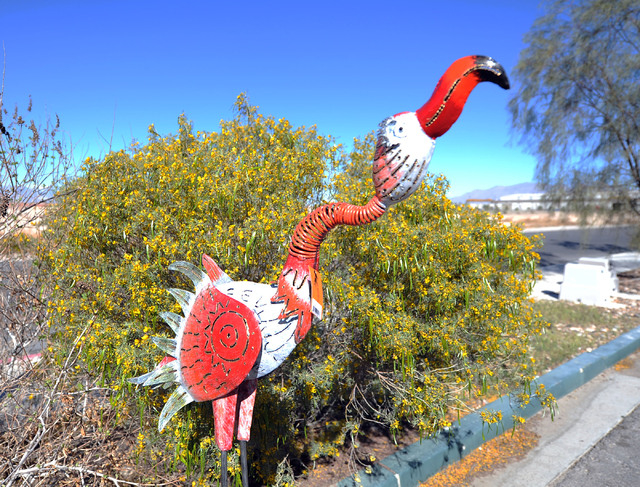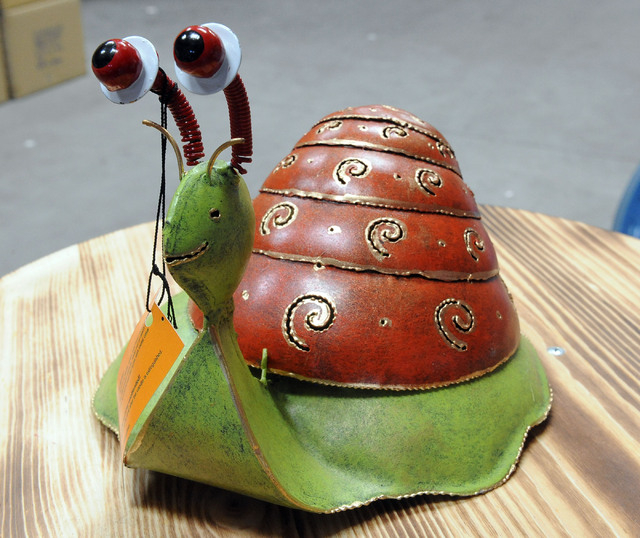 The Las Vegas Convention Center will be transformed into a merchandise marketplace Sunday.
Picture it filled with rows and rows of candy, sunglasses and light-up T-shirts, grouped together with costume jewelry, martial arts supplies and Halloween decorations. Anything and everything you need to fill a store will be at the center March 16-19 during ASD LV 2014.
ASD LV is a twice-a-year consumer goods trade show where manufacturers exhibit products from multiple channels: jewelry, health and beauty, toys, food and fashion accessories. More than 2,600 exhibitors are expected. According to the Las Vegas Convention and Visitors Authority, ASD has an estimated attendance of 41,000 and a nongaming economic impact of $51.6 million. The travel authority said ASD attracted about 45,000 people in March 2013.
Exhibitors this time will include Las Vegas-based G.W. Schleidt, which will highlight its new product, the Bali Garden, composed of garden accessories, such as stakes and balancers. The business also sells kaleidoscopes, sand timers and Galileo thermometers.
The company, owned by Frank Schleidt, has exhibited at ASD for more than 20 years. This year, G.W. Schleidt's booth measures 500 square feet.
"It's our strongest show each season," sales manager Michele Newman said.
Schleidt said his company seems to attract more international buyers during ASD than at most of the other shows in which it exhibits.
"I think it's just because it's Las Vegas," Schleidt said. "It attracts buyers who wouldn't normally come here."
The last time the show came in August, some exhibitors saw few results. One of them, LV Sales, a local costume jewelry manufacturer, decided to skip it this time.
"We didn't get too many new customers, so it's not worth it to me," owner Ken Jia said.
In August, it cost Jia a little more than $6,000 for his corner booth that displayed a sea of rhinestone charms. In 2013, he attended the spring and autumn shows; each brought him only about five new customers.
LV Sales sells to dollar stores and gift shops throughout America. Jia said he doesn't think the economy is picking up for his business the way he's heard it has in other sectors. Sales have risen for him only in late February and early March, while December and January were slow.
"Mainly I think it's risen because people got their tax refund," Jia said.
In August, Lana Baltodano, manager of Keseff, a manufacturer of sound-activated, light-up T-shirts and gloves, said attendees seemed hesitant to buy. The Las Vegas-based company has exhibited at ASD LV for a few years.
But, things turned around. Company President Evgeny Siskov said sales picked up, and a few customers came through to save the August show.
This time, Siskov said he thinks ASD will bring his company its biggest sales ever. Keseff exhibited a new product, light-up caps, at the MAGIC trade show in February, and sales were strong.
"We think the 2014 economy is doing better, and people have more money," Siskov said. "We're thinking that it's going to be very, very successful."
Aside from the locals, this season's ASD will feature a slew of new products and exhibitors.
Among them, new exhibitor Glass-U is showing off its foldable two-tone sunglasses that are licensed to 185 universities and FIFA World Cup. Another newbie, Be Wicked, is set to show its line of costumes, lingerie and accessories, while Crea Products introduces the ASD crowd to its CreaClip, a hair-cutting guide that can be used at home.
"I think that coming off a harsh winter where many buyers were not able to travel to other shows to purchase product, that sunny Las Vegas will hopefully be a welcome market to shop for them to bring in new merchandise to their stores," ASD group marketing manager Camille Candella said.
ASD LV is open to the retail industry only.
Contact reporter Laura Carroll at lcarroll@reviewjournal.com or 702-380-4588. Follow @lscvegas on Twitter.