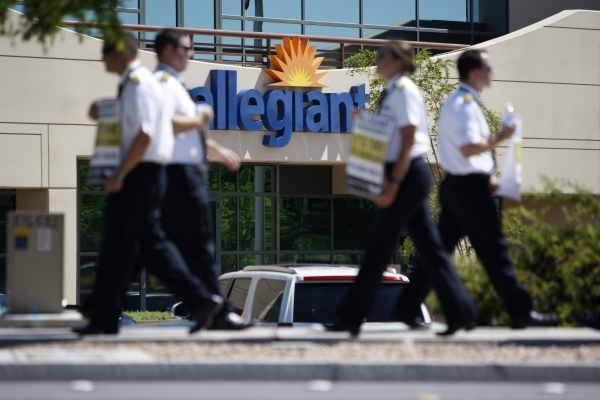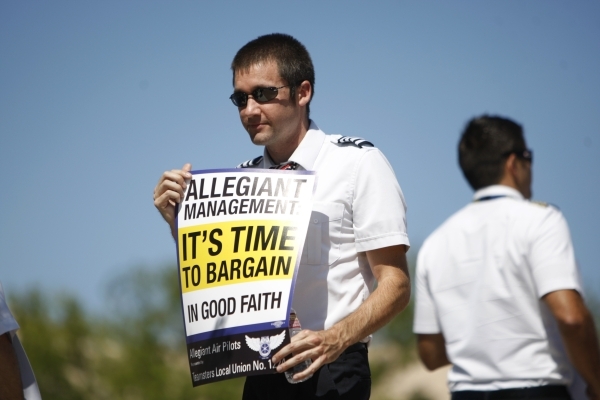 The battle between Allegiant Air and its pilot union rages on.
The mediator overseeing negotiations between Allegiant and its Teamsters union-represented pilots on what would be the airline's first union contract canceled a two-day collective bargaining session in Washington this week because of a lack of progress.
Each side blamed the other for the failure.
Allegiant Chief Operating Officer Steve Harfst appealed directly to the airline's pilots in a letter Wednesday, telling them the union's lack of preparation led to the cancellation.
"Shockingly, despite having more than a month to prepare, (Teamsters) Local 1224 showed up yesterday at 10 a.m. and told us and the mediator that they were 'not ready' and needed still more time," the letter said. "Finally, in the afternoon, Local 1224 decided to pass along a number of proposals that were identical to one that they had presented to Allegiant two months ago — during the September negotiating session — and to which Allegiant had already provided substantive responses. Based on Local 1224's lack of preparation and inflexible behavior, the mediator decided to cancel the remainder of the session."
Teamsters Local 1224 President Daniel Wells said Allegiant offered low-ball "non-starters," below industry standards.
"Allegiant executives continue to try to shortchange pilots and passengers while building company profits" Wells said in response to Harfst's letter. "Time and again, Allegiant has brought proposals to the bargaining table that are non-starters because they undermine standards across the industry and will continue to result in high turnover at the company."
Harfst said the company is taking the negotiations seriously and the union's lack of preparation is rooted in the union leadership being "more interested in pursuing its own institutional agenda, rather than advancing negotiations for our pilots."
"The National Mediation Board has made it clear that they expect both parties to negotiate in good faith to reach an agreement," Harfst said. "We are waiting for the union to do the same. We will remain hopeful that we can make real progress toward an agreement when we meet with Local 1224 again in January."
But Wells blamed Allegiant management for the failed negotiations.
"We need Allegiant to get serious about a contract that recognizes the work of the pilots and prioritizes retention for an experienced team," he said. "Pilots have been at the table trying to negotiate a fair deal with Allegiant for far too long and it's past time for the company to stop the legal maneuvers and focus on getting this done."
Pilots first voted for Teamster representation in August 2012. Since then, there have been a series of scrapes between the two sides with executives stating publicly that they don't want "third-party negotiations" in their dealings with employees and the union publicly criticizing the airline for perceived safety issues.
While both sides say they've reached agreement on some aspects of a contract, they remain apart on pay and scheduling issues.
Follow @RickVelotta on Twitter. Contact reporter Richard N. Velotta at rvelotta@reviewjournal.com or 702-477-3893.