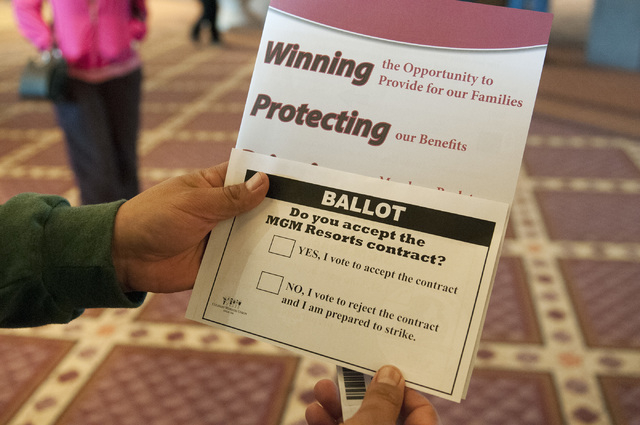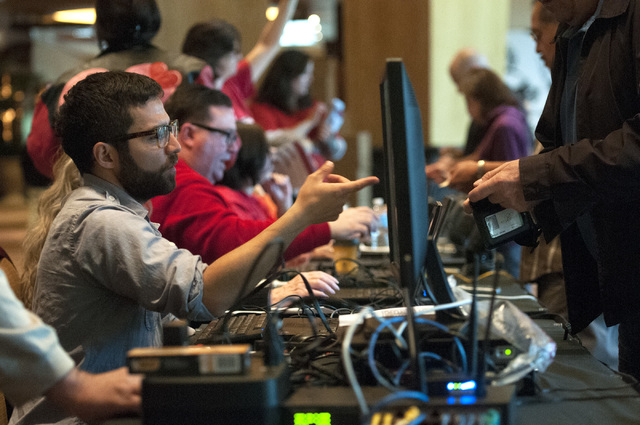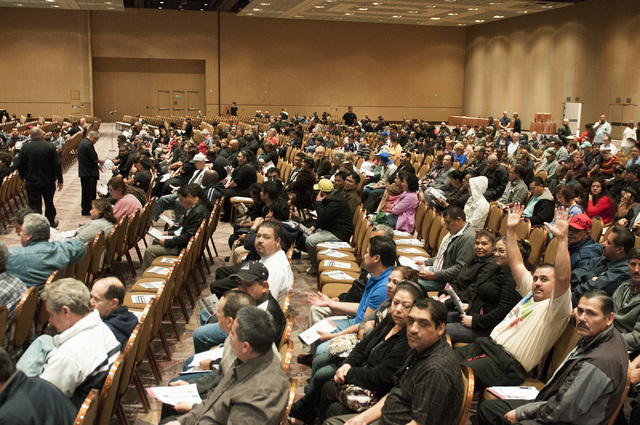 Union employees at 10 Strip casinos operated by MGM Resorts International overwhelmingly approved a new five-year contract Wednesday that included company increases for health care costs.
The contract is the first deal that Culinary Workers Local 226 and Bartenders Local 165 have reached with Las Vegas area hotel-casino operators since contracts covering some 40,000 workers expired on June 1. Negotiations are ongoing with other companies, including Caesars Entertainment Corp. and Boyd Gaming Corp.
The new contract does not call for a pay raise in the first year. However, the company agreed to pay an extra 35 cents to the benefit package this year, and 50-cent and 55-cent increases in years two and three.
According to a document provided to workers before the vote, the contract will reopen in the fourth and fifth years to discuss new benefit increases.
Union Gaming Group Managing Director Bill Lerner told investors Thursday the "modest" economic increases reflect Nevada's current business conditions.
"It is possible MGM's agreement could serve as a catalyst for Caesars to reach a similar deal as MGM is the first major operator to reach an agreement," Lerner said.
In a joint statement between the company and the two unions, more than 97 percent of employees who participated in the vote supported the new contract, which covers some 21,000 nongaming workers at 10 Strip properties owned by MGM Resorts.
"MGM has taken a leadership position in the industry, forging a strong partnership for the future of both the company and the unions," Culinary Secretary-Treasurer Geoconda Arguello-Kline said in a statement. "Ultimately, the members had to make the decision. Today, they voted to secure the opportunity to provide for their families, something every worker deserves."
More than 4,000 employees participated in the vote.
The new economic package, agreed to by both sides, allows workers to keep their current health insurance and other benefits. Specific changes in food and beverage terms aim to provide necessary flexibility needed to reopen closed venues and bring workers back to their jobs. New measures in housekeeping create departmental language designed to increase job safety.
"Our aim has always been to negotiate an agreement that works for everyone, one that will allow everyone to provide and to succeed," MGM Resorts Chief Operating Officer Corey Sanders said in a statement. "We believe that's what the unions and the company have achieved here: a smart contract, one that charts our company's future growth with the unions."
The contract covers nongaming employees at Aria, Bellagio, Circus Circus Las Vegas, Slots A Fun, Excalibur, Luxor, Mandalay Bay, The Mirage, Monte Carlo and New York-New York.
Wall Street weighed in on the deal, following the union's threats of a citywide strike unless a new agreement was reached.
"Given that the union voted overwhelming in favor of the new contract, we believe it is likely there are other sweeteners in the deal that make it a tad better around the edges for the union," Deutsche Bank gaming analyst Carlo Santarelli told investors. "As such we believe the deal is likely a net neutral for MGM."
Contact reporter Howard Stutz at hstutz@reviewjournal.com or 702-477-3871. Follow @howardstutz on Twitter.