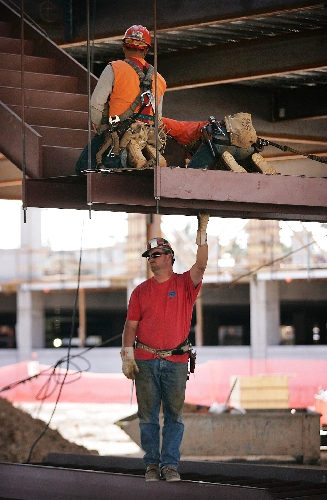 Southern Nevada contractors are being asked to respond to the 2010-2011 Construction Wage Survey for prevailing wages paid on public works construction projects.
Labor Commissioner Michael Tanchek is required by state law to survey contractors who have performed construction work during the past year to determine prevailing wage rates.
These rates are required to be paid on all Nevada public works construction projects — such as schools, libraries, roadways and government buildings — costing more than $100,000.
The July 15 deadline to complete the survey is critical in order to post the new rates by Oct. 1, as required by Nevada law, said Carrie Foley, chief assistant to the commissioner who oversees data collection and calculation of the rates.
She said the Labor Commissioner's office strives to ensure that the public understands how the rates are established.
"We often receive telephone calls and e-mail from people curious as to how we came up with a particular rate," Foley said. "The information obtained from the surveys is loaded into a computer program, which calculates the prevailing wage rates on a county-by-county, job-classification basis."
All contractors, particularly those in rural areas, are encouraged to participate in the survey to ensure that prevailing wages accurately reflect the rates being paid in a particular community.
If no rates are reported for a craft in a county, the commissioner must rely on wage rates as reported for the nearest county, Foley said. That's how a low-population county can end up with the same rate as Clark County for a particular craft.
"The size of a project is not important," she said. "Where the work was performed and what rate contractors paid a specific classification in a given locale are the important factors."
All data from all contractors will be considered. Surveys should include wages paid on all private and commercial projects, not just publicly funded projects, Foley said.
Because of budget cuts, survey packets are no longer mailed directly to licensed contractors.
Participants can visit www.laborcommissioner.com, complete the form and print a hard copy for mailing. The site gives links to Nevada's prevailing wage laws and other information.
Contact reporter Hubble Smith at hsmith@reviewjournal.com or 702-383-0491.