Contractors begin drilling on Las Vegas Raiders Stadium site
August 17, 2017 - 10:59 am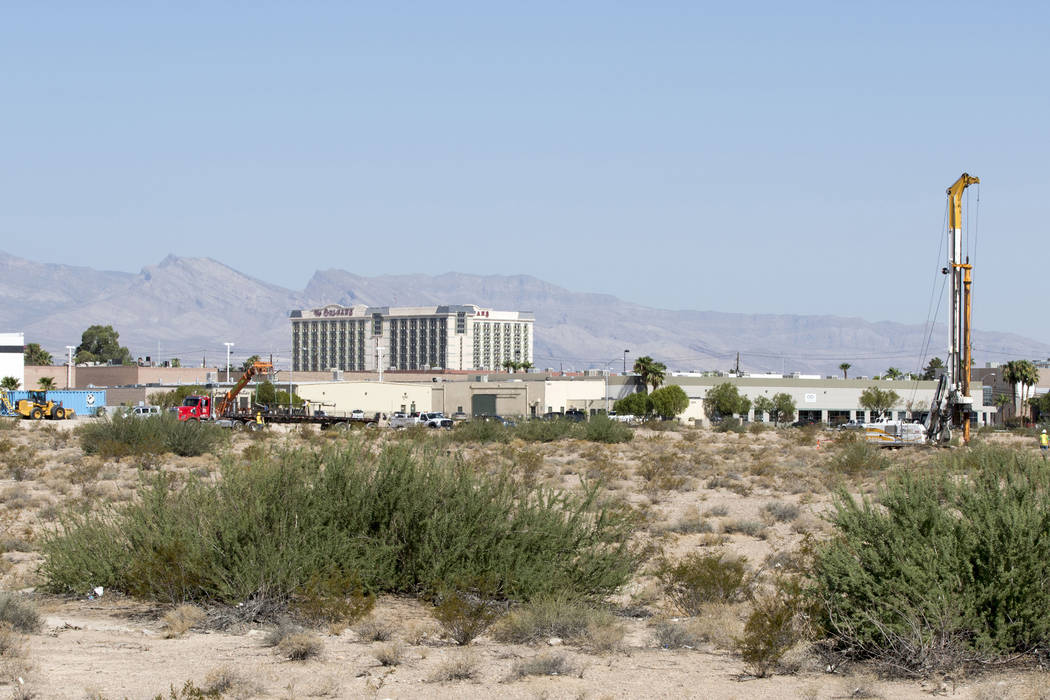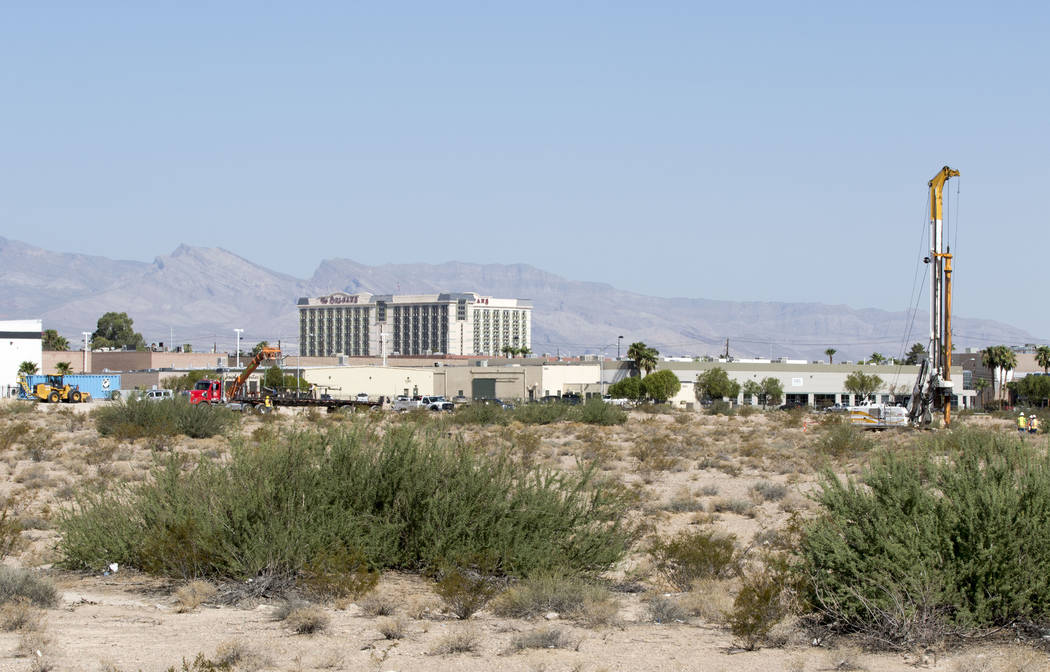 Contractors hired by the Oakland Raiders are drilling on the site of the planned 65,000-seat domed football stadium, hoping to find answers underground.
Clark County Commission Chairman Steve Sisolak said Wednesday that a drill, core sampling machine and a water tank were moved to the site over the weekend so that contractors can get a better understanding of the geology beneath the ground's surface through soil sampling.
Sisolak said he spoke with representatives of the team and its contractors earlier this week. He said he noticed the equipment on the site in one of his frequent drives past the 63.5 acres between Russell Road and Hacienda Avenue near Dean Martin Drive.
Representatives with the team did not respond to email inquiries about the project or how deep contractors drilled on the site.
Hard as concrete
Sisolak speculated that contractors are searching for caliche — a naturally occurring sedimentary rock layer that is as hard as concrete.
"The caliche removal is going to be a time-consuming process and I think they're trying to identify those areas," Sisolak said in a telephone interview. "With caliche, you can put a pool in your backyard and it can be a problem."
Contractors may also be attempting to map the presumed shallow water table under the site.
Circus Circus Enterprises, one of the predecessor companies to MGM Resorts International, in 1998 encountered a sinking foundation while building the Mandalay Bay resort, which opened a year later. Mandalay Bay is on the east side of Interstate 15, directly across the highway from the stadium site.
In 1998, the Clark County Building Division allowed Mandalay Bay contractors to drill 250 feet down to determine why the building's foundation was sinking. Experts determined that a combination of a shallow groundwater table found at 30 feet and complex soils beneath it caused the building to settle by 5 to 14 inches.
Experts solved the problem by driving steel pipes up to 8 inches wide into the ground and filling and surrounding them with grout. Geologists say caliche provides a solid foundation — but what's beneath that layer could be unsettled and problematic.
30-foot excavation
The stadium's plans call for excavating about 30 feet below ground level to create the inner bowl and playing surface of the stadium with the translucent ceiling rising 225 feet in the air.
Sisolak said if there's abundant caliche, contractors may have to jackhammer or dynamite it out to create the bowl.
"It (the stadium site) has got that history and that location so they're doing a lot of due diligence so that they're sure they've got things covered," Sisolak said. "I don't anticipate it being any problem."
Contact Richard N. Velotta at rvelotta@reviewjournal.com or 702-477-3893. Follow @RickVelotta on Twitter.