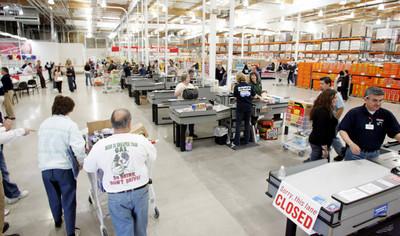 There was no indication of reduced consumer spending Thursday at the new Costco Business Center on Martin Luther King Boulevard.
Parking spaces and shopping carts were in high demand at the big-box retailer that's one of seven Costco Business Centers in the nation and the only one in Las Vegas.
Most shoppers were taking advantage of huge discounts offered for two days to mark the reopening of the 20-year-old, 140,000-square-foot former Costco.
Gone is the popular snack bar with $1.50 hot dogs and pizza, replaced by a 7,000-square-foot print and copy center. Clothing and jewelry departments have been eliminated to make more room for bulk quantity items such as bottled water, candy and snacks.
It's a new format for the company as it goes after a bigger slice of the small-business pie, Costco Wholesale Corp. Chief Financial Officer Richard Galanti said from his corporate office in Issaquah, Wash.
"Needless to say, as Vegas has expanded over the years, the demographics have changed," Galanti said. "We were trying to figure out the right mix and we looked at Vegas as an opportunity to take our traditional Costco business to another business."
Galanti said the cross-section of items at Costco historically served the needs of two consumer groups — small businesses and individual families.
Customers used to walk into Costco and see tires, sweaters and steaks. Now they're going to see french-fry cookers, office equipment and restaurant supplies. Whereas a typical supermarket stocks 30,000 items and a Wal-Mart Supercenter stocks 100,000 to 150,000 items, a Costco Business Center stocks about 4,000 items, Galanti said.
"But it goes deeper into serving the business side, your food service, smaller restaurants, convenience stores, institutional needs," he said.
Albert, who refused to give his last name, said he's been shopping at Costco for his Quick-Stop liquor store since 1994. Including cigarettes, he estimated he spends $15,000 a month there.
"It's one stop," the businessman said as he stacked cases of Starbucks coffee, Jarritos soda and Red Bull energy drinks on his flatbed cart. "You don't have to go three or four places."
District Court Judge Ken Cory and his staff were stocking up on canned juices and frozen food for days when they have to eat lunch in the office. He said he misses the hot dogs and pizza, but the large food quantities make it a worthwhile trip from his downtown office.
Costco started the business center concept about 10 years ago in Lynnwood, a suburb of Seattle, and expanded to the San Francisco Bay Area and Southern California. While traditional Costco stores might rake in 20 percent to 40 percent of small-business purchasing power, Costco Business Centers are going after a much greater percentage of that "basket," Galanti said.
"We're competing across from category-dominant retailers like Staples and OfficeMax," he said.
It's still going to "enhance that treasure hunt" for consumers looking for institutional items not found at regular Costco stores, Galanti said.
Connie Hooten, a 20-year Costco employee who worked at the Martin Luther King location before it was closed for renovation in November, said the new store feels bigger and brighter. She was buying bulk snacks for her children.
"There's more variety in the candies," Hooten said. "Now and Later, Twerpz. Four dollars for gummy bears and sour worms. That's cheap. Two dollars for a case of water. You can't beat that. We're going to buy the limit of 10."
The first of six Costco stores in Las Vegas, the MLK store also operates a self-service gasoline station.
With about 550 warehouses worldwide and 53.5 million cardholders, Costco posted annual revenues of $72.5 billion in 2008. The company has 142,000 full- and part-time employees. Costco members pay an annual fee to join.
Contact reporter Hubble Smith at hsmith@reviewjournal.com or 702-383-0491.