Counter drones steal the show at this year's GSX convention
September 26, 2018 - 7:04 pm
Updated September 26, 2018 - 9:43 pm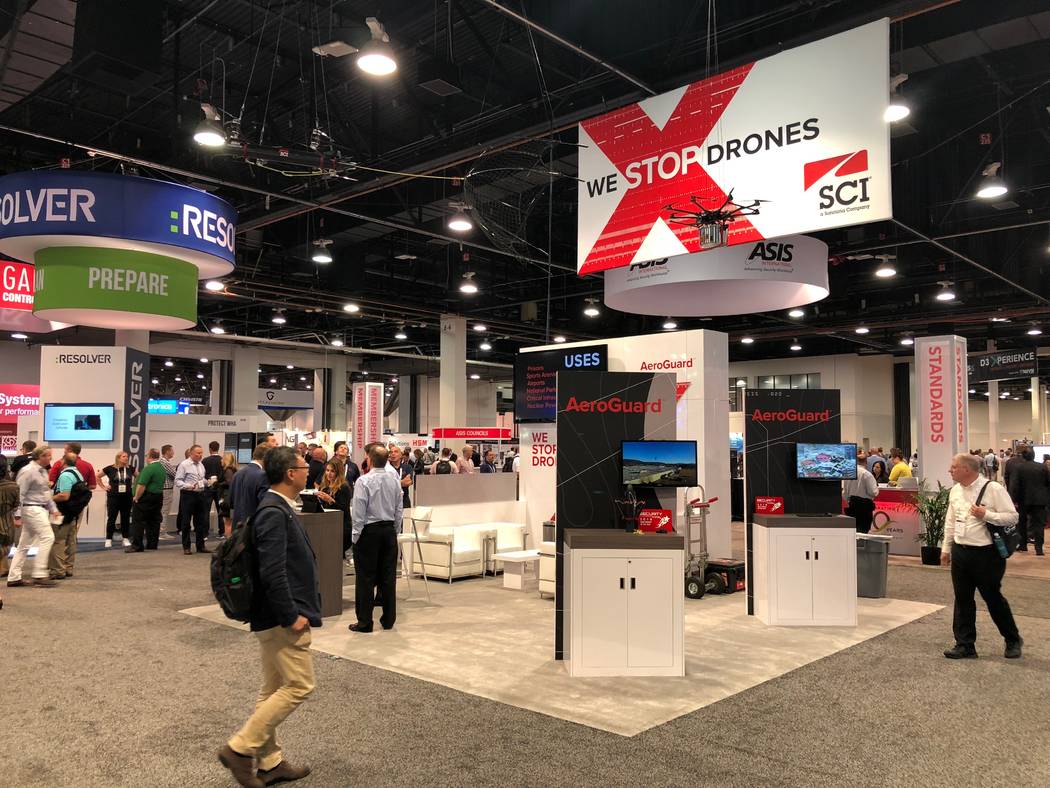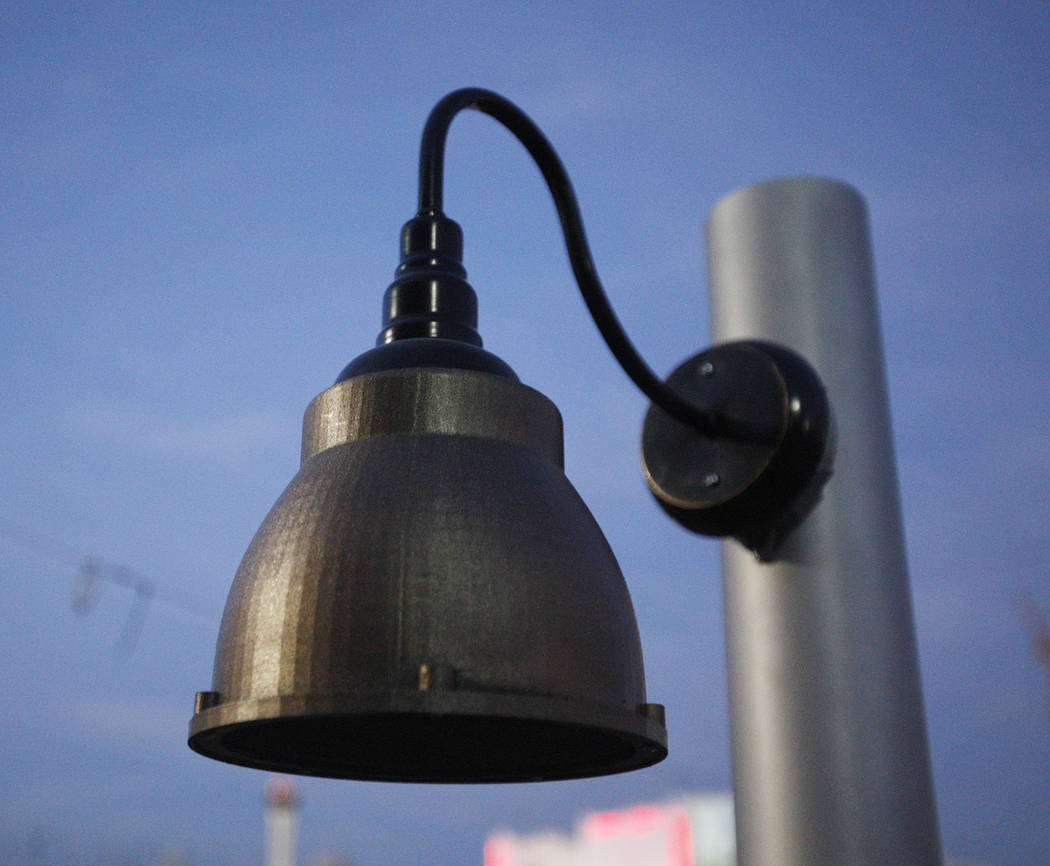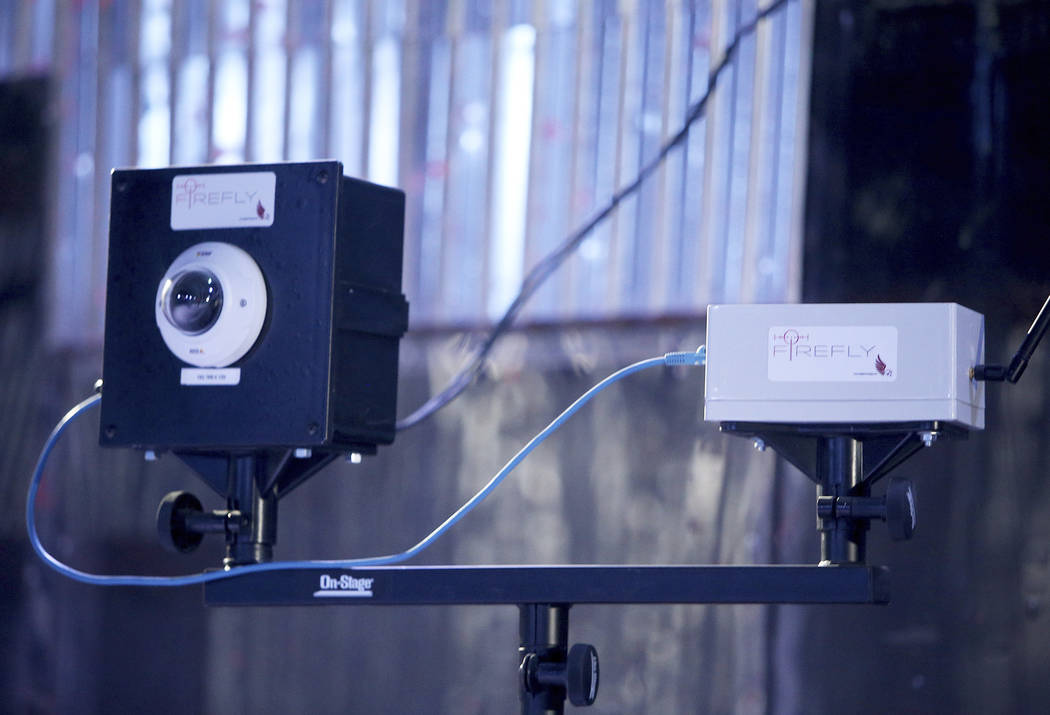 A black drone with 5-foot-wide blades lifted off the ground inside the Las Vegas Convention Center and zeroed in on its enemy about 15 feet away.
Pop!
A white net traveling at 80 miles per hour shot forward and captured an enemy drone as more than a hundred security industry professionals looked on.
If drones were the buzz in previous years at the annual ASIS Conference — now renamed Global Security Exchange, or GSX — then this year it is the "counter drone," observed Scott Breor, acting deputy assistant secretary for infrastructure protection at the U.S. Department of Homeland Security, who visited the show this week.
Counter drones, security robots and gun detection technology were just of few of the items on exhibit at the five-day show dedicated to physical and cybersecurity. GSX, which attracts more than 20,000 industry professionals, ends Thursday.
While drones enable stunning video and photographs, they also make it possible for spies to steal information and terrorists to destroy critical infrastructure. That is creating demand for counter drones that can take them safely out of the sky.
"All of a sudden we have these small things that can do great damage — they are easy to obtain, they are cheap, they are easy to operate," said Gregg Pugmire, vice president for global sales at Fortem Technologies, which put on the drone display this week at GSX.
Fortem Technologies' counter drone can autonomously detect when an unauthorized drone enters a restricted area and either photograph the enemy object, signal to it or capture it, Pugmire told an audience.
"The key is we have the ability to launch a drone autonomously based upon parameters that you have set for your particular security environment,'' he said.
SCI Technology, an aerospace company based in Alabama, also exhibited a counter drone at GSX. Its 55-pound model can reach speeds of 100 mph to capture an enemy drone of the same size and speed, said Max Klein, chief technology officer.
SCI's Aeroguard also uses a net to capture and hold the enemy drone. The net prevents the captured drone from falling onto property or people, he said.
Route 91 on minds
The Oct. 1 mass shooting at the Route 91 Harvest festival was a topic both in the classrooms and on the exhibit floor. GSX offered hundreds of classes during the show, including trending issues in gaming security, hotel security, surviving a mass shooting and analyzing a casino active-shooter threat.
On the exhibit floor, companies such as Databuoy and EAGL Technology offered gunshot detection and location capabilities that they say can accurately distinguish blanks and other sounds from real gunfire.
The companies' technology can detect shots within seconds and pinpoint the exact location to within a few feet. The technology can immediately notify individuals as well as law enforcement with text messages and emails.
Their gunshot technology is already in use at companies, hospitals, airports and schools around the U.S.
Robots
Security robots that autonomously patrol a specified route also were prominent on the show floor, with Knightscope, Cobalt Robotics and Turing exhibiting models.
The use of robots on the Strip is expected to grow in the coming years. The implementation of new technology, such as robots, was a major part of union talks with resort operators this year over a new five-year labor contract.
"The technology is finally here at a reasonable price point,'' said Indigo Hansen, Turing's director of marketing. "It is a helpful sidekick that allows officers to patrol other areas, streamlining the security process.
Representatives of Knightscope, Cobalt Robotics and Turing said they do not currently have a Las Vegas presence, though Knightscope robots are being used at two tribal casinos.
Knightscope's K5 and K3 models, which resemble R2-D2 from "Star Wars," shoot 4K video at 360 degrees as they patrol a property. The K5 is designed for outdoor operation and the K3 for indoor. Both travel at speeds of up to 3 mph and cost about $6,500 a month.
Cobalt's version, which is for indoor use, enables two-way video chat with security personnel for emergency situations. It can detect leaks, spills and unlocked doors as well as intruders. The robot costs about $6,000 a month. Turing offers a smaller version that costs about $1,000 a month.
Contact Todd Prince at 702-383-0386 or tprince@reviewjournal.com. Follow @toddprincetv on Twitter.