County OKs land use for $4 billion Resorts World project
January 20, 2016 - 5:54 pm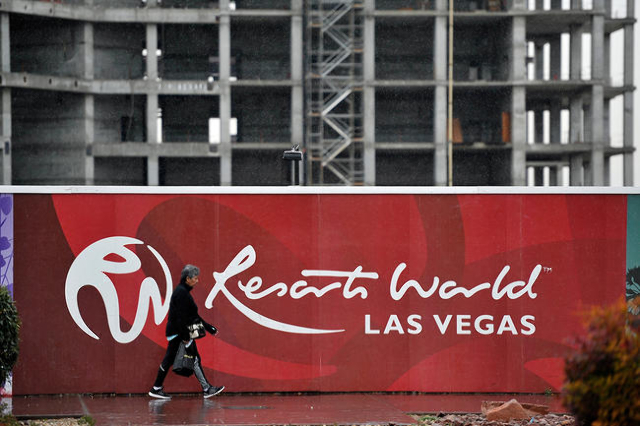 Clark County commissioners gave developers of Resorts World Las Vegas the go-ahead Wednesday to move forward on the $4 billion hotel-casino project.
Without discussion — the item was approved on the Zoning Commission's consent agenda — the board signed off the site entitlements for the 87.8 acre north Strip location. Plans call for Resorts World to house more than 7,000 hotel rooms, suites and villas with four high-rise hotels and an arena/conference center.
Malaysia-based Genting Berhad plans to move forward with an initial phase calling for a hotel tower with 3,307 rooms and suites and more than 657,000 square feet of public space, including a movie theater and convention facilities.
Resorts World Las Vegas General Counsel Gerald Gardner said commission approval "was a significant step in the project," which has sat dormant since Boyd Gaming Corp. halted the Echelon development in August 2008. Genting purchased the site, once home to the Stardust, in 2013 for $350 million.
Construction workers have been finishing the parking garages in anticipation of a full-scale construction project commencing this summer.
"The entitlement allows us to use the land as intended," Gardner said.
Genting expects to begin searching for a construction manager to oversee the development in a few months.
Designers are completing plans for Resorts World, which, according to documents filed with the county, will depict a Chinese themed architectural design that includes the "Forbidden City" and "modern interpretations of Chinese details."
Genting hosted a ceremonial groundbreaking last May complete with traditional Chinese thunder drummers and dignitaries, that included Gov. Brian Sandoval, government leaders, casino executives, Genting representatives and an international press contingent.
Genting has said the project will be developed in phases. Resorts World Las Vegas will offer access from the Strip, Sammy Davis Jr. Drive (formerly Industrial Road) and Resorts World Drive (which was part of Desert Inn Drive).
According to county documents, the arena will be part of a later phase but a 29,350-square-foot lake that is part of a Chinese garden, and other water features, is part of the initial development.
Previously, Genting leaders said Resorts World would include a 175,000 square-foot casino but had hopes for the project to include an aquarium, panda exhibit, an indoor water park and a replica of the Great Wall of China.
At last year's groundbreaking, company officials anticipated a mid-2018 opening, bringing 13,000 permanent jobs to the city. Along the way, an estimated 30,000 construction jobs will be filled.
Genting is a multinational company that owns Resorts World New York in New York City, a slot machine-only casino attached to the Aqueduct Racetrack. In Miami, the company owns a 30-acre site near Biscayne Bay that it plans to develop into a hotel-casino.
Genting has properties on several continents, and its worldwide resorts draw 50 million customers annually. Genting is one of the largest casino operators in the United Kingdom, and the company also is part owner of the Norwegian cruise line with ships ported in Miami. The company's flagship property in Malaysia was considered the world's first full-scale resort.
Resorts World Sentosa is one of only two casino resorts in Singapore.
Contact reporter Howard Stutz at hstutz@reviewjournal.com or 702-477-3871. Follow @howardstutz on Twitter.