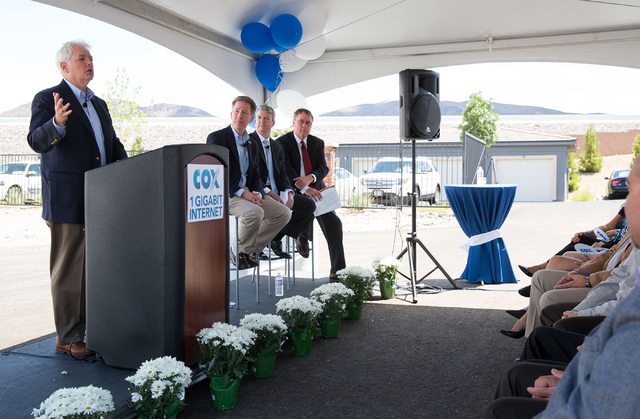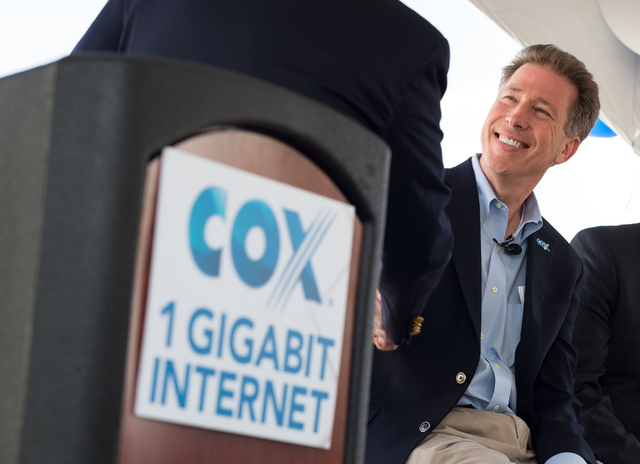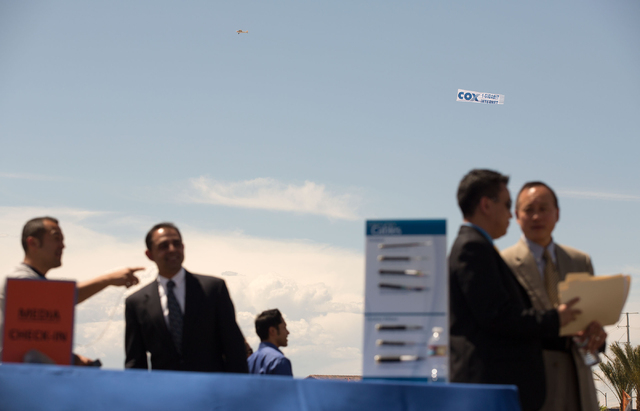 Cox Communications announced Thursday that the cable company will be offering 1 gigabit Internet speeds to their residential customers in Las Vegas by the end of 2016 and as early as December for residents moving into select apartment homes in Henderson.
"We already have five tiers of Internet service speeds for our customers but this means more choices," Cox Communications President Pat Esser said. "Las Vegas is one of our largest and fastest growing markets and we've invested here for the past 16 years and won't stop."
According to Mike Bolognini, market vice president for Atlanta-based Cox, it will take a lot of work and money to provide all of Cox customers with 1 gigabit speeds.
"In the last 10 years, we've invested more than $1 billion to set the ground work of this initiative," he said.
Bolognini added that customers will be able to choose gigabit service.
"We're not eliminating our other tiers of service; it's up to the consumer if they want this gigabit speed," he said. "It gives them the ability to evaluate speeds they need for what they're trying to accomplish within their household."
Cox is partnering with WestCorp Nevada, a real estate asset management company that has developed apartments in Las Vegas since 1989, to introduce gigabit service to the 326-unit Dream apartment homes on Wigwam Parkway in Henderson.
"Every apartment here will have a built-in USB outlet as well as a 50-inch high-definition flat screen television," said Martin Egbert, director of development for WestCorp Nevada. "The clubhouse, pool area and business center will also be equipped with high speed Wi-Fi as well as an electronic vehicle charging station."
David Diers, vice president of southwest region technology for Cox, said the cable company can more easily install the service at new construction areas.
"Nothing has broken ground here so it's easier to go in as new construction takes place," Diers said of the Dream apartment homes. "We offer gigabit speeds to our business customers already and now we'll be able to get it to residents."
CenturyLink began offering 1 gigabit service at the end of 2013 in a bundle with Prism TV for $124.94 per month. Bolognini said Cox hasn't developed pricing yet.
"We'll price the service based on what the market is focused on," he said.
Beginning in July, Diers said all new and existing Cox Communications customers who receive the preferred or premier service plans will have their Internet speeds doubled without paying more.
Bolognini also announced that Cox will offer cable Wi-Fi to its Southern Nevada customers so they can use their cable subscriptions outside of their home at more than 250,000 hot spots across the country.
"We're in the engineering process to determine the hot spot locations, which will be at places such as parks, major sporting venues and shopping malls," he said. "It's our goal to provide the biggest accessibility to Southern Nevadans and those who visit Southern Nevada."
Contact reporter Ann Friedman at afriedman@reviewjournal.com or 702-383-0391. Follow @AnnFriedmanRJ on Twitter.