Credit One Bank to start work on southwest Las Vegas Valley office building
November 21, 2016 - 8:15 pm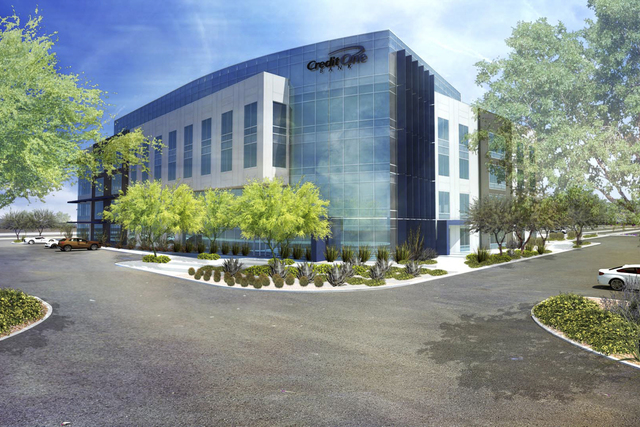 A Las Vegas credit-card issuer has unveiled plans for a new headquarters in the southwest valley.
Credit One Bank, whose target market was once said to be borrowers with poor credit, plans to hold a ceremonial groundbreaking Dec. 6 for its four-story, 152,000-square-foot office building.
It expects to finish the project, just south of the 215 Beltway between Buffalo and Durango drives, by the end of 2017.
Credit One says it is one of the largest and fastest-growing credit-card issuers in the country, boasting more than 500 employees and 7 million-plus card holders. Its construction project is yet another for southwest Las Vegas, perhaps the busiest spot for residential and commercial development in Southern Nevada.
The bank bought 24 acres in the southwest in May for about $20.8 million, Clark County records show. John Coombe, Credit One's senior vice president of communications, said construction crews have started grading the project site but haven't yet built anything vertical.
The company is based in offices on Pilot Road, just south of McCarran International Airport. Management would like to move everyone to the new offices but haven't decided whether to keep some employees in place, Coombe said.
He also confirmed the bank has plans for a possible second building in the southwest, but added executives are only focused on one for now.
Owned by Sherman Financial Group in Charleston, South Carolina, Credit One booked $47.3 million in profit in the first half of 2016. That was up about 24 percent from the same period last year, according to the Federal Deposit Insurance Corp., a banking regulator.
According to a 2007 report by the Office of the Comptroller of the Currency, another U.S. banking regulator, Credit One's "target market is subprime borrowers who desire to either build or repair credit and ultimately become eligible for increased credit availability."
Subprime borrowers have weaker credit scores, perhaps due to past delinquencies, and typically are charged higher interest rates to borrow money.
Coombe said he did not have an estimate of how many current customers have subprime credit. But, he said, the bank views itself as a "full spectrum" credit-card issuer that serves borrowers with strong credit, as well.
"It's pretty well spread throughout the portfolio," he said.
Contact Review-Journal writer Eli Segall at (702) 383-0342. On Twitter at @eli_segall