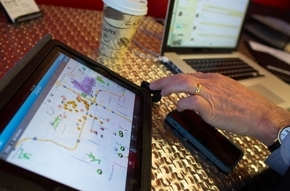 A local security business is finding numbers in safety.
AlertID has found a growth formula in emailing bulletins to members to warn them of area crimes or emergencies. The company, launched in Las Vegas in 2009, has opened offices in the past 18 months in California, Texas, Florida and New York. It just announced a national crime-fighting partnership that will boost its reach and it has a new corporate headquarters at one of the world's largest data centers to help it expand even faster.
Credit those early successes to a mother's determination. Founder Keli Wilson started AlertID after she and her husband were separated from their three kids for nearly an hour at a California amusement park. She wanted to help others avoid the same agonizing experience by providing universal access to public-safety information.
"What drives us is knowing that we can make a difference and help not only to reduce crime, but to save lives," Wilson said. "We truly believe we can save lives, and even if it's just one life, it's worth it."
AlertID has become much more than a system for finding lost children. Members who sign up receive notices when crimes are committed nearby, or when a sex offender moves into the neighborhood. They can also log into crime maps online. Plus, AlertID sends bulletins on severe weather, earthquakes and homeland security issues. Locally, AlertID is synced in with the Metropolitan Police Department's computer-aided dispatch system, so the department sends AlertID's warnings. The Police Department can also send its own alerts to members — for example, if there's a gunman on the loose in a neighborhood. Since it opened more than three years ago, AlertID has sent almost 10.5 million alerts nationwide, including daily alerts through the police department.
The reporting goes both ways: AlertID members can create private groups and share information within their network or with authorities. If a stranger comes to the door and seems suspicious, a member can give a real-time heads-up to neighboring members to be careful. Relatives, schools, sports leagues, homeowners associations and churches and synagogues can all set up networks.
"It helps people be aware of what's happening so they can make changes in their life, like taking valuables out of their car, locking the windows or shutting the garage door," Wilson said.
The service is free to members. AlertID's revenue comes from selling sponsorships to businesses. Packages begin at $250 a month and go up to $2,000, and can be customized based on alert types, CEO Ken Wiles said. Sponsors get a small ad on AlertID's website and on advisory e-mails. The company didn't name names, but gas and oil businesses, auto-related companies, security firms and alarm companies have bought spots, Wilson said. A major casino company has urged workers to sign up for the service as well, she said, "in the interest of the safety of their employees' families."
Today, AlertID's notification area covers nearly 225 million Americans in all 50 states. (The company doesn't disclose specific membership numbers, though Wiles said it has tens of thousands of local members.) Its goal in the next six months to a year is to be able to offer service to all Americans. AlertID is also in seven countries, including Australia, Canada and Japan. And it announced on Tuesday a partnership with the National Crime Prevention Council, the group that uses McGruff the Crime Dog to educate kids and families on personal safety. Through the arrangement, AlertID will share its mobile app and online public safety services with the council and its other partner organizations nationwide, and those groups will use the platforms to educate people about specific threats and explain how to avoid being a crime victim. The target audience is young adults ages 18 to 24 — the demographic most vulnerable to crime, according to the council. The council said in a statement that it expects to work with AlertID on other projects, and to introduce the business to other partners.
LOCAL EXPANSION
AlertID, which has about 25 employees nationwide, recently made another important change that Wilson said will enable the company to improve its technology and services. It announced on Jan. 31 that it moved its headquarters from northwest Las Vegas to Switch Communications' InNEVation Center, next to Switch's massive high-security data center and off-site server facility.
The southwest Las Vegas data center, whose clients include Fortune 1000 companies and federal agencies, is in the middle of an expansion from 407,000 square feet to 2.2 million square feet. At the InNEVation Center, though, the focus is on some of the city's smallest businesses. The economic-diversification hub unites entrepreneurs with mentors, investors and government agencies to help companies grow. Collaborators include the Governor's Office of Economic Development, the Las Vegas Metro Chamber of Commerce, the College of Southern Nevada and the University of Nevada, Las Vegas.
Richard Ethington, general manager of the InNEVation Center, said Switch invited AlertID for several reasons. For starters, it's a Nevada-based business with big growth potential. Plus, it handles lots of data and delivers "massive amounts of information" to consumers via the Internet and devices such as smartphones.
Most importantly, though, "it really is a good product that is saving lives and benefiting children and families everywhere," Ethington said.
Because of that affiliation with Switch and its Las Vegas Digital Exchange campus, the InNEVation Center offers big data users precious Internet capacity, Ethington said. Connections in the center run at 582 megabits per second, or about four times the maximum 150 megabits per second residents and businesses can get through local Internet service providers.
"It's literally the fastest Internet in the world," Ethington said.
Wilson said the InNEVation Center will help AlertID grow "exponentially," and she's already working with other tenants on mutual technology exchanges and advice.
ASSESSING THE FUTURE
One expert said AlertID has a promising concept, as long as it can work out a few kinks that have waylaid previous crime information-sharing networks.
Linda Spagnoli, an emergency-communications consultant based in Florida, said consumers are increasingly interested in information on local crime and safety. But she said prior attempts to create major notification webs didn't always work, mostly because people have to opt into the service. It would work better if local police stations help promote the company to increase membership, she said.
AlertID may have an edge on opt-ins because it's not charging users. But that means keeping sponsors happy, Spagnoli said, and that's been difficult with past notification networks.
"If sponsors aren't getting enough return on investment, they could go away," Spagnoli said. "But if they (AlertID) have sponsors and their sponsors stay with them, they'll do fine."
Wilson said partnerships like those with local police departments and the National Crime Prevention Council are helping get the word out to prospective members. And AlertID's rapid expansion is keeping sponsors on board.
"We're growing so quickly in software development and additional alerts and data sets that we're just adding value all the time," she said.
Contact reporter Jennifer Robison at
jrobison@reviewjournal.com or 702-380-4512.
Follow @J_Robison1 on Twitter.