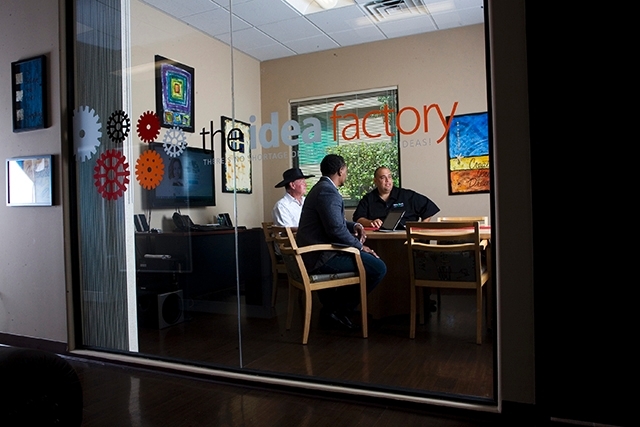 Crowdfunding is a collective effort of individuals who network and pool their money, usually online, to support efforts initiated by other people or organizations.
Las Vegas-based creative agency Shout Legacy is joining the crowded space with the launch of www.BlessABuck.com, a site designed to help local entrepreneurs raise capital.
"It goes back … to when my nephew (Trevor) was trying to raise money for kids to go to summer camp," said Gary Sturm, the site's co-founder and CEO. "We thought we could ask for a donation from each of our contacts in our phone or on Facebook and see how much money we could raise."
Sturm said they decided to give it a try, even if every contact "blessed us with a buck, we thought we could do some good things." That's also how we came up with the name for the company.
"BlessABuck is about people funding people," Sturm said.
The new crowdfunding website, which is fee-based, also has a section dedicated to cause-related campaigns, which will allow nonprofits to raise money.
"Many people have great business ideas, although much of the time these dream cannot be fulfilled due to a lack of funding," said Michael Durant, creative marketing officer at BlessABuck.
Durant said what sets BlessABuck apart as a funding source is that it also "offer the business tools and strategic guidance to build and launch campaigns, even after the funds have been raised."
Durant said starting a campaign, which usually remains live for 30 to 90 days, is free.
Users have to log onto the website, create a profile and submit an idea for BlessABuck to review. If approved, users can post a video and create campaign objectives and incentives, according to the company.
"There has to be a social benefit to each campaign," Joseph Sanchez, BlessABuck's chief technology officer, said. "It's about leaving a legacy."
BlessABuck already has four live campaigns, including a trip to Washington, D.C., to visit historical monuments for Honor Flight Southern Nevada, a nonprofit organization created to honor military veterans. Honor Flight Southern Nevada is trying to raise $50,000.
In 2012, more than $2.8 billion was raised through crowdfunding platforms. That's supposed to double to $6 billion this year.
BlessABuck focuses on four main types of campaigns: creative developments such as music, fashion and film; tech campaigns such as apps/mobile, web and products; cause campaigns such as community, education and environment; and entrepreneurial campaigns such as small business, food and sports.
Contact reporter Chris Sieroty at
csieroty@reviewjournal.com or 702-477-3893.
Follow @sierotyfeatures on Twitter.