Crystals mall at CityCenter reportedly sold for $1.13 billion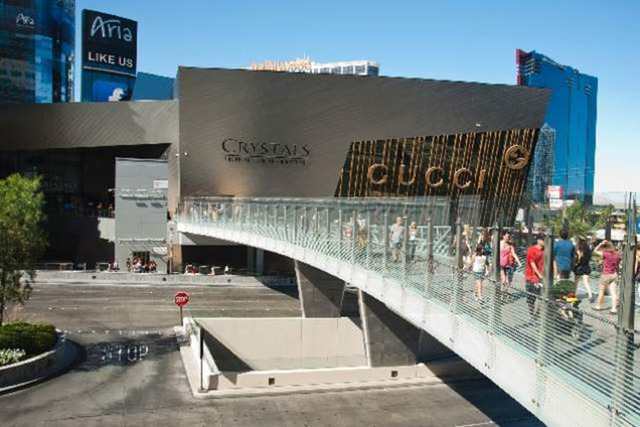 MGM Resorts International has reportedly agreed to sell the Shops at Crystals for $1.13 billion to a Simon Property partnership, an online real estate tip service reported Wednesday.
Crystals is part of CityCenter, which MGM owns and operates through a 50-50 joint venture with Dubai World.
MGM Resorts spokesman Clark Dumont said the company had "no comment to offer" on the matter.
Deutsche Bank gaming analyst Carlo Santarelli was first to report the possible sale in a morning research note to investors. Santarelli said Streetaccounts, citing Real Estate Alert, had news of the transaction.
"Net-net, we think the transaction, if completed, is a distinct positive for MGM," Santarelli said.
Other Wall Street analysts picked up on the report and had similar commentary about the possible sale. Shares of MGM closed up 34 cents or 1.71 percent to finish the day at $20.27 on the New York Stock Exchange.
J.P. Morgan gaming analyst Joe Greff said Crystals is viewed as "a trophy asset" with a strong lineup of high-end tenants.
"We view the transaction as consistent with MGM's stated intention to monetize assets, when attractive, and consider the multiple fair given the property is relatively new," Greff said.
MGM Resorts Chairman Jim Murren has discussed the possibility of selling Crystals during quarterly earnings conference calls over past few years.
Last August, he said MGM and its CityCenter partners were seeking seeking ways to generate more cash from the 67-acre complex.
Crystals, a 500,000-square-foot retail, dining and entertainment district has 40 luxury shops.
"We believe that not only it's more valuable today than it was even last quarter, but we believe with the growth plan it would be more valuable still going forward," Murren said.
He said the company was looking at expanding Crystals, using the space created by the demolition of the unfinished Harmon tower.
Contact reporter Howard Stutz at hstutz@reviewjournal.com or 702-477-3871. Find @howardstutz on Twitter.