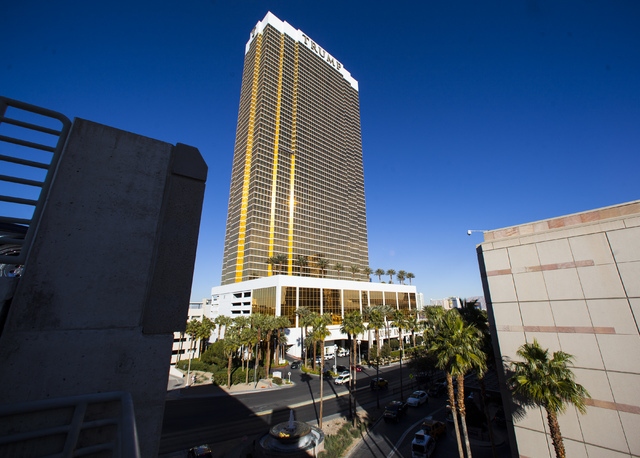 Nevada's Culinary union, one of the most vocal critics of President-elect Donald Trump and his business dealings, has agreed to a four-year contract with Trump International in Las Vegas.
Culinary Local 226 and the Bartenders Local 165 announced the agreement in a statement issued Wednesday. About 500 food and beverage and housekeeping employees at the 64-story, 1,282-room nongaming hotel are covered by the agreement, which runs from Jan. 1 through May 31, 2021.
Trump Hotels, meanwhile, also agreed to permit workers at the Trump International Hotel Washington D.C., which opened in October, to organize, the company said.
The agreement concludes a year of negotiations that occurred after Trump workers voted for union representation in December.
The Culinary union represents about 57,000 workers in Las Vegas and Reno. It led several demonstrations at the hotel during the presidential campaign.
Union officials say the contract would provide employees with annual wage increases, a pension, family health care and job security.
Under the agreement, Culinary Local 226 said it would withdraw a series of cases filed with the U.S. National Labor Relations Board against the Las Vegas hotel, union spokeswoman Bethany Khan said.
Those cases had been expected to be an early test of how Trump, who as president will have influence over the NLRB, would handle concerns over conflicts of interest raised by his business holdings.
Trump takes office Jan. 20.
Last week, Democrats in Congress called on Trump to divest from the Washington hotel, which is in a building leased from the federal government, saying the lease would pose a conflict of interest because he would be both its landlord and tenant once he is sworn in.
Eric Danziger, the chief executive of Trump Hotels, called UNITE HERE Local 25, the union representing workers at the hotel, which is down Pennsylvania Avenue from the White House, an "important partner" in a statement.
"We share mutual goals with the union, as we both desire to ensure outstanding jobs for the employees, while also enabling the hotel to operate successfully in a competitive environment," he said.
As part of the agreement, the Trump organization also will end its appeal of a November NLRB decision that said it violated workers' rights to organize at the Las Vegas hotel.
The Trump organization still faces a pending case at the NLRB alleging it required thousands of U.S. employees to sign unlawfully broad confidentiality agreements.
Separately, Politico reported Wednesday that Trump's transition team is considering the use of discretionary trusts to avoid conflicts of interest for Trump family members or administration officials.
Reuters contributed to this report.
Contact Richard N. Velotta at rvelotta@reviewjournal.com or 702-477-3893. Follow @RickVelotta on Twitter.