Custom cars bring out stars
November 8, 2008 - 10:00 pm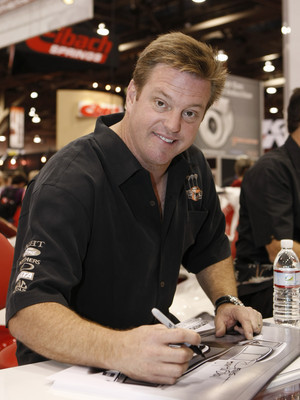 Three-time Indy 500 winner Johnny Rutherford spends 15 minutes talking about the history of pace cars with a fan visiting Bob Drake Reproductions' exhibit booth at the SEMA Show in Las Vegas.
With down-home Texas charm, Rutherford signs the guy's book on three different pages for each winning year — 1974, 1976 and 1980 — and goes into detail about the pace cars he keeps at his garage in Fort Worth.
"It's gratifying because it never ceases to amaze me the number of people that know me for my exploits," Rutherford said during a Wednesday autograph session. "I'll walk down the aisles of the show and I'm always amazed they recognize me and know me."
They're probably a little more expensive than hiring sexy trade show models, but celebrities such as Rutherford, New York DJ Funkmaster Flex, skateboarding professional Primo Desiderio and "American Graffiti" movie stars Bo Hopkins and Candy Clark are big attractions at the Specialty Equipment Market Association Show, which closed Friday.
Kevin Keling, corporate events manager for Ford Motor Co., said celebrity appearances not only attract buyers to Ford's enormous display at SEMA, but they also show the relationship between the performance industry and its icons and legends.
"The cars are truly the stars," Keling said. "Just the ability for people to get a different experience, with somebody like Nelly or Funkmaster Flex, it's a different consumer target."
Legendary car designer Carroll Shelby rules the SEMA show floor like a rock star, mobbed by autograph-seekers and people wanting to have their picture taken with him. Automotive industry executives that have done business with him over the years shake his hand and thank him.
His staff has to cut off the autograph line at Shelby Automobiles' booth after half an hour. Shelby needs a rest. He's 86 and takes a lot of pills, he tells the crowd.
The man recognized by his trademark black felt hat has raced and designed cars for more than 50 years, most notably the Shelby Cobra, Shelby Daytona and Shelby Mustang. He founded Shelby Automobiles in 1998 at Las Vegas Motor Speedway Industrial Park, manufacturing Cobra replicas and the Shelby Series I.
"I've been up and down and at 86, I'm happy to be up and have people ask for my autograph," Shelby said. "I'm also cognizant of the fact that the world turns over every day on somebody who was on top of it and it could be me."
Shelby said he's a "fortunate old man" to be back with Ford and have a five-year contract. "At 86, that's pretty good," he said.
Jack Roush, founder and co-owner of Roush Fenway Racing, changed clothes in a booth like Superman when he went from 3M to Cooper Tires, where he was promoting the Cooper RS3, a tire he helped develop.
"He validates that Cooper is a performance company and offers great value to the consumer," Cooper representative Scott Jameson said. "We take what we learn from Roush Racing and apply it to consumer offerings."
Roush said he looks forward to interacting with his racing fans at SEMA and talking with vendors about what's wrong and what's right in the business.
"My mouth waters when I walk through the halls and see all the things here," Roush said of the trade show featuring the latest products and technology in the $37 billion aftermarket automotive industry.
Funkmaster Flex said it's important to have knowledge of the industry. He produces a custom car show in New York and built a 1968 Camaro for the show last year.
"If you're a celebrity and you're not a car guy, it's a nightmare," he said. "My strength is I have a big 18- to 34-(year-old) following and it's allowed me to transition to the auto world. Kids know I'm telling the truth about car customization and the right way to do it."
Contact reporter Hubble Smith at hsmith@reviewjournal.com or 702-383-0491.