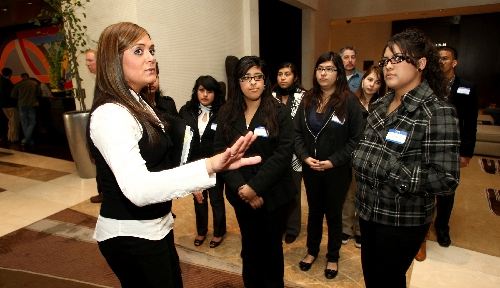 For Dulce Garcia, a senior at Desert Pines High School, a chance meeting may make a difference in her life.
At 17, Garcia hopes to someday become a pastry chef, but she isn't connected to anyone in the business and isn't sure how to go about making her dream a reality.
Then she met Vdara pastry chef Frederic Larre on Wednesday.
Like Garcia, Larre wasn't born in the United States. He was raised in France, and Garcia was raised in Mexico. Both speak English as a second language.
Larre didn't know anyone when he inserted himself into the baking industry in New York City, but he has built a career for himself along the way. Garcia said now she has someone to look up to, someone who, like her, is from somewhere else but wants to make a go of it in America.
"I feel really good," Garcia said.
Garcia was one of about 3,100 Clark County high school students who participated in Wednesday's National Job Shadow Day, which was sponsored by Project 5000 Kids. Teens were mentored by professionals from 38 separate businesses and organizations, including NV Energy, HealthSouth and the Las Vegas Review-Journal.
Nancy White, program director for Project 5000 Kids, called Wednesday's event successful and praised the local business community.
"The business community really does care about education," she said. "This opportunity is incredible."
Garcia is in the work experience program at Desert Pines High School and said she didn't know what to expect from her visit to Vdara. She thought the students might learn about building construction, but she was pleasantly surprised.
Instead Garcia and nine other Desert Pines High School students gathered inside the human resources training room at Vdara to hear Garcia's inspiration, pastry chef Larre, talk about his rise from being bored at secondary school in Paris to eventually working for MGM Resorts International.
He moved to New York City from Paris, but he didn't know anyone in the Big Apple.
"It was a big culture change for me," the chef said.
Larre worked to overcome the challenges of using his second language as his primary form of communication and of not knowing anyone in his new industry. He specialized in chocolate for a time, then followed a mentor to Las Vegas. He has been a baker at the Bellagio, a master cook at Le Cirque and now is a pastry chef at Vdara.
"That's how I express myself," Larre said.
Garcia said, "Now I want to start at baking school and get work to support my family. I really want to do pastry. I love pastry."
Conrad Courtney, a counselor at Desert Pines, said experiences like Job Shadow Day are important because they give students access to professionals they otherwise wouldn't have.
"I think it shows them there are no limits to what they can do out there," Courtney said. "The only thing that's going to hurt them is not trying."
In addition to Larre, representatives from the concierge desk, hotel operations, housekeeping, catering and the pool area at Vdara spoke to the teenagers.
Jessica Garcia, 17 and a Desert Pines senior, said she enjoyed a speech by Diana Stocker-Silva, Vdara's director of catering and convention services. Marisol Lopez, another Desert Pines senior, said she liked front desk manager Lauren Archer's presentation.
"You don't necessarily have to know what you want to do," Lopez said.
Denise Giorgione, chef concierge at Vdara, told the students she didn't really know what a concierge's responsibilities were when she took the job. Her leap of faith paid off, because she said she loves her work and is happy. Giorgione spoke about not knowing exactly what her career plans were, but following the path that appeared in front of her and taking opportunities as they came.
Pool manager Kim Key echoed Giorgione in advising the students to keep open minds.
"Every step you take and every turn you take is going to lead you somewhere," Key said. "I'm proud of you all for being here."
Contact reporter Laura Emerson at
lemerson@lvbusinesspress.com or 380-4588.