Dead spots remain for many cell customers in Las Vegas Valley
Updated March 4, 2018 - 1:18 am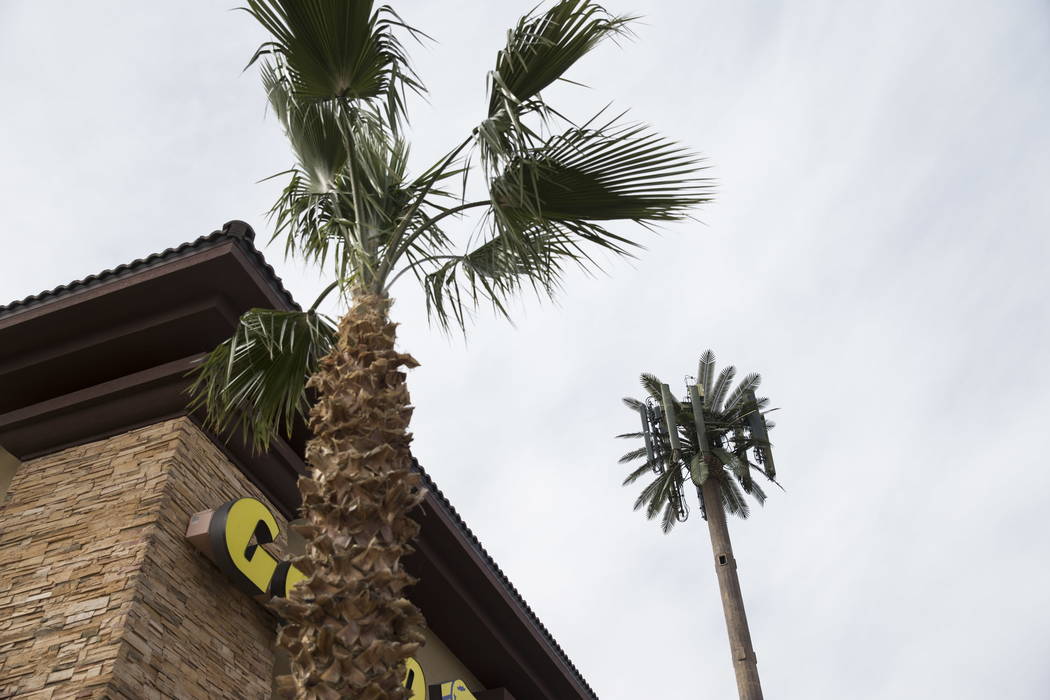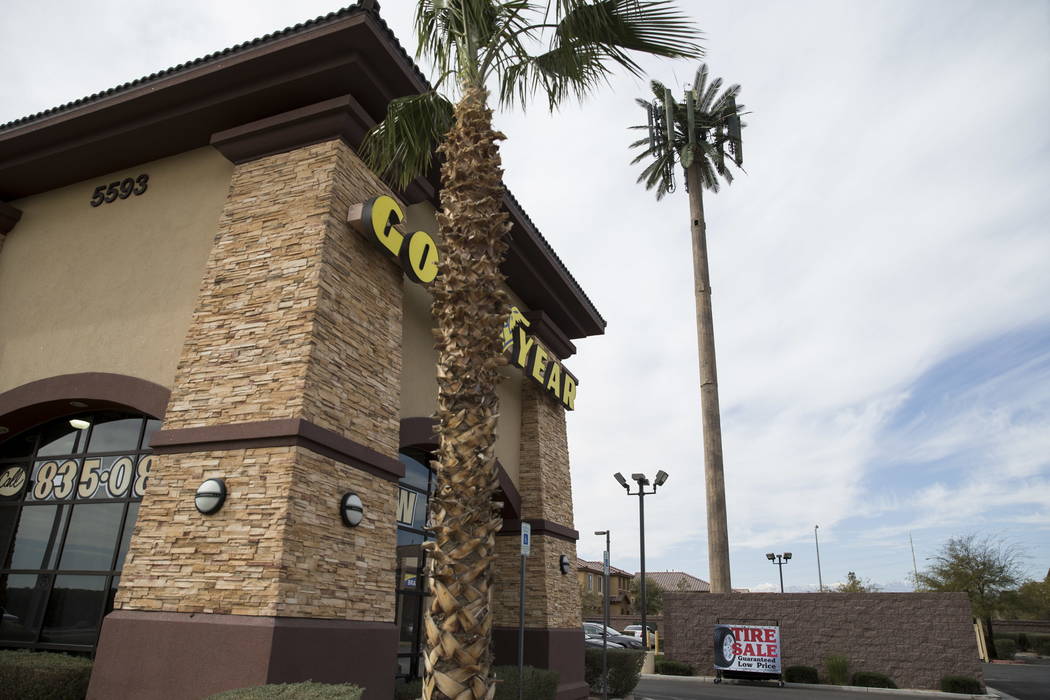 A call to Steve Greenberg's cellphone goes like this.
He answers the phone. States his home number. Then when the call inevitably drops, he waits for a ring from his landline.
"All eight years I've lived here it's been like that," said Greenberg, who runs an import business from his two-story home near the intersection of Jones Boulevard and Windmill Lane.
He's had service through different companies and taken to balancing his cellphone at different elevations in the house, all to get better reception.
On this day, he rests his cellphone atop a cup in his home office so he doesn't lose someone when they call.
"I don't ask why," he said. "I just do it."
Greenberg isn't alone. The Las Vegas Valley is a hodgepodge when it comes to ability to make and complete a cellphone call.
Larger clusters of places where it's difficult to make, take and complete cellphone conversations exist along the 215 Beltway. Clusters exist near the beltway's intersections with U.S. Route 95, Summerlin Parkway, Rainbow Boulevard and St. Rose Parkway, according to wireless coverage mapping company OpenSignal.
T-Mobile ranks high
So what determines whether you can make or take cell phone calls in the Las Vegas Valley?
That's a matter of where you are in the valley. What carrier you have. The time of day. Even the materials of the building you're inside or how many trees surround you create obstacles for the call trying to make its way to or from your cellphone.
According to cell phone analytics company RootMetrics, the best cellphone companies for making calls from a mobile phone to a landline without the call getting blocked or dropped during the second half of 2017 were T-Mobile and AT&T and with scores of 99.6 and 98.8, respectively.
RootMetrics representatives drove 784 miles in the valley and tested phones in 47 indoor locations between Aug. 14 and Aug. 19 to create the rankings.
Verizon received a score of 97.7. Sprint received a score of 96.6.
Millions of cellphones with the downloaded OpenSignal app feed data to the London-based company's online map showing cellphone performance worldwide.
The company issued reports in January and August for the best cellphone companies in various metropolitan areas.
For Las Vegas, T-Mobile ranked first in January for how often people can make a call or access data with 4G technology, currently the highest standard of cellphone technology. The next standard, 5G, is expected around 2020.
In Las Vegas, T-Mobile customers could make a call or access data on the 4G network 95 percent of the time.
Verizon's 4G network was available 94 percent of the time, AT&T was available about 91 percent of the time and Sprint was available about 90 percent of the time.
In August, Verizon and T-Mobile's 4G networks were available about 92 percent of the time. AT&T's network was available 88 percent of the time. Sprint's was available 87 percent of the time.
The four major cellphone companies' availability had increased nationwide for four consecutive reports, suggesting investment in supporting more callers and cellphone users.
Though OpenSignal only looked at 4G network availability in Las Vegas and the other 32 largest U.S. markets, a good deal of phone calls are still made on the older 3G network and the even older 2G network, OpenSignal spokeswoman Martha Oliver said.
The company declined to say how many people feed them data from the Las Vegas area.
Obstacles to overcome
More issues exist beside which phone company you choose.
Billy Zarn Jr., a Phoenix-based business development director for network infrastructure provider SAC Wireless, has been in telecommunications for about 20 years. He's worked so long that he can't help but notice the trees that block local cell towers when he visits a city.
But if natural trees weren't enough for someone like Zarn to worry about, a recent trend of city officials and community leaders' demand to disguise cell towers to look like palm trees, cactuses or even church crosses is trouble.
Masked cell sites may look better than a tower, but disguises can add another obstacle for making and receiving calls, he said.
Marlon Hogains, president of Tucson, Arizona-based Cell Trees, denied that the company's disguises affect radiofrequency, or RF.
"All of Cell Trees Inc.'s branches and antenna covers are made up of RF-friendly material," Hogains said in a statement.
Zarn also finds himself constantly educating residents on the safety of radio frequency at regulatory meetings to get approval for a new cell tower.
He tells concerned residents that builders prevent everyday people from getting too close to a radiating antenna. To someone standing outside those barriers, exposure is harmless, he said.
"The RF exposure is no greater than the electromagnetic energy created from your home's microwave or Wi-Fi router," he said.
Zarn's colleagues warn cellphone companies that a new cell site in places like Las Vegas and some cities in California can take up to 12 months because of regulatory hurdles and the time needed for utility hookups.
Plans in other states
New cell sites aren't cheap. A rule of thumb for a site built from vacant land is $100,000 for every 10 feet, Zarn said.
Permits, design drawings and acquiring the an existing site runs between $15,000 and $30,000. Construction can cost at least $20,000 depending on the scope, structure type and area, with materials costing at least another $15,000.
Each carrier has about 700 sites in the Las Vegas area, he said.
"The things that make the price more are the area the work is being performed," Zarn said. "Structure type, specialty materials, stealthing, special access requirements such as closing down roads, lifting equipment onto buildings or mountains, and so many other little things."
Hardware costs have dropped in the past few years, Khanifar said. Permitting, connecting towers to the internet and leasing space are also factors that can raise the cost.
Smaller, harder to see cell sites have eased the conversation with government bodies when it comes to increasing cellphone carrier presence, said Daniel Schweizer, regional director of government relations for cell tower builder Crown Castle.
The company has used small cell sites — little boxes that attach to street lights and other existing structures — for about 10 years, Schweizer said.
The more a population grows, the more need for the small cell site for photo and video downloads as well as offloading call volumes from existing cell towers, he said.
In the past few years, 13 states have enacted laws to accelerate small cell building to improve cellphone use. In the West, both Arizona and Colorado have laws. New Mexico, Washington and Hawaii are considering bills. Schweizer said he wasn't aware of any bills in Nevada, leaving different rules city to city and county to county.
Convenience or aesthetics?
Joel Just understands the cell site debate from both sides.
The former electrical engineer is CEO of Complete Association Management Co., a locally based manager of more than 300 homeowners associations in Nevada.
Some communities ban cell towers inside their borders, Just said. Ones without express rules leave new sites to the discretion of community boards.
For new communities under construction in the valley, companies are better off negotiating with the developers or trying to lease space outside the subdivision, Just said.
While that can be frustrating, he agrees cell towers are unsightly. At a previous subdivision he called home, Just complained about an antenna attached to a light pole in his yard.
Though more small cell sites are needed to match the power of a cell tower, they are easier on the eyes as a resident, he said.
At his current home in the Inspirada community of Henderson, he's forced to make phone calls off an internet connection. When he leaves his house, it's two blocks until he can make and receive calls.
Just's calls should improve once a new small cell site hidden in a decorative sign nearby becomes operational, he said.
"If I hadn't watched the construction, I'd have no idea it was a cell site," he said.
Charvez Foger, the ombudsman for owners in common-interest communities and condominium hotels, part of the state's Department of Business and Industry, said the only complaint he could find about cell sites was in 2010.
Members of Las Prados, which today has about 1,400 homes, complained about the community association's decision to enter a 99-year contract to lease space to a cell phone tower.
The members complained about the looks, safety and fear a tower would decrease property values, Foger said.
Nevada's Real Estate Division investigated the complaint and consulted with the Office of the Attorney General. The association's governing documents were clear — No need for member approval. Case closed.
Rochelle Bogle, community manager of Anthem, said the community has no policy on cell towers in its borders and hasn't been asked to erect a cell tower.
Mountain's Edge Master Association has not dealt with cell sites, community manager Gary McClain said.
Kim Kallfelz of HOA Management, a local company that manages multiple community associations, said her company doesn't get involved with issues involving cell sites.
Representatives of Summerlin could not be reached for comment about why their community is home to some clusters where making and taking phone calls is difficult.
Resident opposition to an 80-foot cell tower caught attention in 2013 when Linda Winslow and others in a northwest valley neighborhood collected 300 signatures.
A few months ago, she finally lost her fight when the tower got built, Winslow said.
"I thought it would have an impact on housing values and desirability," she said. "With the current market, it does not seem to be a deterrent"
As for Steve Greenberg, the local who works from home importing firearm accessories under the name BullsEye Fiber, he hopes something happens so that he can make cellphone calls from home.
Luckily for Greenberg, he said his Chinese contacts are used to speaking on cellphone apps that make calls through the internet.
He recently moved his laptop and home office into the den. The reception, he said, is slightly better.
Contact Wade Tyler Millward at wmillward@reviewjournal.com or 702-383-4602. Follow @wademillward on Twitter.
Who's calling, please?
According to Federal Communications Commission data, total annual voice calls dropped to 2.75 trillion minutes in 2016, a 5 percent decrease year over year.
Monthly data use per subscriber, however, increased 39 percent to 3.9 gigabytes from the end of 2015 to the end of 2016. The growing behavior of playing video on cellphones continues to push the rate of data use higher.
Text messaging decreased 12 percent between 2015 and 2016