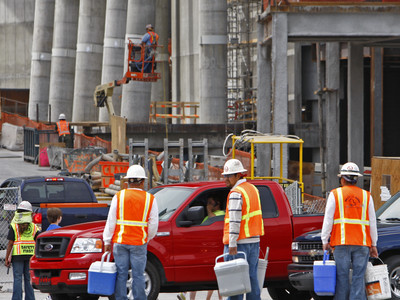 Feuding CityCenter partners MGM Mirage and Dubai World are trying to repair their fractured relationship in an attempt to fund the remaining costs needed to complete the $8.7 billion Strip development.
MGM Mirage said late Monday it will wait until Friday to make a $70 million equity payment that is due on CityCenter, even though the company received a waiver from lenders allowing it to cover both its half of the payment and the half owed by Dubai World.
MGM Mirage is hoping Dubai World, the investment arm of the Persian Gulf emirate, will fund its portion of the payment. However, a source familiar with the talks between the two companies, said that was unlikely.
"MGM Mirage remains committed to finding a long-term solution to the financing of CityCenter to ensure the completion of this important project," the company said in a statement.
MGM Mirage and Dubai World, which each own 50 percent of CityCenter, have been negotiating with the development's lenders since last week. Dubai World reportedly wants the two companies and the lenders to commit a combined $3 billion to finish the development, which is expected to be fully open by December.
News of the talks sent shares of MGM Mirage up 95 cents, or 17.92 percent, Monday on the New York Stock Exchange. The stock price closed at $6.25, a jump of more than 130 percent since April 1. Still, the price is down more than 90 percent from a year ago.
Dubai World sued MGM Mirage last month, questioning CityCenter's viability and claiming MGM Mirage had mismanaged the venture leading to cost overruns. Dubai World also said MGM Mirage's quarterly financial filing in March constituted a breach of the joint venture pact.
A week after the lawsuit was filed in Delaware, MGM Mirage, with approval from its lenders, made a $200 million equity payment toward CityCenter, which included Dubai World's portion of the payment.
Dubai World said the move was "an acceptable, albeit temporary solution." MGM Mirage officials have said the company has the available cash necessary to fund its portion of the CityCenter project.
If an equity payment is missed, CityCenter could be forced into bankruptcy, which would shut down work on the project and idle some 8,500 construction workers.
Dubai World has $4.3 billion invested in CityCenter. A source close to Dubai World said the entity's goal is to complete CityCenter.
Recently, MGM Mirage told its 61,000-plus workers that cost-of-living raises were being suspended for all of 2009. Also, 401k matching contributions were canceled for the year and the company increased by $10 per pay period employees' contributions for health care benefits.
The moves are part of the ongoing cost reductions being undertaken by the Strip casino giant.
Some employees, whose anniversary dates fell in the first quarter, received cost-of-living increases before the March announcement. Their salaries reverted back to 2008 levels on April 1.
MGM Mirage spokesman Gordon Absher didn't know how many workers received a pay increase, but they will be allowed to keep the extra money earned in the quarter.
Contact reporter Howard Stutz at hstutz@reviewjournal.com or 702-477-3871.