Developer buys Las Palmas apartment complex for $26.8M
October 11, 2017 - 11:49 pm
Updated October 12, 2017 - 10:17 am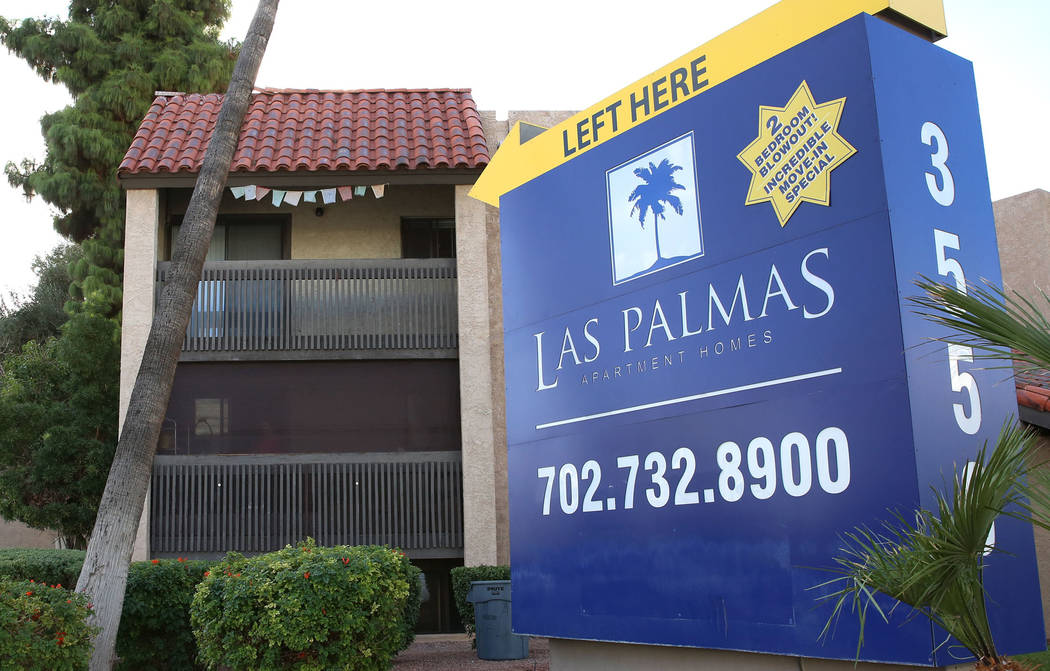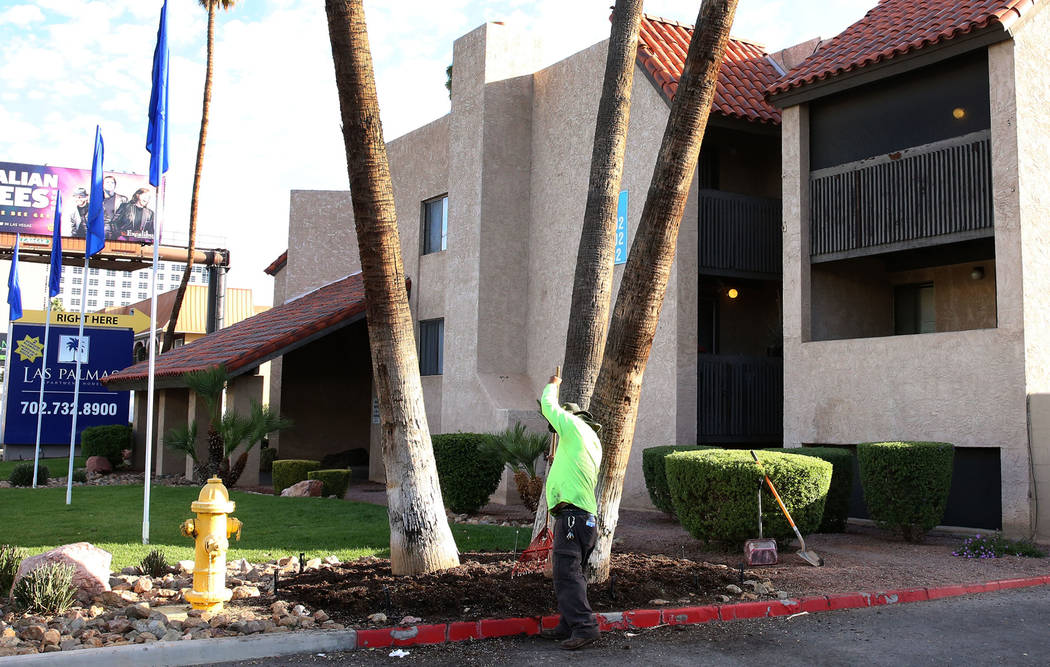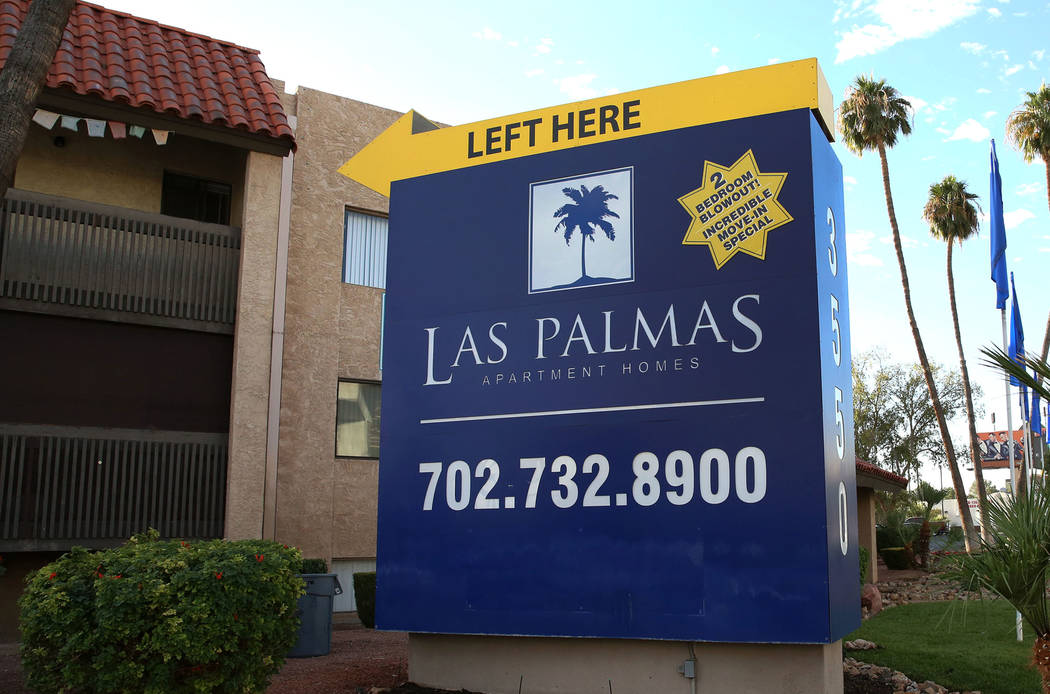 Shortly before the economy crashed, Florida developer Don Peebles bought an apartment complex near the Strip and unveiled plans for a cluster of luxury towers.
But the project went nowhere, and the rental complex, which faced foreclosure after the market tanked, now has sold at a steep discount.
Developer John Saca recently bought Las Palmas, a 13-acre apartment complex at 3550 Paradise Road, a mile east of the Strip. The $26.8 million sale, by Karlin Asset Management, closed Sept. 22, Clark County records show.
The property is near megaresorts and the Las Vegas Convention Center, but don't expect a bubble-esque redevelopment plan like Peebles' anytime soon.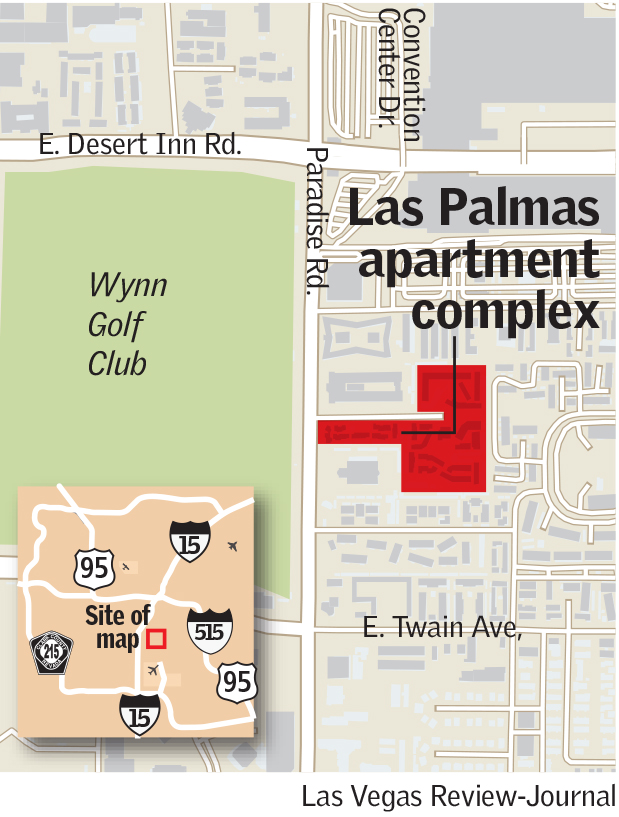 Saca, executive president of Sacramento, California-based Saca Development, confirmed that he bought Las Palmas but otherwise declined to comment on the record.
Real estate brokerage Marcus & Millichap announced the sale last week, saying the buyer — it did not name Saca — plans "to infuse the community with significant capital improvements and renovate the property's interior and exterior."
Las Palmas was built in 1974 and has 393 rooms, and Peebles' group acquired it in spring 2007 for $65 million, county records show. A week after the sale closed, he announced plans for a nongaming project consisting of four 55-story glass towers with 800 luxury hotel rooms and 1,000 condos.
The project, dubbed Las Palmas Hotel and Residences, was slated to feature a 40,000-square-foot spa, as well as retail space and a "dramatic sky lobby" with an infinity-edge pool 400 feet above the Strip, a news release said.
It boasted a $1.6 billion development budget. But Las Vegas' once-roaring real estate market eventually collapsed, construction ground to a halt, and foreclosures and unemployment soared.
In summer 2010, Peebles acquired a controlling stake in the Mardi Gras hotel-casino, a neighbor of Las Palmas, with plans to raze it and include the land in his bigger project, the Review-Journal reported. But in fall 2011, a foreclosure auction was scheduled for Las Palmas, county records show.
Records indicate that Los Angeles-based Karlin acquired the property in early 2012. The company did not return a call seeking comment.
Las Vegas developer Daniel Grimm, who used to run Peebles' Western U.S. operations, bought his former boss' stake in the Mardi Gras in 2015.
Peebles, founder of The Peebles Corp., said on Wednesday that the multi-tower development would have been his first project in Las Vegas, and that he started looking for deals here after spending time in Las Vegas in the mid-2000s to escape hurricanes in Miami.
He noted that when he bought Las Palmas, visitor numbers still were climbing and the Las Vegas Convention Center was poised for a major expansion. But, he added, "no one could have foreseen the catastrophic events that took place."
"If it weren't for a global financial meltdown that decimated the real estate industry as well, this project would have been built," he said.
Peebles was one of numerous developers who set out last decade to build high-rises in Las Vegas, a poster child for America's real estate boom and bust. There were so many towering project plans floating around — most of which never came out of the ground — that boosters called it the "Manhattanization" of Las Vegas.
As Grimm, founder of DG Development Corp., put it: "We were all conceptualizing very ambitious projects at that time, for sure."
Contact Eli Segall at esegall@reviewjournal.com or 702-383-0342. Follow @eli_segall on Twitter.