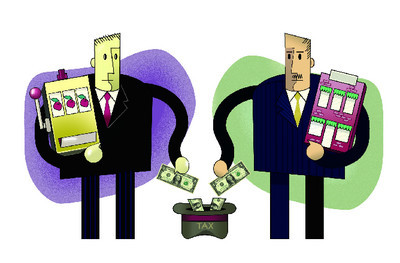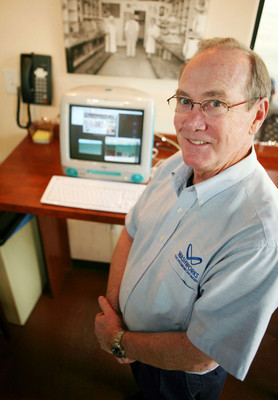 Sides are lining up in a looming battle over taxes, as public officials and business leaders consider how to plug a $500 million shortfall in the state's budget.
The Nevada State Education Association wants to raise the gaming tax 3 percentage points to finance public schools, while gaming companies say it's time for nongaming businesses to pay more, too.
A Las Vegas Review-Journal/Las Business Press survey of local businesspeople has found widely varying views on new taxes.
Opinions were evenly split on increasing the gaming tax to finance education, with 51.6 percent of respondents giving the higher levy a thumbs up and 42.6 percent rejecting the idea. Nearly half — 44.4 percent — said they'd like to see proceeds from a bigger gaming tax go to other sectors besides education. Tops on their wish list were areas including transportation, infrastructure, Medicare, children's welfare programs and health care for the indigent.
The online survey also asked business managers for their thoughts on a "broad-based" corporate income or receipts tax that some local gaming executives are promoting as an alternative to higher casino fees. About two-thirds of survey participants said they would not support broad-based business taxes that would add to their operating costs.
Survey respondent John Gibson, chairman and chief executive officer of chemical maker American Pacific Corp., took issue with both higher gaming taxes and broader corporate levies.
Gibson, who's on the board of the Nevada Taxpayers Association, took issue with using the referendum process to expand the gaming tax. Setting tax rates is the province of the state Legislature, Gibson said. Nor does he favor imposing additional burdens on an economic sector that employs a substantial portion of Nevada's work force.
And new taxes on nongaming businesses could harm the low-tax reputation that has drawn relocating companies to Nevada from across the country, Gibson said.
He called the gross receipts tax a failed proposal from the state's 2003 legislative session, "one of the most unfair taxes anyone has considered," because a business could lose money and still owe money under such a revenue scenario.
"It's been wonderful to watch the incredible growth of Las Vegas," Gibson said. "I believe that growth is, in large part, due to how we tax businesses. This community has a very positive future so long as we don't tamper with the fundamental laws that make it all possible."
Should fresh calls for a gross receipts tax or another broad-based levy emerge in the 2009 legislative session, Gibson expects the nongaming business community to "aggressively oppose it."
Richard Olden, owner of car-wash business WashWorks, agreed that a broad, gross receipts-type tax on nongaming businesses would hurt the survival prospects of companies with small profit margins.
"Most businesses don't earn anything approaching what the casinos earn," Olden said. "It's a disproportionate increase for small companies when you bump our taxes up 1 percent."
Also, previous tax increases don't leave Olden with much confidence in future plans to raise revenue.
The gross-payroll tax, the state business-license fee and other levies added in 2003 to relieve a $1 billion budget shortfall didn't disappear once Nevada's income and spending plans stabilized in 2004, 2005 and 2006, he noted.
"It's easy enough to pass new taxes, but no one looks back and asks if we still need them," Olden said. "There's no sunset law. That's a peeve."
Still, quality education is essential to building a world-class economy, Olden said, so he understands the need for additional school funding. And when Olden sees the gaming industry setting records for monthly revenue — the sector posted an all-time single-month high of $1.164 billion in October — he said it's easy to divine the best source for extra education dollars.
What's more, gaming operators benefit from privileged licenses, said Perry Ursem, a business-development executive in the construction industry. That barrier to entry for competitors gives gamers an advantage that should be factored into any talk about taxes. The debate should also include talk about the potential harm higher taxes would do to smaller operations, Ursem said.
"When you start to dip your hands into the pockets of the smaller businesses that are the foundation of this community, that can have an effect on the long-term stability of Nevada's business community," he said.
Local business executives who advocated broad taxes didn't elaborate on their opinions by press time. But they said in their survey responses that the soundest path to fiscal stability lies with a tax base that includes as many companies and industries as possible.
"There needs to be a more balanced approach," wrote Tony Sanchez, corporate senior vice president of Nevada Power Co. parent Sierra Pacific Resources. "Gaming can be looked at, but other sources of potential revenue need to be on the table."
And John Moran, principal of Moran Financial Services, urged business executives in the nongaming sector to consider ponying up additional funds for important public services, rather than hitting up the gaming industry for yet another tax increase.
"The educators are risking killing the goose that lays the golden eggs," Moran wrote in the survey. "The casino industry is a driving force in the Nevada economy. All other businesses should start to get involved on an equitable basis."
Contact reporter Jennifer Robison at jrobison@reviewjournal.com or (702) 380-4512.
This is the third in a five-part series based on the Review-Journal and Las Vegas Business Press' survey of local businesspeople. Here is what's ahead:
LAST SUNDAY: Business executives discuss their expectations for the economy in 2008.
LAST MONDAY: We'll look at local companies' plans for hiring, pay increases and benefits.
TODAY: New state taxes remain a hot-button topic. Business leaders will line up on all sides of the issue.
MONDAY: Survey respondents discuss the biggest obstacles to their operations in 2008
IN WEEK'S BUSINESS PRESS: The love-hate relationship between professionals and their high-tech gadgets has users praising productivity boosts and cursing round-the-clock disruptions.
Poll results: Asked of Review-Journal/Las Vegas Business Press readers in an online survey. The
Review-Journal and Las Vegas Business Press sent this business survey to more than 2,000 local businesses in December. The questionnaire was distributed to subscribers of the newspaper's Push e-mail service, as well as members of local trade groups, including the North Las Vegas Chamber of Commerce.
BY THE NUMBERS
The Nevada State Education Association wants the gaming industry to pay more taxes to support schools in Nevada. The casino industry, however, argues that the tax on most large gaming companies should not increase from 6.75 percent to 9.75 percent because the industry already funds its fair share of the state budget. As a businessperson, do you support raising the state's gaming tax?
Yes — 51.6%
No — 42.6%
The gaming industry also argues that if state legislators do decide additional funds are necessary, any tax increase should be broad-based and apply to all businesses, not just casinos. As a local businessperson, would you support a broad-based increase in business taxes that would raise your own costs if the money went to boost school funding?
Yes — 31.5% No — 64.9%
Source: Review-Journal business survey
WHAT THEY SAID
"The tax rate on gaming in Nevada is significantly lower than in other states. It does not seem overly burdensome to me for gaming companies that are paying as much as 20 percent in other states to pay 9.75 percent here in Nevada."
— ROD LEAVITT, LEAVITT INSURANCE
"YES (ON THE TEACHERS' UNION'S PROPOSAL), BUT BY ABOUT 1.5 PERCENT. IN ADDITION, THERE SHOULD BE A FAIR, BROAD-BASED BUSINESS TAX, NOT A GROSS RECEIPTS TAX. ALTHOUGH I WOULD SUPPORT A BUSINESS TAX, IT SHOULDN'T JUST BE FOR SCHOOLS. TRANSPORTATION AND CHILD WELFARE AND MANY OTHER AREAS COULD USE SOME FINANCIAL HELP."
— ANONYMOUS
"THE LAST 50 YEARS OF OUR HISTORY AS A NATION HAVE DEMONSTRATED UNEQUIVOCALLY THE ONGOING FAILURE OF PUBLIC EDUCATION AS AN INSTITUTION, REGARDLESS OF THE MANNER AND THE EXTENT OF ITS FUNDING. BAD DEBT IS BAD DEBT, WHATEVER ITS SOURCE. THE GOVERNMENT SHOULD WITHDRAW FROM EDUCATION AND ALLOW IT TO BE SERVED BY THE PRIVATE SECTOR. THE PRIVATE SECTOR HAS SERVED THE INTERESTS OF NEVADA'S CITIZENS ABLY FOR GENERATIONS AND WILL CONTINUE TO DO SO; ADDITIONAL TAXES AND THE REQUISITE GOVERNMENTAL BUREAUCRACIES ATTENDANT UPON THEM ARE ILL-ADVISED AT THIS TIME."
— ANONYMOUS
"WE SHOULD BE LOOKING AT A BROAD-BASED BUSINESS TAX THAT HITS EVERYONE, ESPECIALLY THOSE OUT-OF-STATE CORPORATIONS DOING BUSINESS IN NEVADA. I DO NOT WORK IN THE GAMING INDUSTRY, BY THE WAY."
— ANONYMOUS
"OUTSIDE NEVADA, THE GAMING INDUSTRY PAYS SIGNIFICANTLY HIGHER TAXES THAN THE NEVADA OPERATIONS PAY. THE VISITORS PLACE A SUBSTANTIAL BURDEN ON COMMUNITY INFRASTRUCTURE. CASINOS SHOULD BE PAYING SIGNIFICANTLY MORE THAN THE 9.75 PERCENT RATE PROPOSED BY THE TEACHER'S UNION. MORE BROAD-BASED TAXES WILL HURT THE POSITIVE BUSINESS ENVIRONMENT AND PUT AN UNDUE STRAIN ON SMALL BUSINESSES THAT EMPLOY SO MANY PEOPLE. BETTER TO PLACE THE BURDEN ON GAMING NOW (WHICH WOULD STILL PAY LESS HERE THAN IN MANY STATES) AND BROADEN THE BUSINESS TAX BASE GRADUALLY OVER THE NEXT FIVE YEARS."
— ANONYMOUS
"WE HAVE TO BE CAREFUL ABOUT TAXING BUSINESS AND THE CASINOS. WE NEED TO LOOK AT REAL ALTERNATIVES. IF YOU ADD MORE TAX TO BUSINESSES, BUSINESSES WILL LEAVE. IF YOU STRAP THE CASINOS WITH ADDITIONAL TAX, THOSE BUSINESS WILL HAVE A DIFFICULT TIME WITH BANKING COMPLIANCES. WE NEED TO LOOK AT THE ROOM TAX AND WHERE IT IS GOING. YES, THIS MONEY SHOULD GO TO EDUCATION AND OTHER COMMUNITY SUPPORTING PROJECTS … LOOK AT OTHER TAX SPENDING AND LOCAL-GOVERNMENT SPENDING. THE LOCAL GOVERNMENT GIVES MORE THAN NECESSARY TO EMPLOYEES, ESPECIALLY TO THE PENSIONS, HOLIDAYS AND PAY SCALE. LOCAL GOVERNMENTS SHOULD TREAT THESE JOBS JUST AS REGULAR BUSINESSES DO. LET LOCAL GOVERNMENT MANAGE THEMSELVES FIRST, THEN THEY CAN LOOK TO OUR BUSINESSES."
— JODY MACK, CARDIOVASCULAR BIOTHERAPEUTICS
"THE ASSOCIATION NEEDS TO DO MORE THAN THROW MONEY TO AN UNPROVEN SYSTEM, PERHAPS SOME CUTS IN THE TOP-HEAVY SUPERVISORY POSITIONS, AND DISTRIBUTING THAT MONEY TO RETAIN THE GOOD TEACHERS WHO ARE LEAVING. THERE IS PLENTY OF MONEY IN THE LOCAL COFFERS TO FUND TRANSPORTATION. WE SHOULD FOCUS ON GETTING OUR FAIR SHARE FROM THE FEDS."
— ANONYMOUS
"THERE WAS A $1 BILLION TAX INCREASE IN 2003. BEFORE RAISING ANY TAXES, THERE SHOULD BE A THOROUGH REVIEW OF EXPENSES AND WHAT HAPPENED TO THE 2003 TAX INCREASE. THERE SHOULD ALSO BE A THOROUGH REVIEW OF PERSONNEL IN ALL LEVELS OF GOVERNMENT."
— BOB COYLE, REPUBLIC SERVICES OF NEVADA
"THE GAMING INDUSTRY IN NEVADA PAYS LESS TAX THAN GAMING IN ANY OTHER PLACE IN THE WORLD. YES, THEY CAN AFFORD IT, AND YES, THEY SHOULD PAY IT. THEY SHOULD BE VOLUNTEERING."
— ANONYMOUS