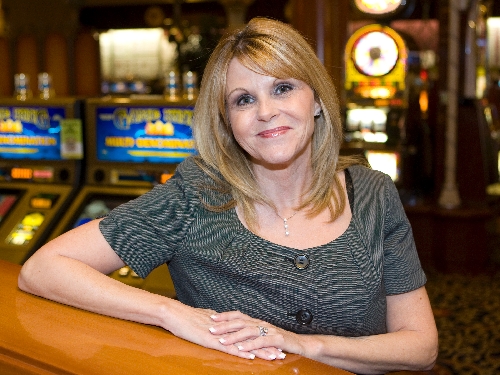 Carol Thompson is not just a role model for women who aspire to oversee a Las Vegas casino.
She's an inspiration to the legions of administrative assistants who one day hope to move from the desk outside of the general manager's office and into the executive chair.
It's something Thompson, 47, experienced firsthand.
Thompson has worked her way up through the ranks of Station Casinos over 10 years, starting out as an administrative executive assistant at Boulder Station.
She held various property- and corporate-level positions during her career. She was also part of the company's grand opening teams for Sunset Station, Green Valley Ranch Resort, Red Rock Resort and Aliante Station.
Since July 2009, Thompson has been the general manager of Texas Station. Before taking that role, she was assistant general manager for Aliante Station and Sunset Station.
Ironically, her assistant general manager office at Boulder Station was adjacent to the desk she once occupied as an executive assistant at the casino nearly a decade earlier.
"I think it's a testament to what you dream and work for," Thompson said. "There are no limits except for what you put on yourself."
Thompson is one of two female general managers at Station Casinos, which has 18 properties in the Las Vegas Valley. The company has one female assistant general manger. She's optimistic that more female executives will come up through the ranks.
"I don't get hung up that I'm a woman in this job," she said. "I just want to be the best gaming professional and operator that I can be."
Her first stint as general manager of a major off-Strip hotel-casino coincided with one of the most turbulent times in the company's history. Thompson was tasked with keeping Texas Station employees on focus and alleviating any customer concerns while Station Casino's Chapter 11 bankruptcy reorganization wove its way through the court-supervised process.
Thompson did her best to ensure that it was business as usual at Texas Station.
Question: How did you handle employee concerns about the bankruptcy process?
Answer: Our culture is one that is very focused on communication. We took great pride in ensuring that we communicated with our team members and our guests. We continued to be focused on providing the experience that the guests had come to know. We stayed focused and committed to the foundations of this company. It was really wasn't a difficult thing to navigate through.
Question: What were your communications like with customers during the bankruptcy?
Answer: We were provided the appropriate information, so that we were able to let the guests understand that they didn't have to worry about such things as losing their Boarding Pass (players club) points. It was business as usual at all our properties. Their (players club) points were good today, tomorrow and beyond.
Question: What attracted you to the gaming industry?
Answer: I moved to Las Vegas to work for the government, but I quickly understood that gaming was the lifeblood of this community. I understood the experience as a consumer. I was attracted to the fun of gaming. Living in Las Vegas, I wanted to be a part of it.
Question: Have you ever worked on the Strip?
Answer: I worked in the Strip for a short time, but the majority of my experience has been at Station Casinos. What is important to me is the culture in the way we treat people and the guest experience. The key foundation is the relationship we build with our guests and the community. We see some of the same guests every day. That's really an anchor for me because I enjoy working in an environment that values those ingredients.
Question: Had you always aspired to become a casino general manager?
Answer: When I started my career as an executive assistant, I began to understand the organizational chart and how business worked. I did set my sights (on) someday being in the role. I wanted to be the one who could make a difference. I started out in the (company's) Wildfire division because it provided a good training ground.
Question: What was your experience like at Aliante Station?
Answer: I helped open properties, such as Green Valley (Ranch Resort) and Red Rock (Resort), but more from the perspective of the grand-opening celebration. With Aliante, I was there from the groundbreaking until we opened. That was an amazing experience because it started with a blank piece of paper and taking the vision of Frank (Fertitta III) and Lorenzo (Fertitta) and making it blossom and work.
I spent 10 weeks at Aliante and then transferred to Boulder Station as assistant general manager. Opening a property and operating a property are two very distinct things. I was fortunate after leaving Aliante that I had the opportunity to work with the general manager and team at Boulder Station for seven months.
Question: What has your experience been like at Texas Station this past year?
Answer: Texas Station just turned 15 and we have 87 team members who have been here since we opened the doors. There is a level of ownership that team members seem to take when you're at a property 10 years or 15 years.
The heart of our business is the locals market, but we have 200 hotel rooms and 40,000 square feet of meeting space, including our Dallas Events Center. So we have a strong sales team and we do a great deal of group business.
Question: Do you see yourself as an inspiration for women who want to become casino executives?
Answer: I like to think I can be a role model for any team member regardless of their gender if they have the aspirations to grow in their career. That's important to me.
Contact reporter Howard Stutz at hstutz@reviewjournal.com or 702-477-3871.
VITAL STATISTICS
Name: Carol Thompson.
Position: Vice president and general manager, Texas Station.
Family: Husband, Jim; daughters Tiffany and Candice; two step-grandsons and one grandson.
Education: Bachelor's degree in business management, University of Phoenix, 2006.
Work History: In the gaming industry for 15 years, including the past 10 with Station Casinos. Positions have included executive assistant, director of training, director of marketing, general manager of Barleys Casino and Brewing Co. and The Greens; vice president and assistant general manager of Aliante Station; vice president and assistant general manager of Boulder Station; vice president and general manager of Texas Station.
Hobbies: Spending time with family, spoiling her grandson.
Favorite Book: "Straight From the Gut" by Jack Welch.
Hometown: Peekskill, N.Y.
In Las Vegas since: 1988.
Texas Station is at 2101 Texas Star Lane, North Las Vegas, and can be reached at 631-1092.