Divers delight: Convention center awash in fins, wetsuits
November 16, 2012 - 2:14 am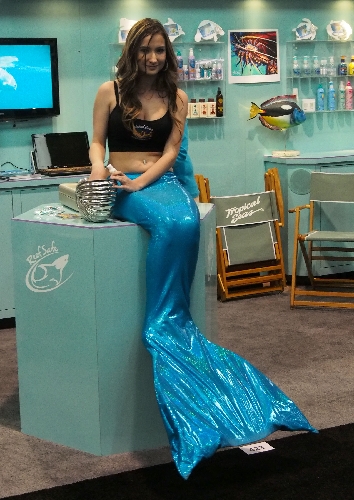 Fins, breathing machines and wetsuits have taken over the Sands Expo and Convention Center. There's even a 6-foot-6-inch mermaid there, wearing strands of pearls around her neck.
Through Saturday, the DEMA Show 2012 will be housed at the center, and from 11,000 to 12,000 people are expected to attend, which is on par with the attendance numbers from the past three years. About 650 exhibitors are at the sold-out event, which is 5 percent more than the show last year in Orlando, Fla. DEMA alternates between Orlando and Las Vegas every other year, and DEMA Executive Director Tom Ingram said he expects to be in Las Vegas at least through 2016.
DEMA is the Dive Equipment Manufacturers Association, so as you can imagine, the trade-only event is filled with divers' clothing, equipment, dive-centric travel locations, tours and nifty gadgets to make your next dive a little more comfortable.
But back to that mermaid.
The statuesque Sue White, a former Las Vegas showgirl, stands at the Enviroguard 64 booth in a black-sequined mermaid fin, white shells on top and the aforementioned pearls to set it all off. White, a training assistant with local shop Neptune Divers, is helping out a friend, Matt Murphy, the director of operations for Las Vegas-based Enviroguard.
A first-time exhibitor at DEMA, Murphy said he already was happy with the traffic his booth was seeing at the show on the first day and while setting up.
"The show hadn't even started and we were doing good," Murphy said. "(Enviroguard) is the only broad-spectrum disinfectant for the dive industry at this point."
The product itself has been around for 35 years, but Enviroguard secured the licensing and started manufacturing it in Las Vegas three years ago for the medical and fishing industries, before it evolved into a product for the dive industry. Retail cost is $35 for an 8-ounce bottle that makes 4 gallons of product. In Las Vegas, it's available at Commercial Hardware, Neptune Divers, DMH Supply and Freedom Medical.
Elsewhere on the show floor, Tina Schall was representing Surface Interval Clothing, a diver-focused apparel company in its third year exhibiting at DEMA.
"We tend to do really well here, picking up new vendors and things like that," Schall said.
She noted that today typically is the busiest day for the show. As for the brand itself, Surface Interval was started as a hobby, and has grown to a full-scale clothing company, with Schall's husband, Eric, designing many of the pieces.
The diving industry overall is small, with only about 2 percent of the U.S. population, or between 2.7 million and 3.5 million active divers in America. Worldwide, there are about 6 million active divers.
According to DEMA's Ingram, the most active participants are 38 to 53, 93 percent own their home and the majority make between $75,000 to $100,000 a year.
"It's an active but affluent and older population," Ingram said. "Only about 17 percent have kids in the household under the age of 18 so it's an empty nester, too."
As for industry trends, Ingram said rebreathers – a closed-circuit breathing system for diving – are big because they eliminate the telltale bubbles that other systems produce on the water surface. The free-diving market also is experiencing growth.
"We're seeing a lot of people who are competing, holding their breath, doing deeper and longer dives holding their breath as opposed to using scuba," Ingram said. "That's a much more competitive part of the marketplace than scuba, which can be very family friendly or you can get crazy."
Because divers tend to keep diving even in times of economic downturn, Ingram said travel locales that cater to that population stay busy, with active divers taking about three trips each year, consisting of a total of seven to 12 days.
"It does contribute to tourism," Ingram said.
Bonaire, a Caribbean island known for its pristine dive locations, was well-represented at the show, along with other divers' paradises, including Malaysia, the Philippines and Belize.
Charles Vos, general manager of the Sand Dollar Condominium Resort in Bonaire, said 85 percent of the island is based on tourism, and of that, 85 percent comes from divers.
"It's very important for us to be here representing our island," Vos said. "Diving is a huge part of Bonaire."
In recent times, Bonaire tourism has been "struggling," Vos said, because airfares have been rising and there are closer destinations that are cheaper to the U.S., which is the island's largest consumer market.
"We really need to start growing again," Vos said.
Show traffic at DEMA thus far has been good for the Sand Dollar, and Vos said he was hopeful.
Contact reporter Laura Carroll at lcarroll@reviewjournal
.com or 702-380-4588.